Its an art gallery, a performance space, a live music venue and a restaurant all in one. Artmosphere in downtown Lafayette mixes up an eccentric blend to inspire a variety of senses, which is why their motto is Feed your soul."
They started small 12 years ago,blending visual artwork around a restaurant that occasionally hosted young bands in its performance space, according to owner Beryl Moody. Over the years, their reputation as a great restaurant grew, while also attracting outstanding musicians and bands. Those who have performed at Artmosphere many of which are now Grammy nominees or winners are Chubby Carrier and the Bayou Swamp Band, Jo-el Sonnier, Bonsoir Catin, Cedric Watson, Pine Leaf Boys, Steve Riley and the Mamou Playboys, Roddie Romero, Brass Bed, Feufollet, Bonerama and many more. Givers and Royal Teeth who started their careers playing at Artmosphere have gone on to tour nationally.
I look back and see there were so many people that we had, all those fabulous, unbelievableperformers, said Moody.
Artmosphere has grown since its inception, still spotlighting the rich Louisiana culture the owners and staff hold dear. The venue remains a full-service restaurant, offering food as eclectic as its art-filled walls for lunch, dinner and late-night visitors.
The soulful menu incorporates classic ingredients but uses them in unique and creative ways. There are apples with dill Havarti on pizza, blackberries with boudin and wasabi mixed with grits. Burgers come stuffed with bleu cheese, bacon or boudin and sandwiches mix up pulled pork and apple slaw.
In the end we wish to create delicious food you cant get just anywhere, definitely a hint of different styles throughout the menu, said manager Chad Lemoine. We aim to make every dish the best we possibly can while not duplicating boring food. Weve really listened to the feedback of the community, sourced fresh ingredients and put all of that together to create our new menu.
Some of the more popular menu items are The Boss, a pulled pork sandwich made with smoked pork, homemade barbecue sauce and sweet and sake slaw on a Langlinais Bakery bun. Another favorite is the Blues Burger, bleu cheese-stuffed all-beef patty hamburger, topped with caramelized onions, bacon, tomato and a rosemary mayonnaise on a Langlinais bun.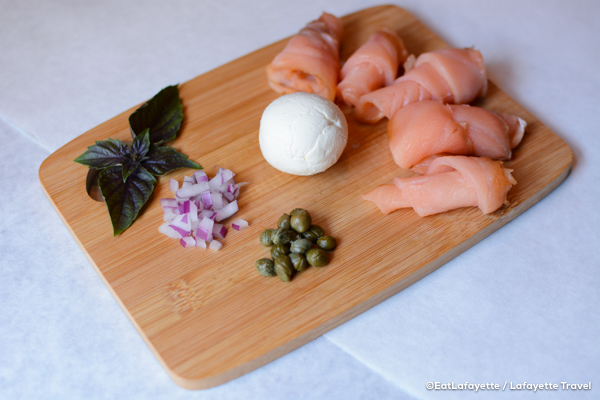 Artmosphere offers plenty of culinary incentives. On the weekends they serve up bottomless mimosa brunches. Daily they offer gourmet pizza by the slice with a create-your-own-slice option. Theres student discounts for college students, with free coffee during selected dates. Every Monday the venue offers half off Jameson with the purchase of a menu item and lunch to-go items are guaranteed within 30 minutes time dependent on the order size. And always, Artmosphere offers free Wifi to its guests.
To keep things creative, as is their style, Artmoshere will unveil a new menu this summer featuring fresh seafood and unique beef and pork dishes. The following is a recipe for Artmospheres Blackberry Sriracha Gastrique, a sweet and spicy sauce incorporated into two current menu items. The gastrique is dizzled on Louisiana boudin that makes up the Sonny Sliders appetizer and on top of a granny smith apple inside the Voo-din Burger, which includes a boudin and feta-stuffed all-beef patty topped with grilled onions and baby spinach on a Langlinais bun.
Blackberry Sriracha Gastrique
21 ounces blueberry pie filling 18 ounces blackberry jam 1 cup merlot wine 3 tablespoons Sriracha sauce 1 teaspoon kosher salt Directions: Mix together and use as a complement to dishes. Artmosphere 902 Johnston St. Lafayette, LA 70501 (337) 356-9498
www.artmosphere.com