There's a fire on Bendel.  Don't worry, Chef Manny Augello of Bread & Circus Provisions has it completely under control.  Augello hails from Sicily and grew up in South Louisiana, so his upbringing tends to flavor his work.  He is the Chef and Owner of Bread & Circus Provisions in Lafayette, a restaurant with a unique vibe and a cuisine that's both traditional and innovative, centered around a gorgeous, copper clad Italian wood-fired oven with the moniker Big Bad Ben.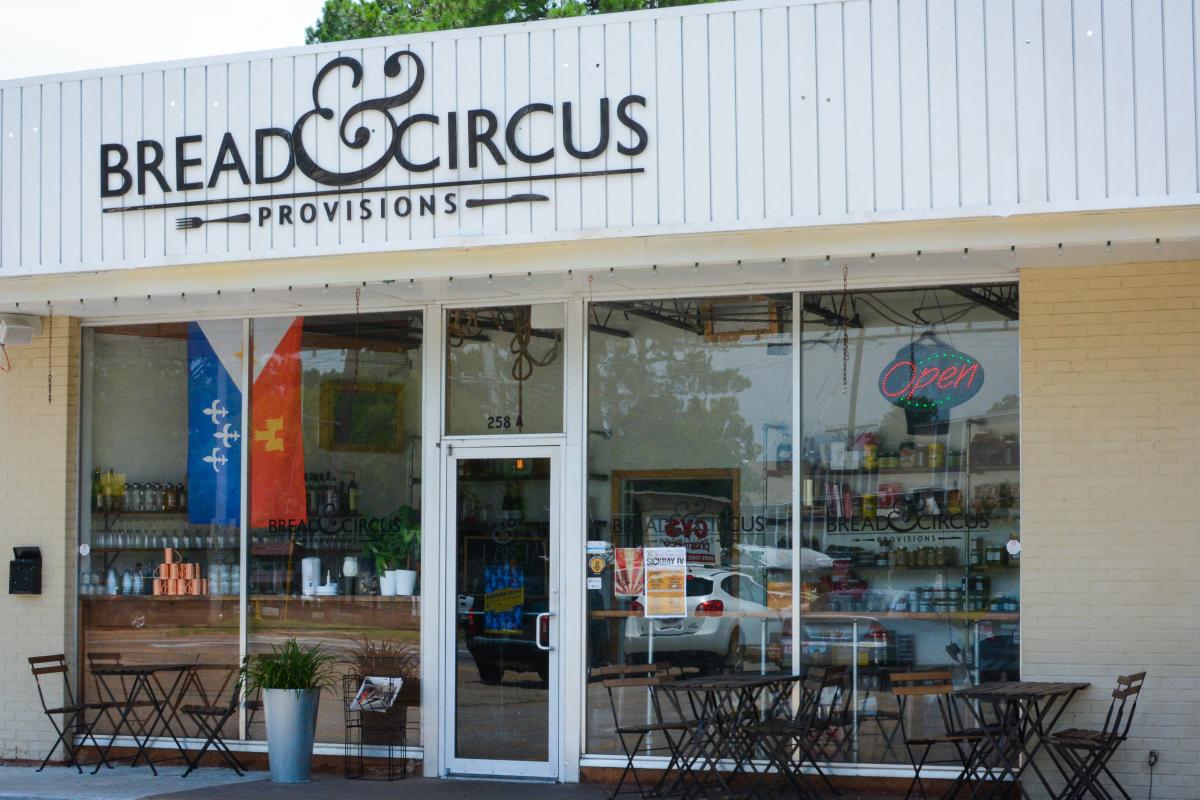 Manny says that Bread & Circus focuses on Neapolitan Pizza and wood-fired Southern Italian cuisine, but he began with a narrower scope.  He first established Bread & Circus as a booth at the local farmer's market, selling cured meats, pickles and condiments in addition to specialty items such as sandwiches, the goal is to deliver food grown and raised locally that lacks the preservatives and additives routinely found in packaged foods.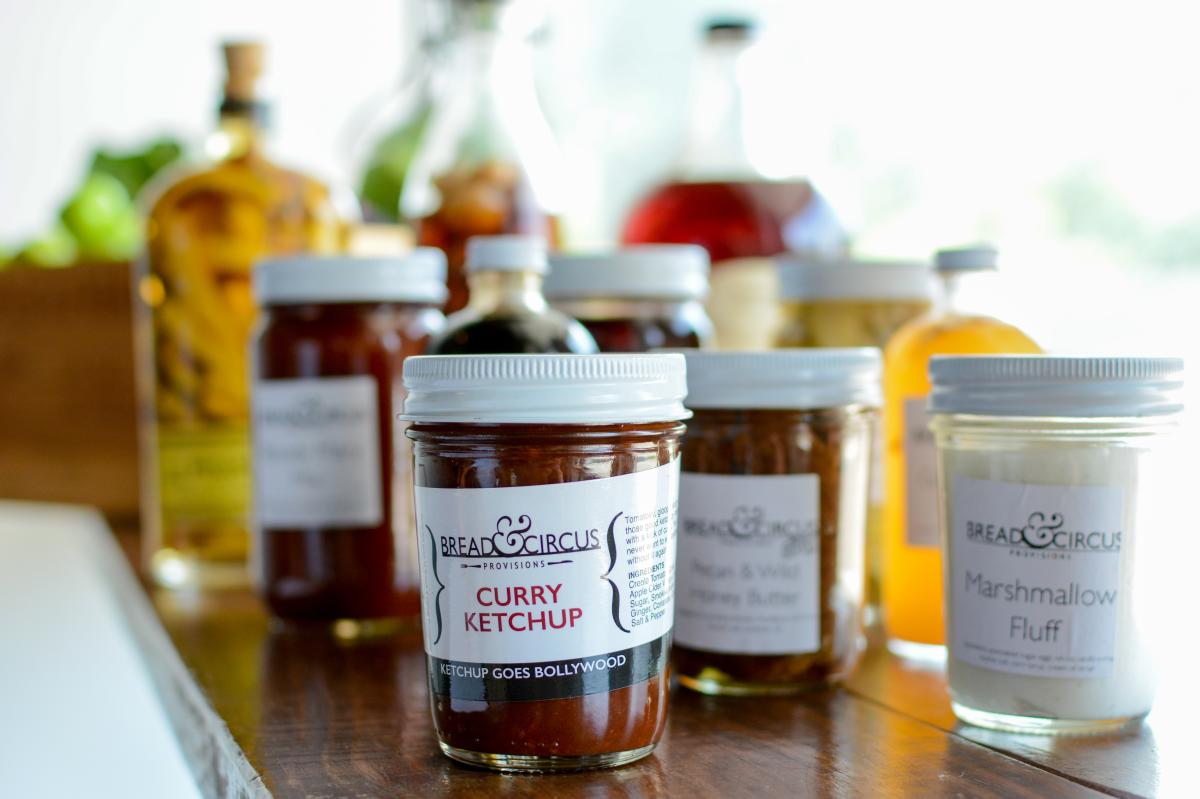 When his products sold at the farmer's market were well received, and the community began pleading for more, Bread & Circus opened six months later at 258 Bendel Road, near the corner of Bendel and Pinhook roads.  The menu featured amazing smoked meat sandwiches, handmade pasta dishes, and all manner of culinary playfulness.  A little over two years later,  Manny felt it was time for a change.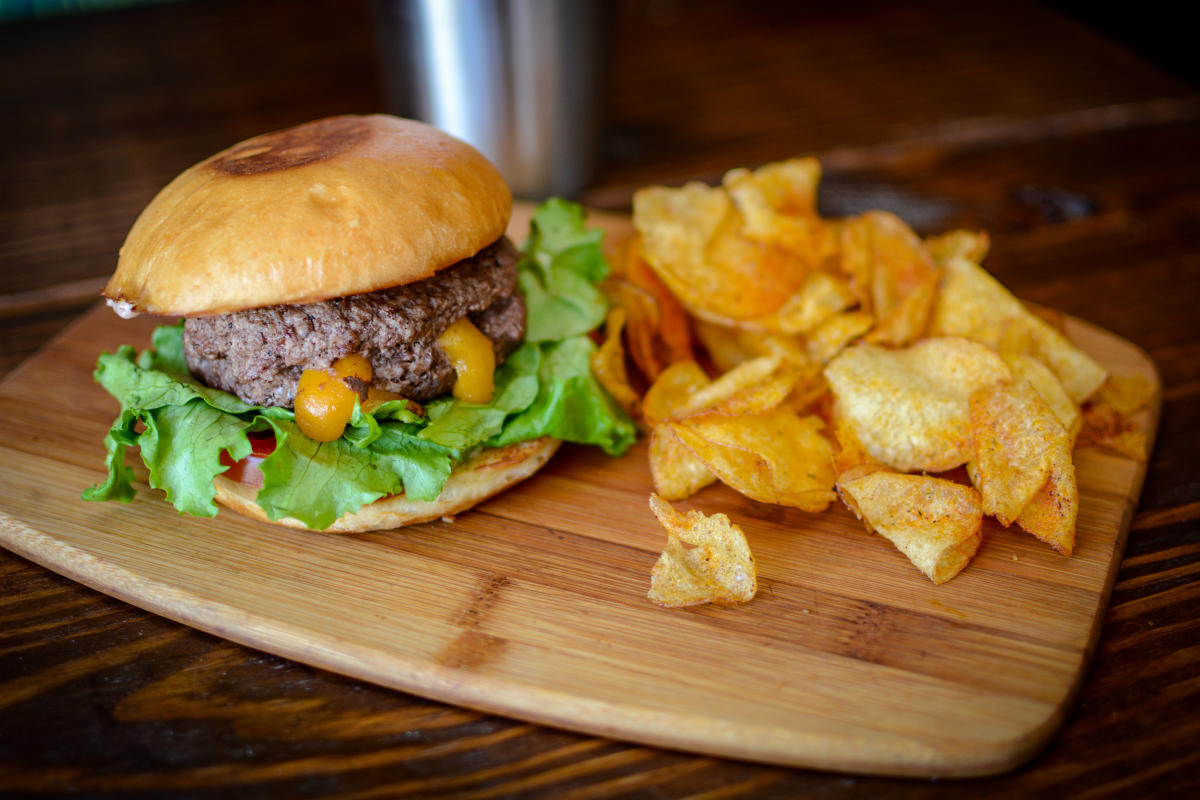 "Adding the wood-fired oven took us in a direction we were always meant to go," Manny says, adding that he can introduce more traditional Italian fare as they go along.  It was a natural change for him: "The further we go, the deeper we get into our roots."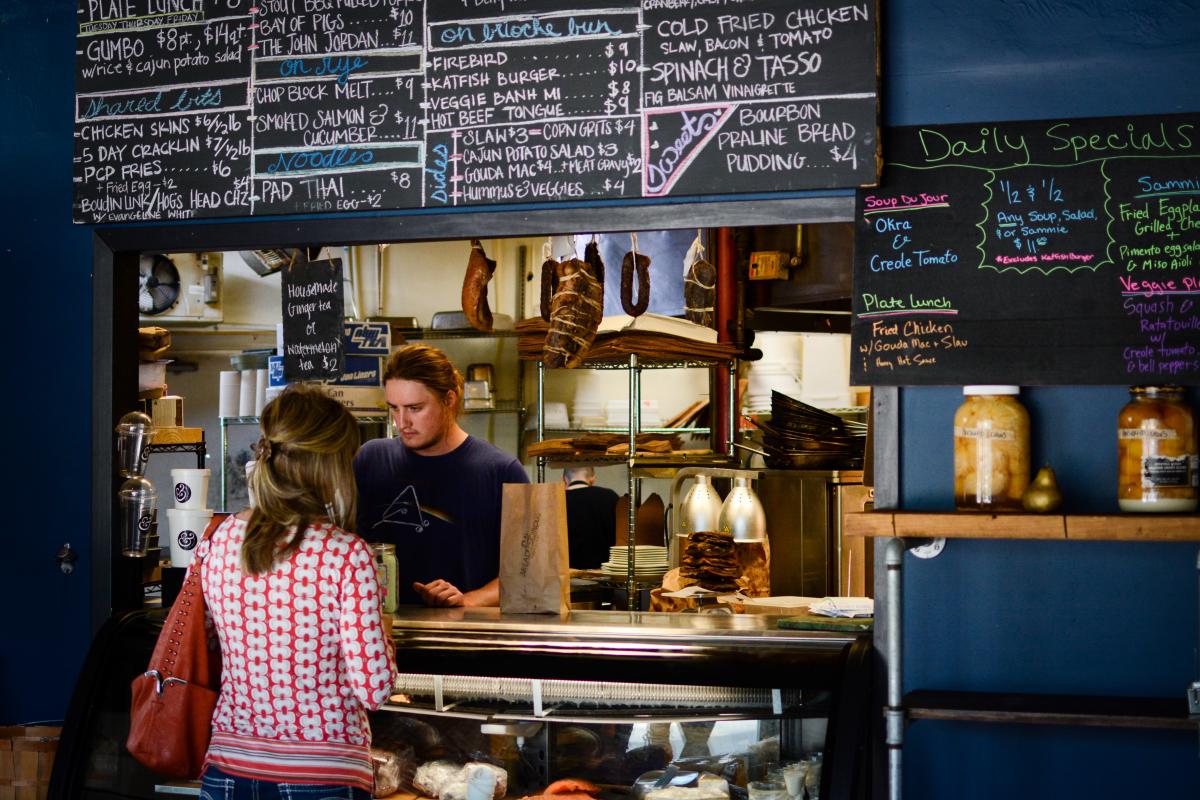 Neapolitan Pizza is pizza with a capital "P."  There are rules.  Manny follows them, and the results are extraordinary.  This is not chain delivery pizza.  The rules are born of tradition, and those traditions are a big part of Bread & Circus today.  Manny has been turning out amazing pizza and other foods for a while now and has a James Beard Award Semifinalist nomination to show for it.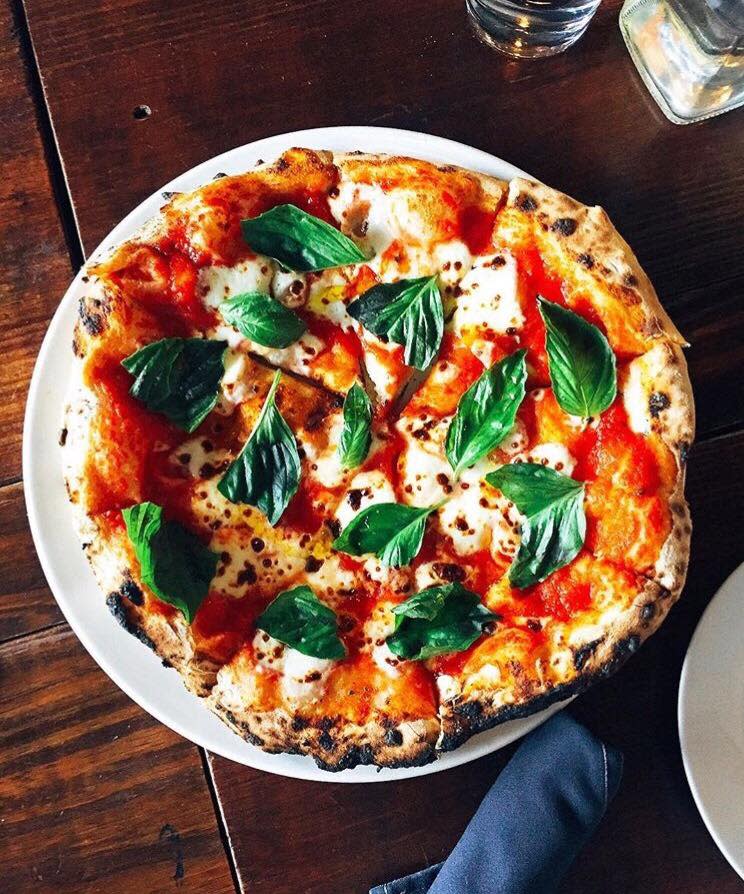 The most popular Pizzas are the Margherita (a classic staple; the Original Pizza) topped only with red sauce, fresh mozzarella, and basil leaves, and the Bee Sting, a creation of Manny's that's both sweet and spicy with garlic and peperoncino marinara, soppressata salami, mozzarella, and local honey.  A portion of Bee Sting profits even benefits the work of the Acadiana Beekeepers Association.
The hummus dish is also very popular, featuring a Tunisian red pepper sauce, kalamata olives, and a giant feta rubbed Schiaccia, a flatbread baked a la minute for each order.  Manny says his Sous Chef Chanel Gaudé has also stepped up the menu at Bread & Circus with her house-cured meats program.  "Our salumi game is on fire!" he said.
A relatively new tweak to the menu locks in the traditional favorites, so they are always available while allowing the rest of the menu to morph with seasonal availability and chefs' whims.  Manny has been pleasantly surprised by the success of his rotating fresh preparations of sides and small plates, or Contorni.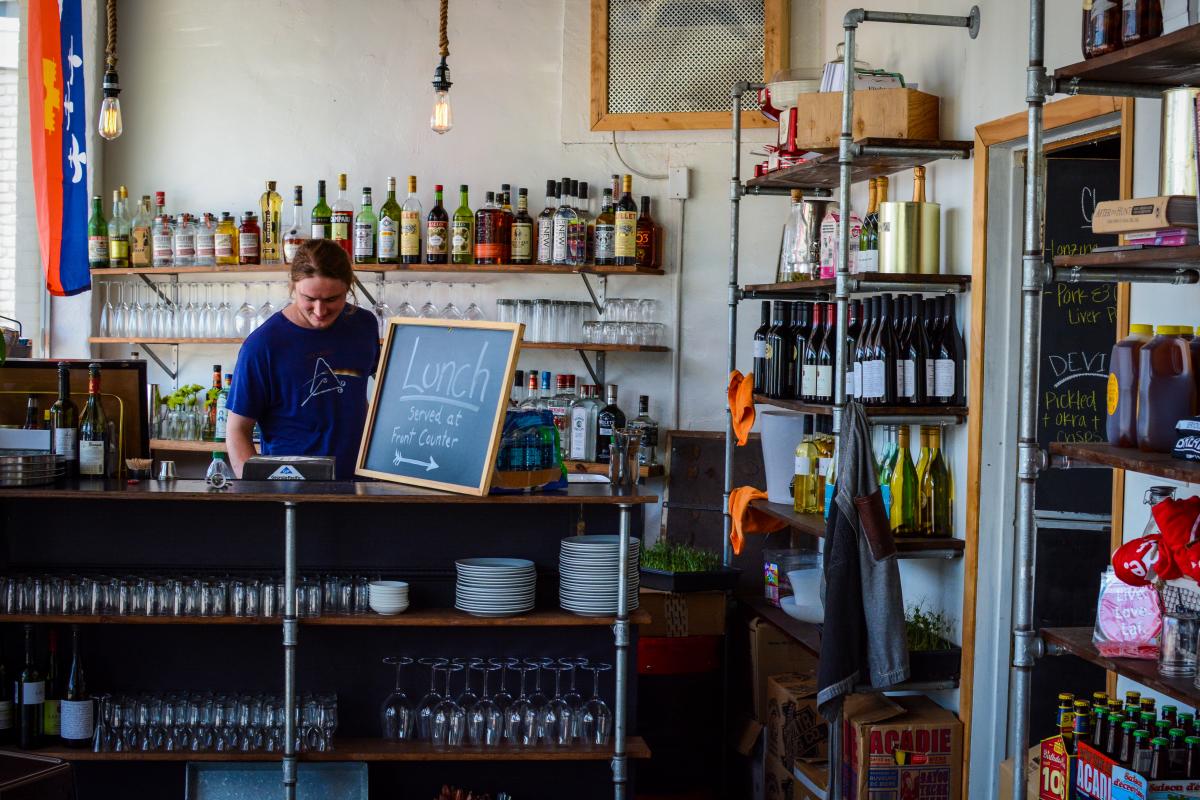 There are great beverage options in the form of imported Italian sodas and spring waters as well as delicious cocktails and a concise yet diverse wine list.  Bread & Circus takes a proactive approach to a typical problem encountered by restaurants serving wines by the glass.  It's often a crapshoot whether or not all of a given bottle will be sold before it's been open too long.  The staff identifies these wines and offers them at the discounted price of $7, making everyone a winner.  They also serve a house red by the glass for $5 and have recently been offering it trattoria style in the form of half bottle and whole bottle specials for $12 and $24 respectively.
Each Wednesday through Saturday from 4:00 to 6:00 PM is happy hour.  Dine-in parties can get half off the price of pizzas during this time.  Wednesdays, in particular, are even better because this discount is offered all night long.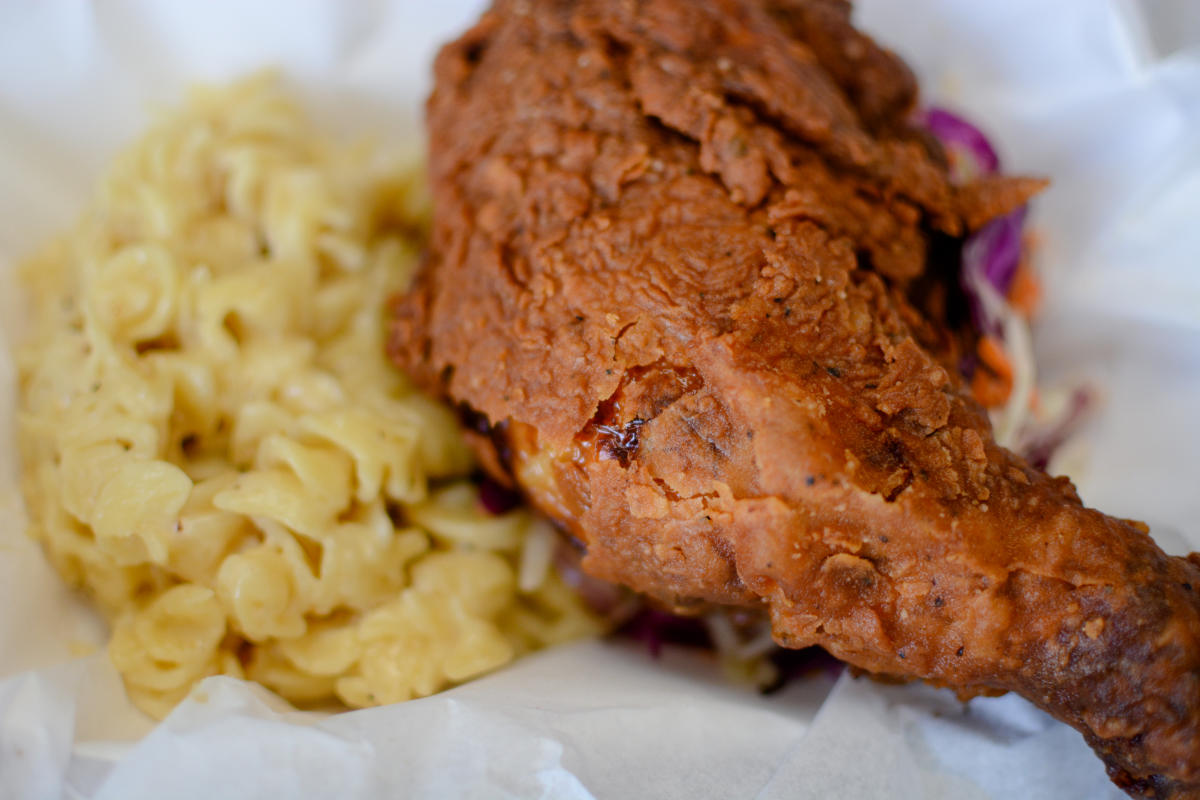 Bread & Circus Provisions is located at 258 Bendel Road in Lafayette.  They are open every Tuesday through Friday from 11:00 a.m. to 3:00 p.m. for lunch, every Wednesday through Saturday from 6:00 p.m. to 10:00 p.m. for dinner, every Saturday from 11:00 a.m. to 3:00 p.m. for brunch, and on Saturdays, beginning at 10:00 p.m. there is a special menu that changes every week and goes on until late into the night.
Smoked Ponce Ramen
Miso Broth
1 Lb. Slab Bacon, Cubed, Rind On
1 Sheet Kombu
6 Qt. Water
16 Oz. Miso
2 Oz. Dried Shrimp
Rind from Ponce
On medium heat, simmer bacon and ponce rind in 3 qt. water for 30 minutes. Meanwhile, soak kombu in remaining 3 qt. water. Combine the liquids into the same pot as the bacon. Using a fine mesh cone strainer, steep the dried shrimp and miso into the merged liquids. Simmer very slowly for 1 hour. Strain liquid, keep warm.
Ginger Garlic Glaze:
3 Tbs. Toasted Sesame Seed Oil
2 Oz. Ginger, Rinsed Well and Sliced
2 Oz. Garlic, Crushed
2 Leeks, Sliced Thinly
8 Oz. Soy Sauce
16 Oz. Rice Wine Vinegar, Seasoned
6 Oz. Granulated Sugar
In a medium-sized pot, heat the sesame oil to smoke point. Add the leek, garlic and ginger in that order, lower heat. Stir in sugar and deglaze with liquid. Turn heat down to low and simmer until liquid reduces by 1/3.
To Finish
2 Qt. Miso Broth
1 Ponce, Smoked, Rind Removed and Sliced
1 C. Ginger Garlic Glaze
2 Lb. Cooked Udon Noodles
6 Pickled Yard Eggs
Pickled Mushrooms from Breaux Bridge
Mary Mary Sprouts
Place udon noodles into serving bowls, fill with miso broth until noodles are just covered. Layer in the sliced ponce, drizzle with ginger garlic. Dress with pickled yard egg sliced in half, mushrooms and sprouts.