At Es Kitchen, owner Paul Ayo and staff make cooking fun and a whole lot more.
Not only does the Parc Lafayette store sell a wide selection of high-end kitchenware items, Ayo, staff and visiting professionals will show you how to use them in many interesting ways. Es Kitchen routinely holds classes on a wide variety of culinary subjects, from perfecting knife skills to creating summer cocktails and cooking up gourmet meals.
In addition, the store hosts special events, such as small batch whiskey samplings, and first Saturday food truck roundup that attracts dozens of South Louisiana gourmet food trucks.
For those who dont wish to cook, Es Kitchen has that covered as well.
We started as just a kitchenwares store but when we moved to our new suite we had a full kitchen and decided to start making to-go meals, Ayo explained. If you don't have time to make a great meal we have pre-made meals ready to go in our cooler for lunch or dinner.
Some of the healthy and delicious meals to bring home include teriyaki chicken rice bowl, marinated chicken breast drizzled with a homemade teriyaki sauce thats served over Jasmine rice and vegetables or the smoked shrimp Caesar salad that tosses marinated smoked grilled shrimp over a bed of romaine lettuce blend thats topped with freshly grated Parmesan cheese and Caesar dressing.
The dressing and croutons are also made in-house, Ayo said.
For lunch, try the muffaletta po-boy thats stuffed with salami, capicola, mortadella, olive salad, provolone and mozzarella cheeses, served with Zapps potato chips, a Louisiana company. For a more traditional dinner, the herb-marinated baked chicken might be whats called for, chicken breast baked and served with mashed sweet potatoes and a quinoa vegetable salad.
We use real ingredients and cook from scratch to insure flavor and quality, Ayo said of the restaurants meals-to-go. It is what you would cook for your family if you had time.
One of Ayos favorite dishes is the vegetable lasagna, homemade tomato sauce with eggplant, zucchini, yellow squash and spinach ricotta layered with lasagna noodles, topped with mozzarella and freshly grated Parmesan cheeses. Es Kitchen can create the dish without noodles, upon request, Ayo said.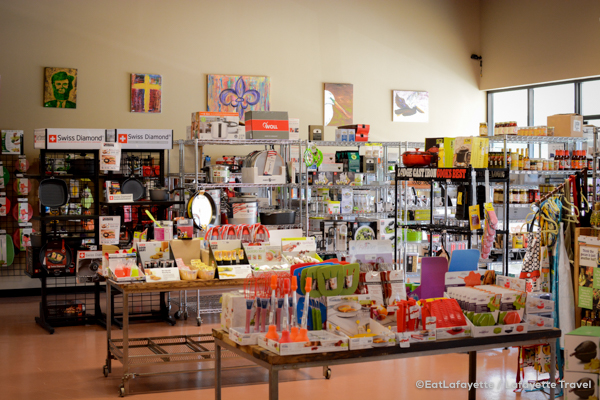 Meat-lovers may prefer the Italian sausage and beef lasagna, which combines that lovely homemade tomato sauce with fresh Italian sausage and ground beef layered with lasagna noodles and spinach ricotta thats again topped with mozzarella and freshly grated Parmesan cheeses. In addition, Es Kitchen offers weekly specials that may be found on their website or by subscribing to their email newsletter. To find out which gourmet food trucks are heading to the store on the first Saturday of every month, visit
Es Kitchen Facebook page
and look for upcoming events.
Heres a recipe for Ayos Smashed Sweet Potatoes thats fun, quick and easy to make. The recipe calls for Emmas blend, a combination of cocoa powder, cinnamon and turbinado sugar thats unique to Es Kitchen. The store, by the way, is named for Ayos daughters, Emma and Elise, and each girl has her own specialty spice blend.
Smashed Sweet Potatoes
Serves 6 to 8 2 large sweet potatoes 14 cup of sour cream 3 tablespoons Emmas blend 1 tablespoon butter (optional) Directions: Preheat oven to 400 degrees and poke several holes in skin of sweet potatoes. Bake potatoes until they are soft all the way through, about 1 to 1 1/2 hours. Remove from oven and allow to cool enough to handle them. Remove skin from the sweet potatoes and place in mixing bowl. Add the rest of the ingredients and mash together until smooth. E's Kitchen 1921 Kaliste Saloom Suite 121 Lafayette, LA 70508 337-534-8928
www.eskitchen.com