Spring comes early in South Louisiana, with millions of azalea blossoms in spectacular shades of pinks, purples, corals, and white. The sight is so incredible that the Azalea Society of America has designated Lafayette an Official Azalea City, one of only 16 nationwide.
"This year, we're especially excited to celebrate our 80th anniversary," says Denise Lanclos, chairwoman of Scenic Lafayette's Azalea Trail Committee. "Lafayette's Azalea Trail has gone through a major revitalization in recent years with the planting of 1,000 azaleas, including 375 around the University of Louisiana. That revitalization has inspired people to engage in their own yards and neighborhoods. Today, the trail has year-round beauty, with Japanese magnolias and camellias in winter and early spring as well as Southern magnolias and crepe myrtles in summer."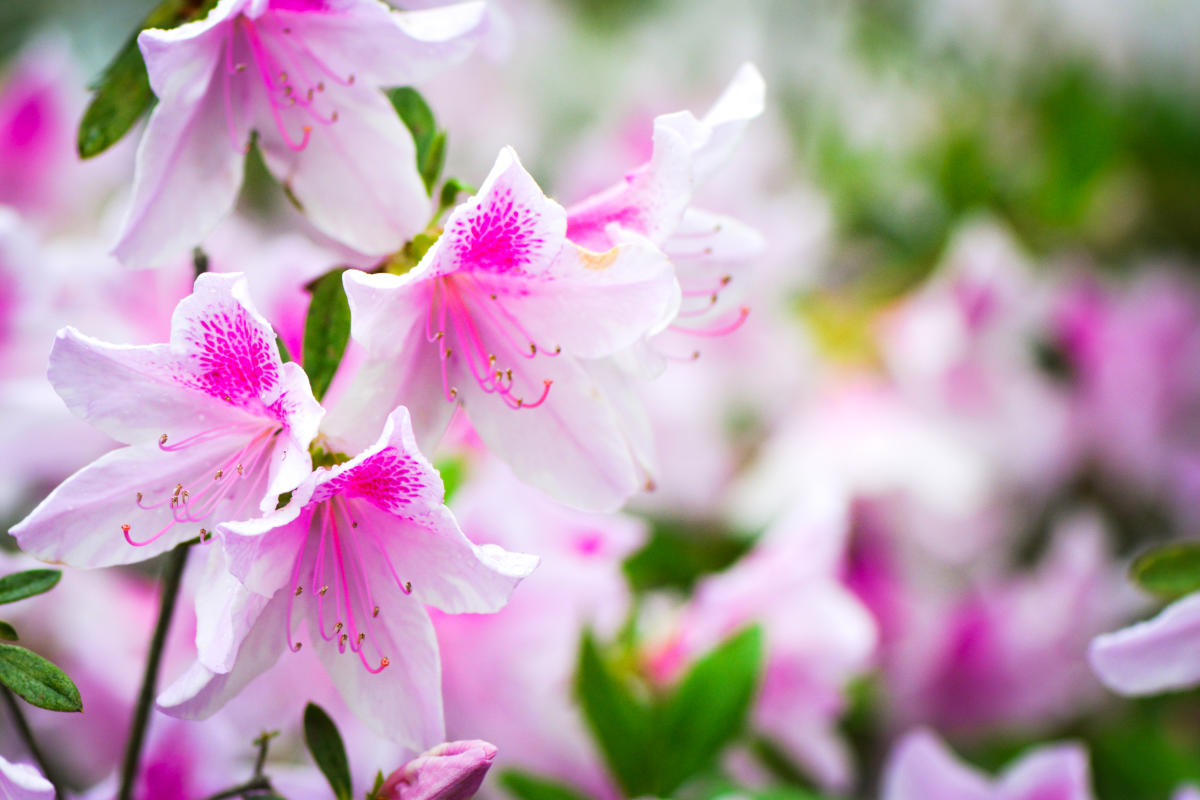 The public is invited to admire the city's finest flowers by attending the Vermilionville Azalea Reception on Saturday, March 7, from 11 a.m. to 3 p.m. The event includes free admission to the historic folklife park, with period homes dating back to the 1700s and 1800s. Guests can also enjoy complimentary food and refreshments, a cash bar, and an authentic Cajun Jam Session. A free trolley ride will also be available on March 7 from 9 a.m. to 12 p.m. Round trip rides will be approximately one hour and go through historic downtown Lafayette and the University/Oil Center Cultural District. Riders may hop on and off to enjoy free admission to the Alexandre Mouton House & Museum as well as the Paul & Lulu Hilliard University Art Museum. An additional trolley tour will take place on March 14.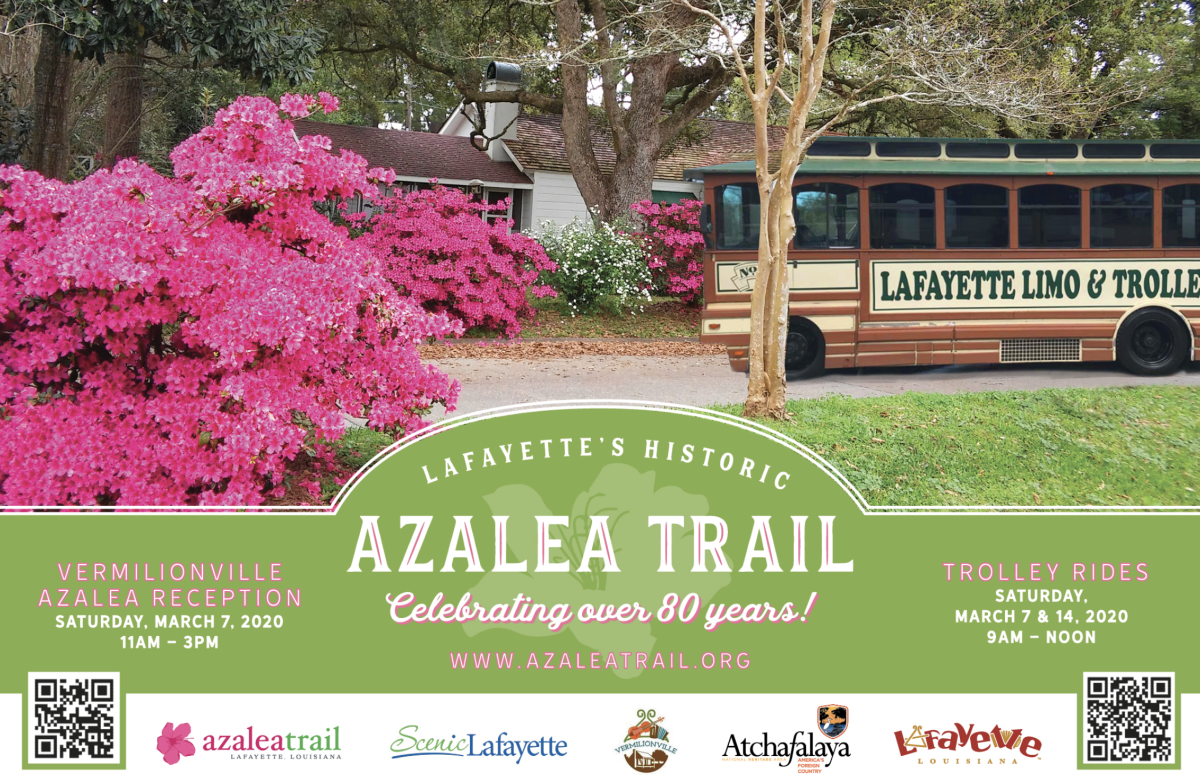 Even if you can't be in town for the 80th-anniversary celebration, visitors can follow the Azalea Trail on a self-driving tour from late February through March. The Lafayette Azalea Trail begins at Lafayette Travel's Visitors Center and meanders 20 miles through the city, past Southern homes, and historical landmarks. One of the most architecturally stunning churches in the South, the Cathedral of St. John the Evangelist, is a "Don't Miss Viewing Spot" on the trail. Just west of there, dainty blooms complement historic Southern-style cottages along Myrtle Place and St. Mary Boulevard. At the University of Louisiana and neighboring Girard Park, azaleas rest beneath majestic live oaks and accentuate Acadian homes. Two miles south, azaleas grace the lawns of million-dollar homes on Shannon Road.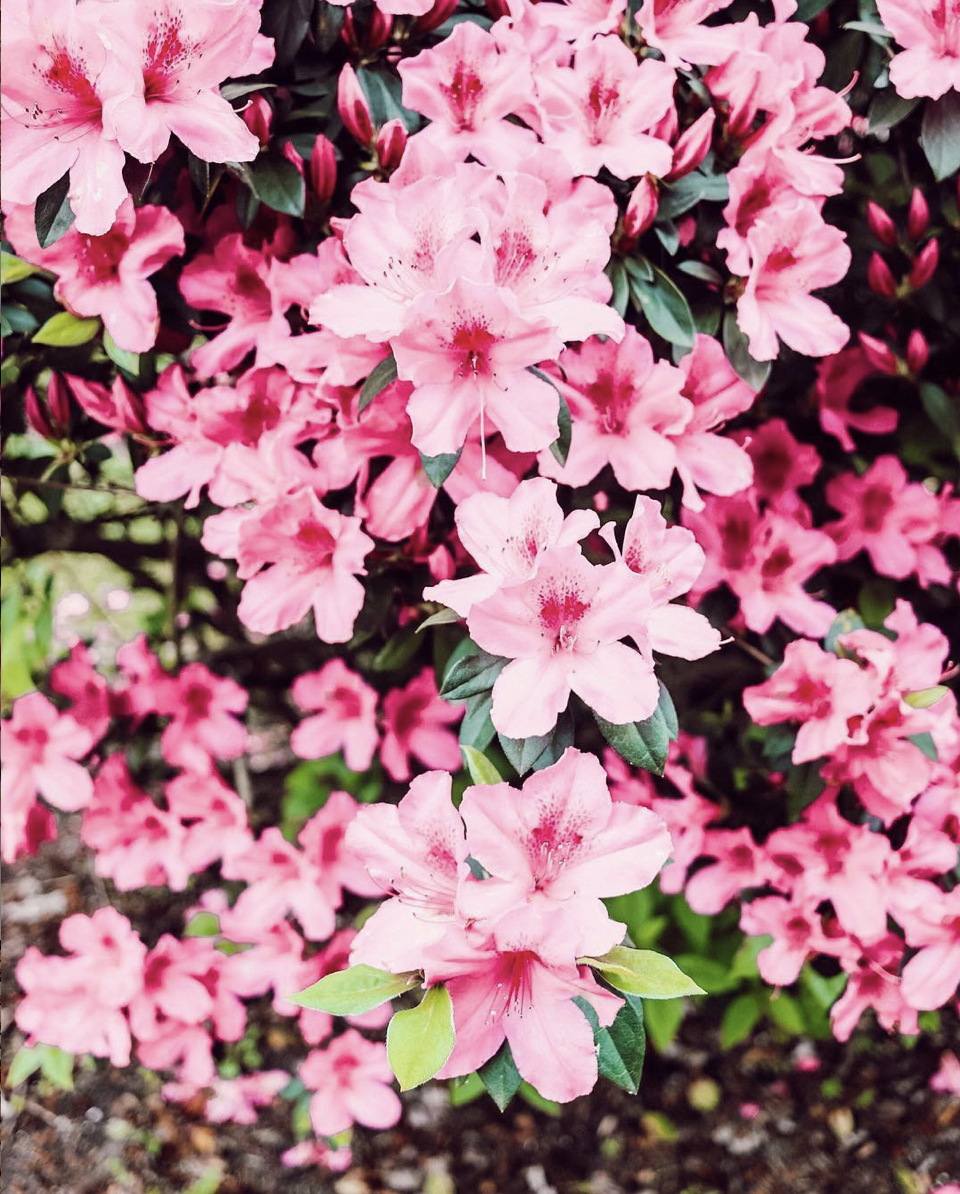 Tourists have flocked to Lafayette since the 1930s to admire the city's azaleas. The flowering bushes were brought to the Gulf Coast over two centuries ago from East Asia and have since flourished. While there are more than 10,000 named selections of azaleas and rhododendrons, the predominant variety in Lafayette is the Formosa azalea. In fact, the flower has become synonymous with the city—in the 1950s, the fuchsia lavender Formosa was actually named "The General Lafayette." 
For more information on the 80th-anniversary celebration or to view the trail map, click here.