While much of the country is still covered in white snow and frost, spring bursts forth in Lafayette in spectacular shades of pinks, purples, corals, and white with millions of azalea blossoms.
A springtime attraction since the 1930s, the Lafayette Historic Azalea Trail is a winding drive through Historic Districts, Downtown, the University, the Oil Center, and neighborhood garden districts for almost 25 miles. "It is literally a parade of history," says Denise Richard Lanclos, the Promoter of the Azalea Trail.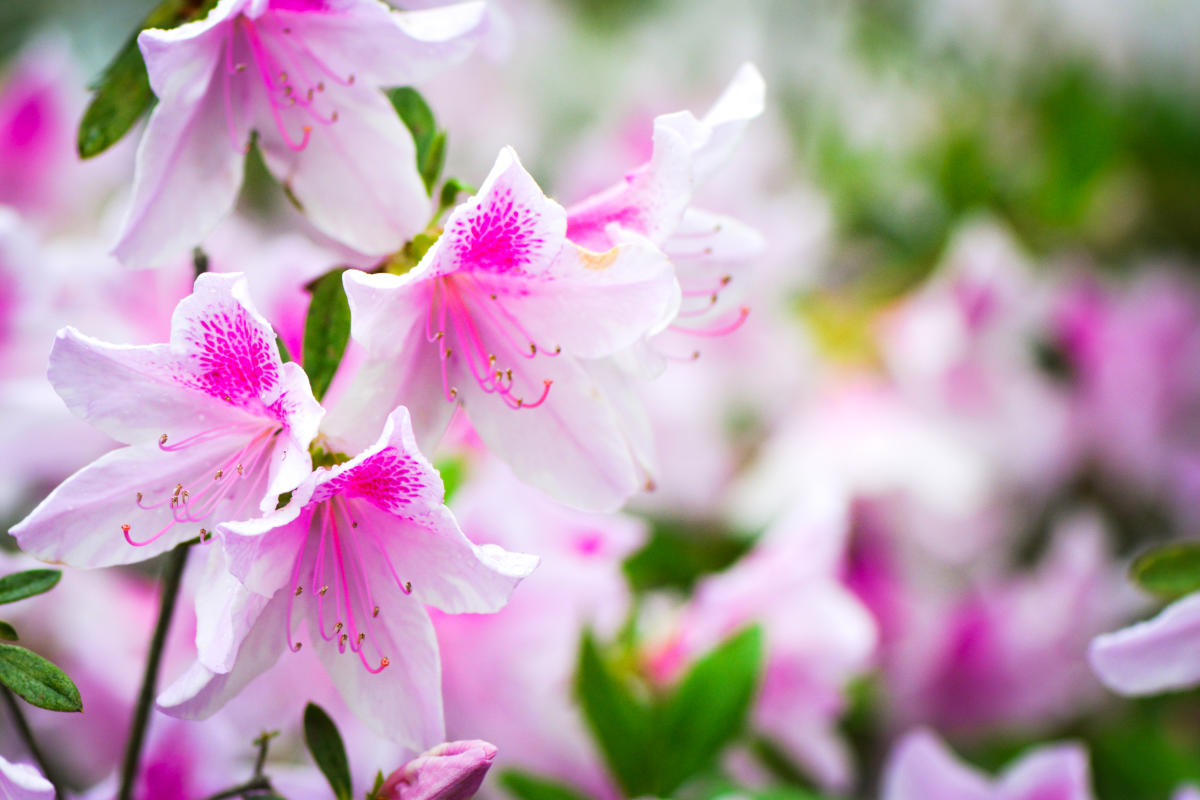 The flowering bushes were brought to the Gulf Coast over two centuries ago from East Asia and have since flourished. There are over 10,000 named azalea varieties. The most predominant type you'll see here is the Formosa, which blooms in lavender and fuchsia. In the 1950s, the Formosa was named "General Lafayette" because of its prominence in the city.
 
The Lafayette Historic Azalea Trail is celebrating its 85th year traveling past Southern homes and historical landmarks. One of the most architecturally stunning churches in the South, The Cathedral of St. John the Evangelist, is a "Don't Miss Viewing Spot" on the trail. If you head West of the Cathedral, you'll spot blooms alongside the Southern-style cottages of Myrtle Place and St. Mary Boulevards. Stop by the University of Louisiana at Lafayette and Girard Park, where you'll see lively azaleas resting beneath majestic live oaks.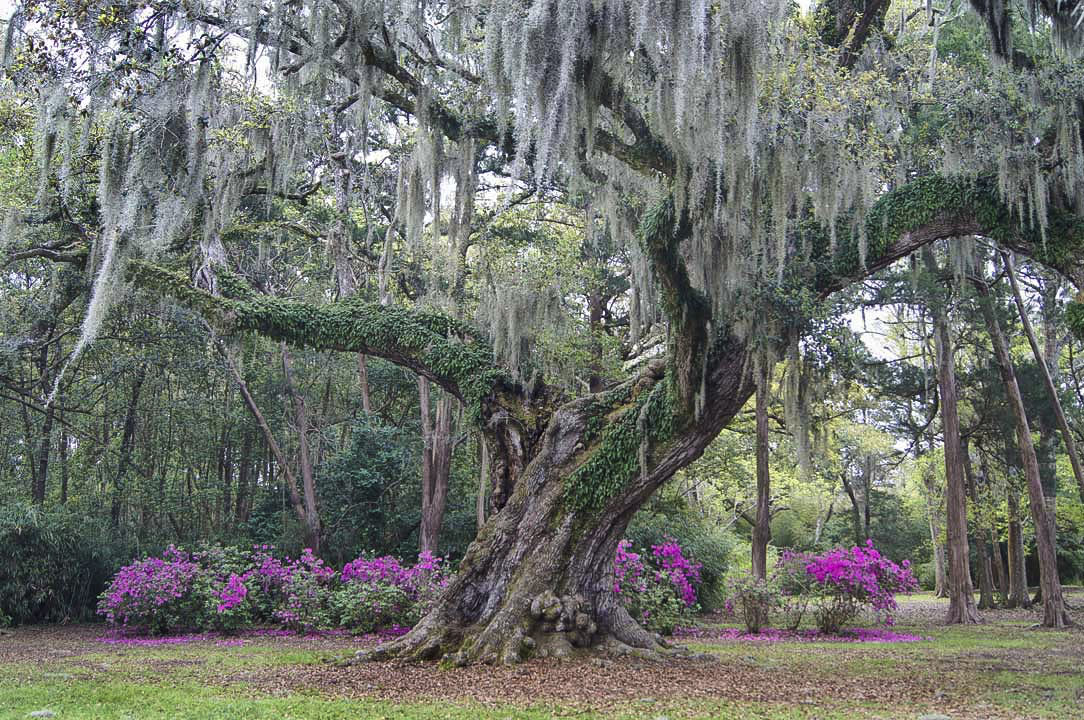 Don't feel like driving? The Azalea Trail will host a series of trolley tours throughout March 4, 11, and 25. With a new trolley this year, riders will experience the tour with an intercom system. Riders also get to tour the Lafayette Museum for free. The Hillard Museum and Vermilionville have partnered with the Azalea Trail to offer discounts to trolly riders.
 
Over the last few years, more than 1,500 new azaleas have been planted, leading the city to become one of 16 to be awarded an "Azalea City Certification" by the Azalea Society of America. "The trail continues to be one of the greatest floral treats in the Deep South, marking the beginning of springtime," says Lanclos. Trail organizers encourage visitors to stay a while, eat something they've never tried, and check out the local music!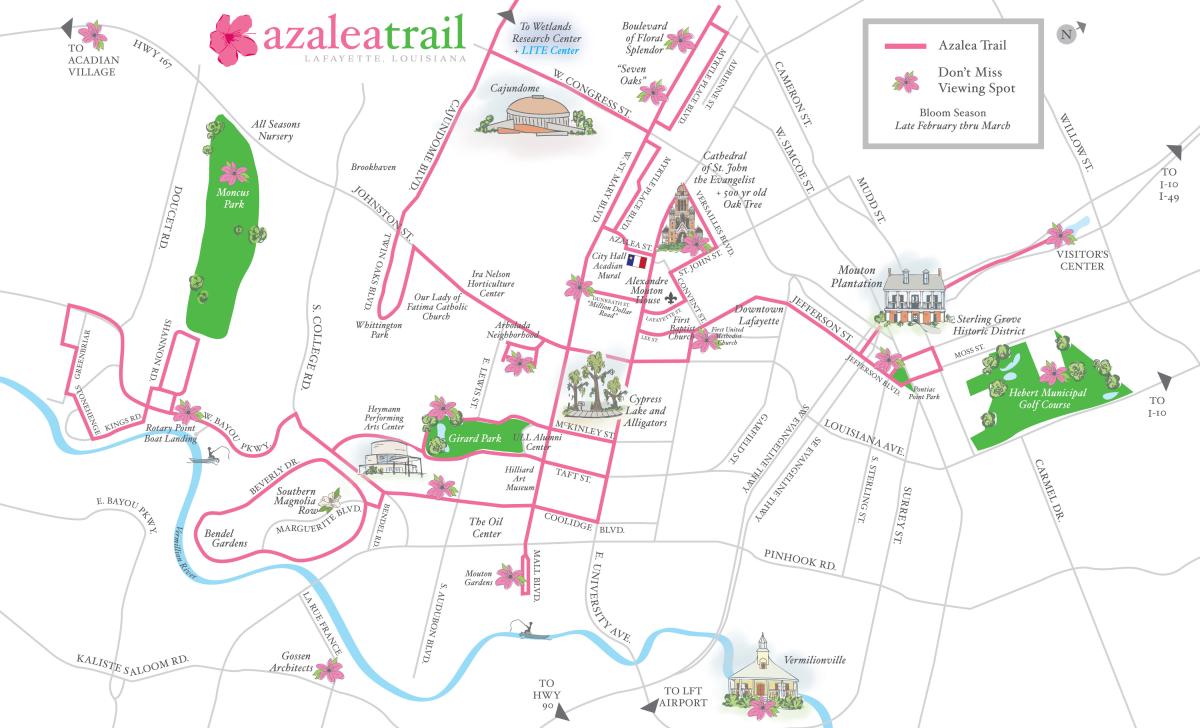 The Azalea Trail was once called "Floral Mardi Gras" because of the beautiful trees and evergreen shrubs that line Lafayette's streets. Magnolias, camellia, and azaleas keep the streetscapes green and beautiful year-round. When they start to bloom, that's when the show really begins!  
 
Spring is the most popular time to view the Azalea Trail. Still, the trail also has seasonal blooms of the camellias in December and January and Japanese magnolias during January and February.  
 
For more information, including maps, events, and other resources, click here.