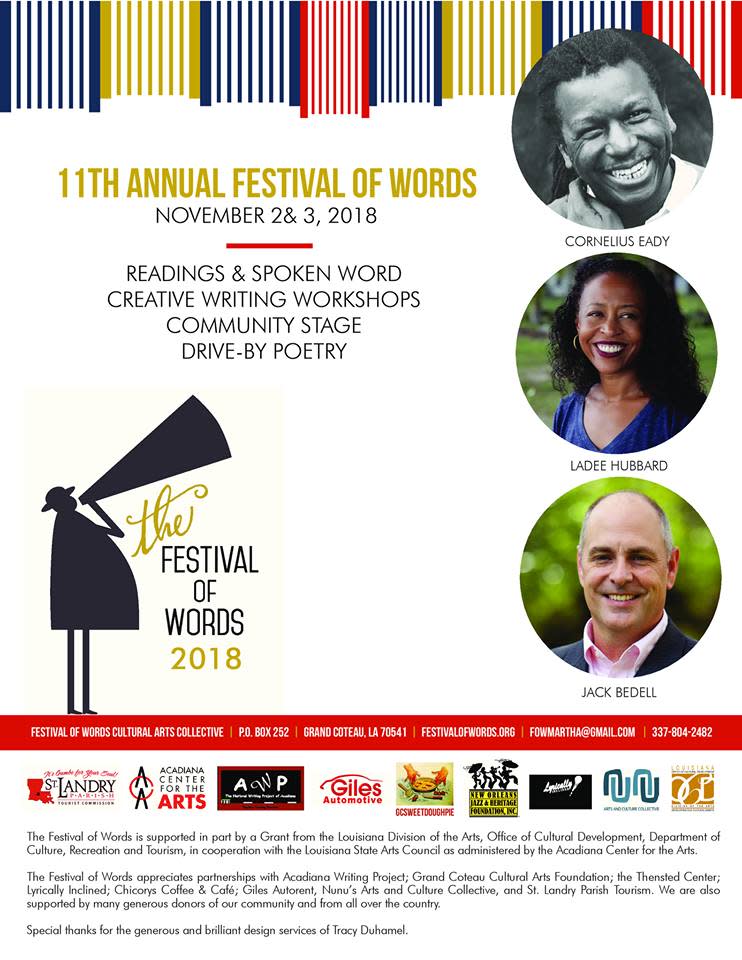 Image courtesy of FestivalofWords.org
November 2-3
Various locations in Grand Coteau & Sunset
Now in its 11th year, the Festival of Words is a celebration of all things spoken word. This year's event will feature three authors and artists, public readings, community and school creative writing workshops, drive-by poetry in the streets, and more! The workshops offer a chance for participants to learn invention techniques, help you to write your own poem or prose from established authors. The year's event features Jack Bedell, Ladee Hubbard and Cornelius Eady; plus Josh Capps, Bruce Coen, Chere' Dastugue Coen, Alex "Poetic Soul" Johnson and Chamir Murphy. For a complete schedule of event click here.
Abbeville's Giant Omelette Celebration

Image courtesy of Abbeville's Giant Omelette Celebration
November 3-4
Magdalen Square, Abbeville
Abbeville's annual Giant Omelette Celebration is a two day celebration for the whole family. The event takes place in Abbeville's Magdaline Square with its majestic oaks and old fashioned gazebo. Events include an arts & crafts show, food show, eggs over easy egg toss competition, tractor "egg cracking" competition as well as live music by Mathew Ewing and the All Star Band, The Babineaux Sisters, The Revelers, Chubby Carrier, and Fa Tras. Grab your seat early for the procession of chefs, eggs and bread to the Giant 12 foot skillet where fun and follie are the order of day for those preparing the "5000 Egg" Giant Omelette! Click here for more information about the festival.
Native American Culture Day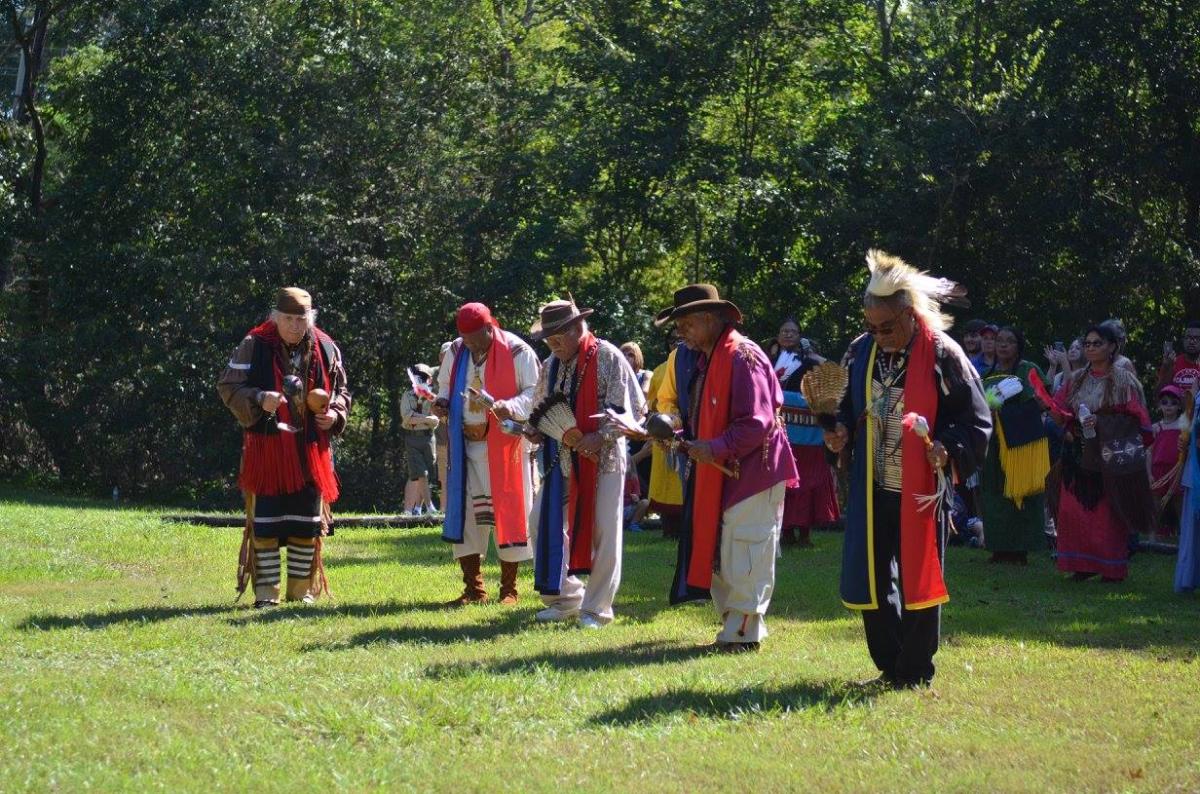 Image courtesy of Vermilionville
November 3 from 10 a.m. – 4 p.m.
Vermilionville, 300 Fisher Rd., Lafayette
Join Vermilionville as they celebrate their annual free Native American Culture Day with representatives from many of Louisiana's Native American tribes doing craft demonstrations, food, music, dance and cultural exchange. This year's Native American Culture Day will include several activities throughout the day such as artifact exhibits, pottery, beading, basket weaving, palmetto weaving, garfish jewelry, dream catchers, film showings, boat tours, canoeing, artifact exhibits, tomahawk throwing, drumming, dancing and more.
Southern Screen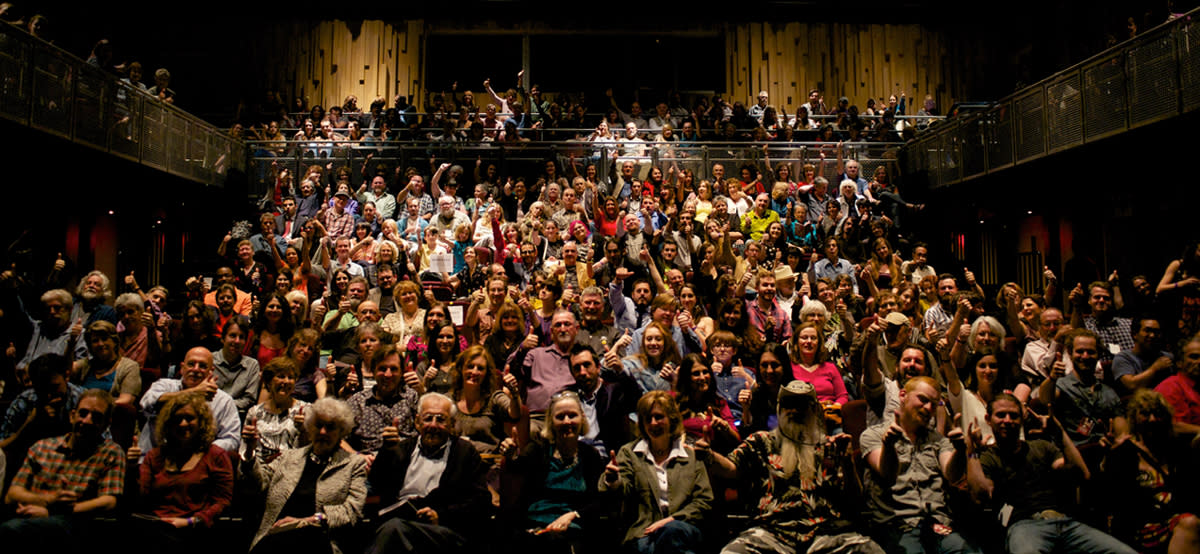 Image courtesy of Southern Screen
November 7-11
Various Locations in Lafayette
In the spirit of keeping things creative, Southern Screen is going off script and embracing their Seven Year Itch! For the past 6 years they have focused mainly on film, but this year they are opening our eyes and ears to new (and old) mediums of storytelling. The festival will include four days of film screenings, live music, screenwriting, live podcast, workshops, parties, and more for every unique individual to enjoy. Click here for more information about the festival.
Downtown Alive! Annual Lighting of the City Tree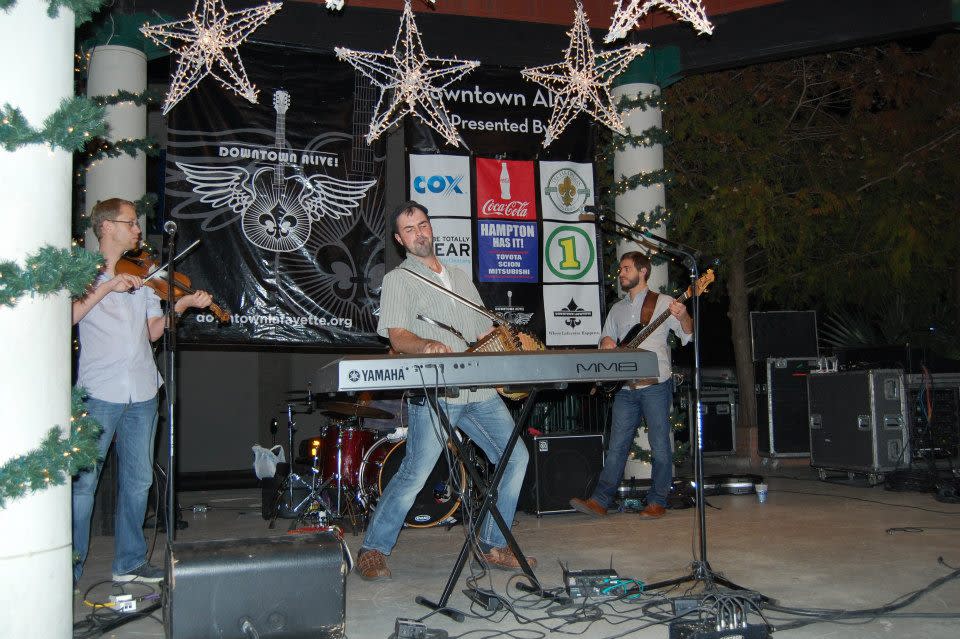 Image courtesy of Downtown Alive!
November 21
Parc Sans Souci, 201 E Vermilion St, Lafayette, LA 70501
Join Downtown Alive! as they close out their 2017 fall season with the annual lighting of the Christmas tree with special musical guest Pine Leaf Boys. There will be plenty of activities for the whole family from 6 – 8 p.m. along with food and beverages to keep you energized. Click here for more information about this event.