No trip to Louisiana is complete without polishing off a po'boy. Legend has it the state's iconic sandwich was invented by brothers from Acadiana. In 1929, Benny and Clovis Martin came up with a quick, inexpensive meal to feed streetcar drivers who were on strike in New Orleans. Whenever they saw the workers approach their French Quarter coffee shop, they'd say, "here comes another poor boy." Ninety years later the po'boy evolved from a half loaf of bread stuffed with ham to culinary masterpieces filled with everything from fried shrimp, oysters, and roast beef to alligator, fried pork skins, boudin, and creative accompaniments.
Every spring, locals and visitors celebrate the legacy of the po'boy at the annual Acadiana Po'Boy Festival at Parc Sans Souci in downtown Lafayette. The humble sandwich rose to fame at the 2016 festival when the world's largest po'boy was created. The 367-foot-long po'boy spanned a whopping 46 tables. This year, two dozen vendors will present both classic and inventive varieties of po'boys, with easy-to-manage 3-inch samples going for $3.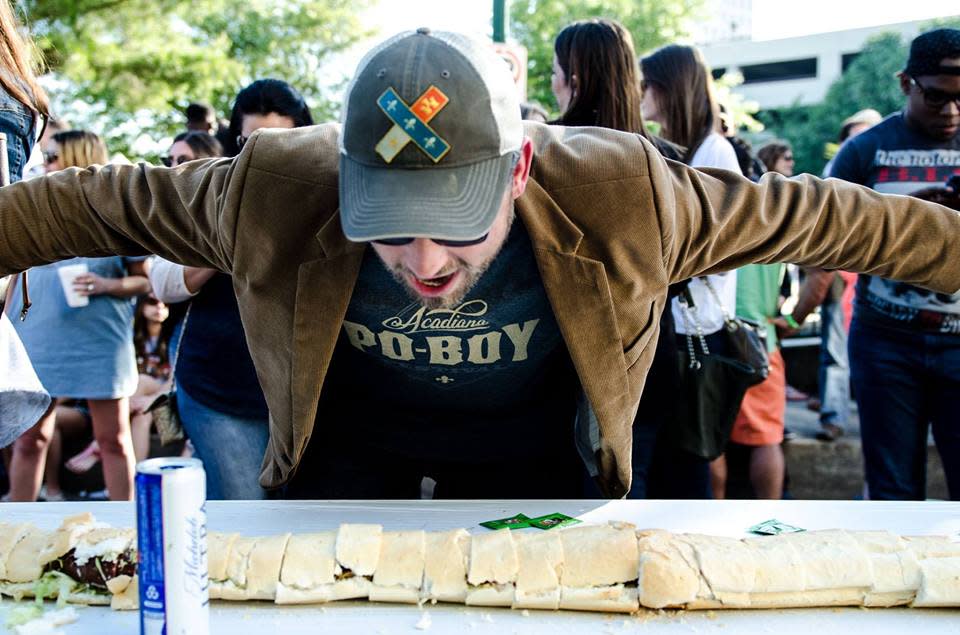 Image courtesy of Facebook.com/AcadianaPoboyFestival/
"It's the ultimate po'boy festival," says event coordinator Britlyn Delahoussaye. "It's wonderful to see local restaurants taking the time to curate the po'boys and make them special."
Patrons can vote for their favorite po'boy by purchasing tokens—each vote is $1 and benefits Big Brothers Big Sisters. Last year's People's Choice Winner went to Dustie Latiolais of Cochon Cannery for his "Not Yo Mama's Grilled Cheese," which was filled with melted pimiento cheese, Spicy Bacon Jam and Apple Bacon Butt Rub pork skins. Latiolais, who was named Louisiana Cookin's Chef to Watch in 2018, will be back this year to defend the title.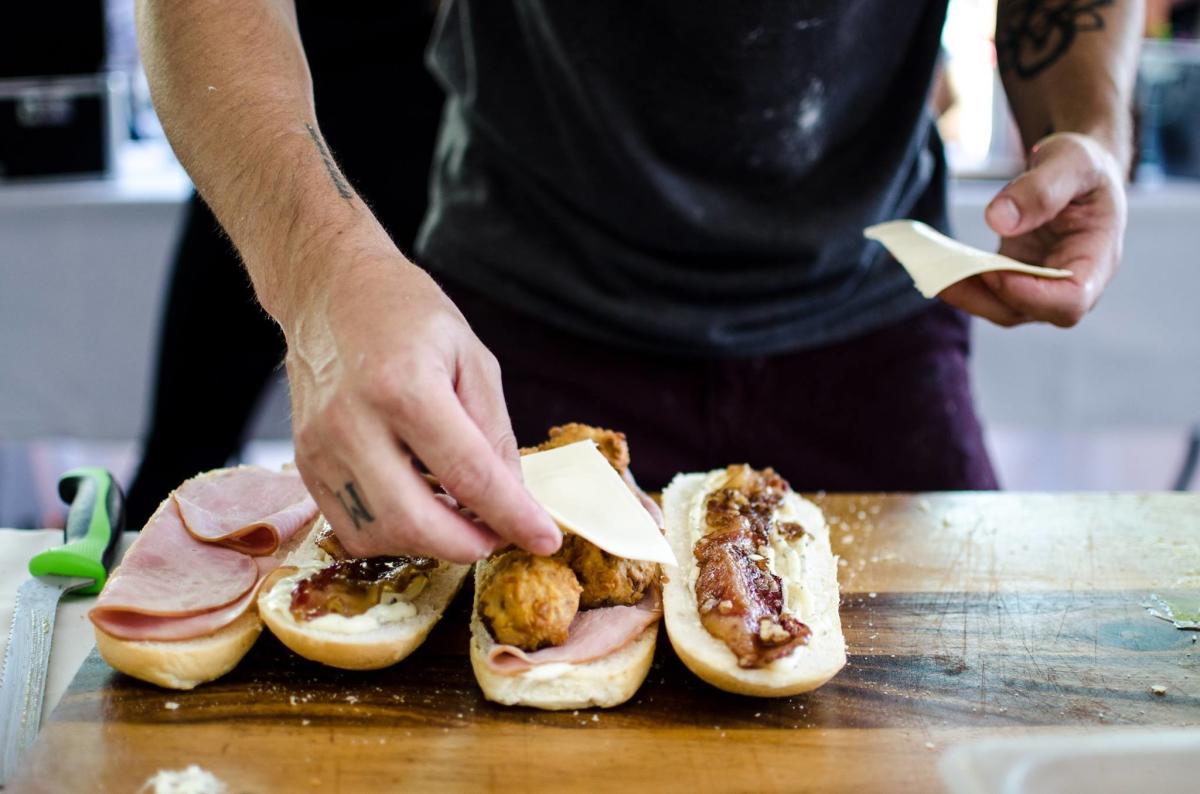 Image courtesy of Facebook.com/AcadianaPoboyFestival/
"We love the opportunity to participate in the festival," says his wife and business partner Denise. "Dustie's not afraid to try something new. We love to travel and try different cuisine and come back and experiment at home in Breaux Bridge."
The festival also presents a Judge's Choice, a top po'boy selected by business leaders in town. Last year's winner was Tony Chachere's "Fried Pork Wing Po'boy" with barbecue rub, white barbecue sauce, and quick pickled cucumbers.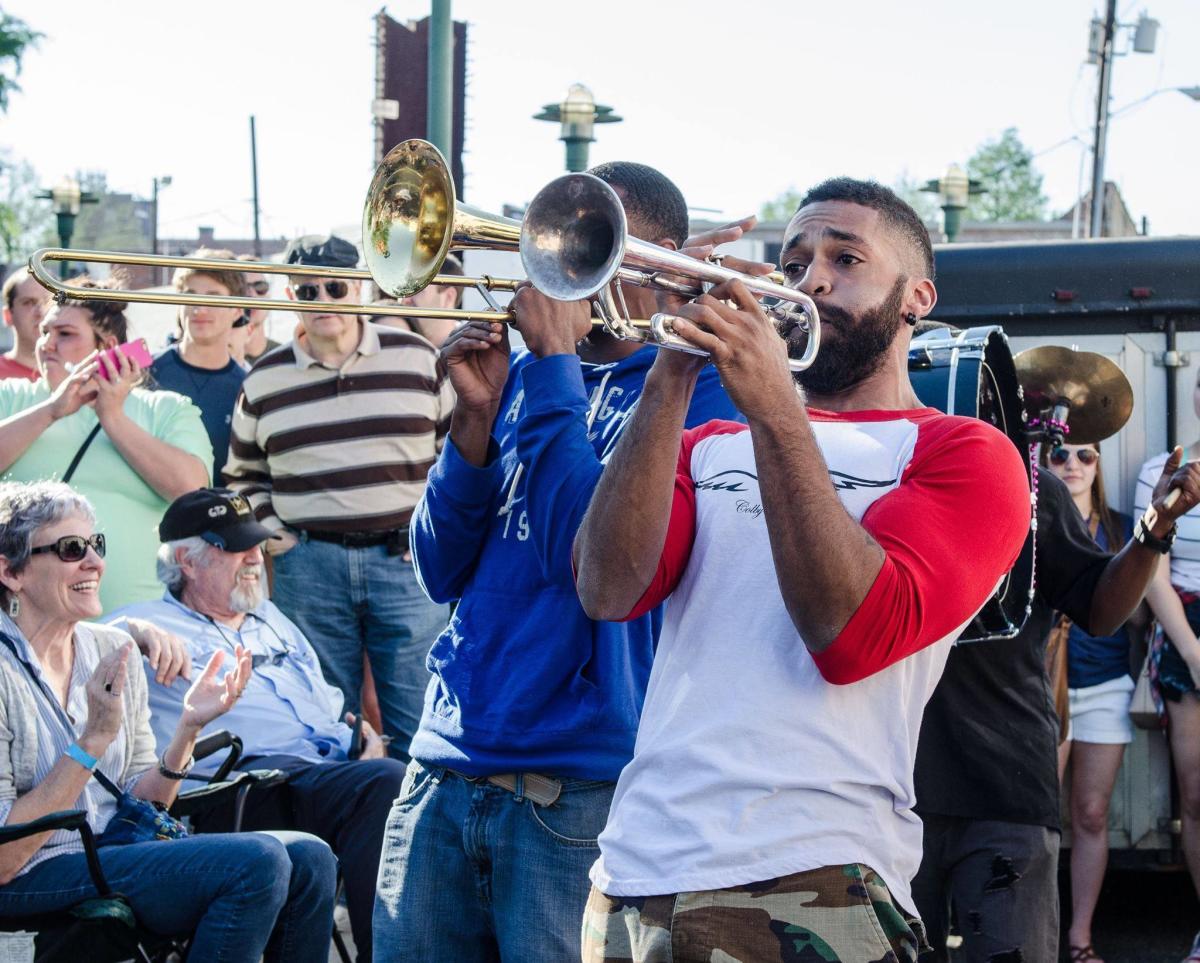 Image courtesy of Facebook.com/AcadianaPoboyFestival/
Local favorite haunts like Olde Tyme Grocery, Pop's Poboys, Bread & Circus, Poupart Bakery and Saint Street Inn will be ones to watch in this year's competition.
Besides gorging on more than 60 varieties of po'boys, festival goers can peruse arts and crafts and pop-up vendors and enjoy an open bar and live music. Performers this year include Soul Express Brass Band; DG & the Freetown Sound; Julie Williams; Homegrown Reggae; Lane Mack & the Balladeers; Chubby Carrier and the Bayou Swamp Band; and Gerald Gruenig and the Gentille Zydeco. Families can also take advantage of the children's area with coloring, face painting, games, and activities.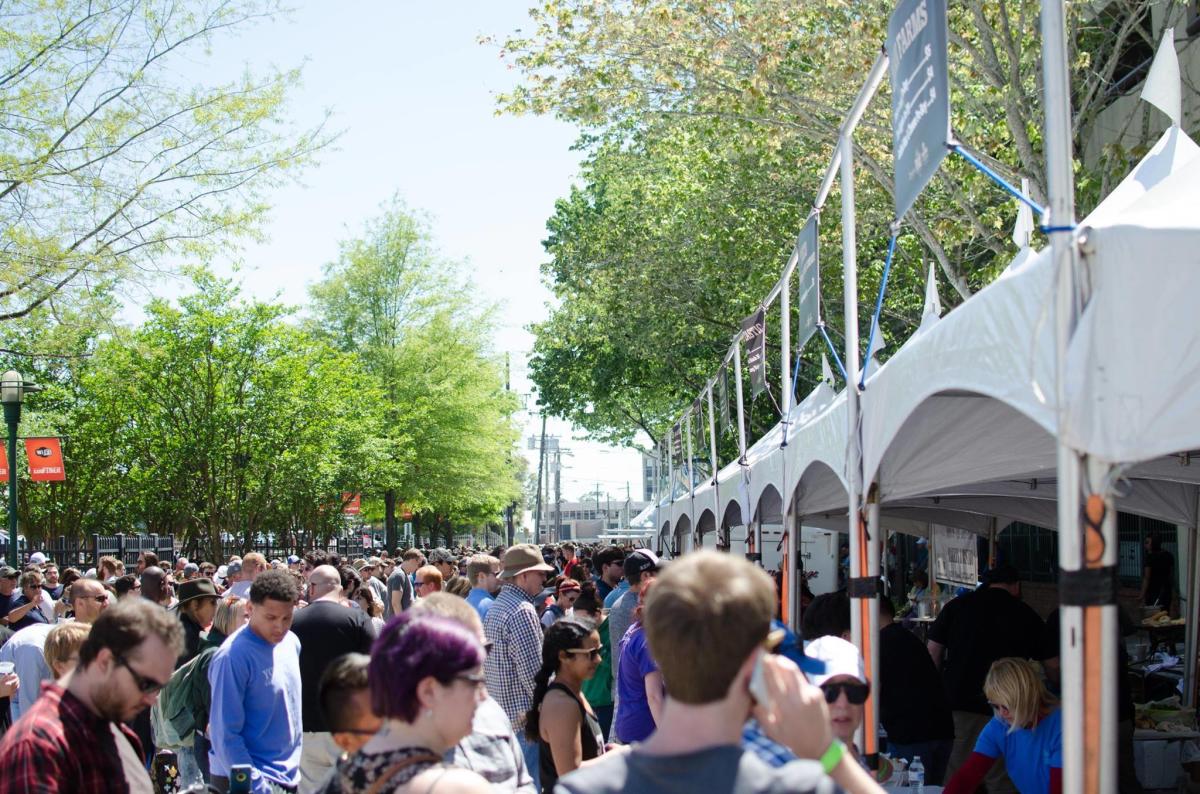 Image courtesy of Facebook.com/AcadianaPoboyFestival/
The festival is held from 11 a.m. - 6 p.m. rain or shine. Admission is free. For more information, visit AcadianaPoboyFestival.com.