Festival International de Louisiane, held late April in downtown Lafayette, books performers from every corner of the world. Its a daunting task organizing music for a domestic festival but even more so for an international Francophone event like Festival International, which attracts hundreds of musicians yearly to South Louisiana.
Researching these bands and coordinating their visits to Lafayette falls on one person, Festival Programming Director Lisa Stafford. Stafford became interested in Lafayettes Francophone resurgence when her children attended the Lafayette Parish French Immersion Program. She volunteered at Festival Internationals children's stage, Scne des Jeunes, for five years until she was offered a temporary job as office manager in the Festival office.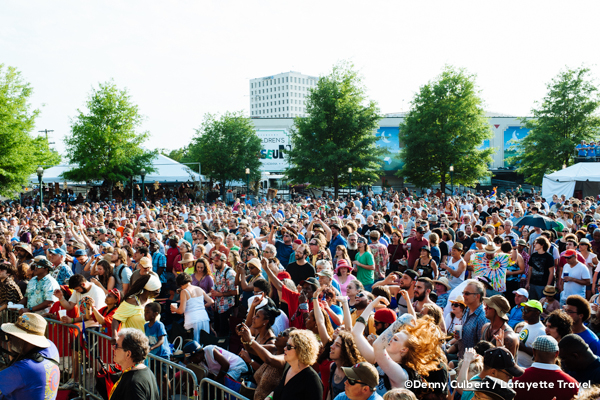 At about the same time, their programming person resigned, Stafford recalled. I knew a lot of local musicians so I started doing some of the bookings for the festival. I had just returned from a five-week French Immersion program at Laval University in Quebec City, where I spent some time with a couple Festival International board members at the time. I just kind of fell into the position of programmer and have been here ever since. That was in 1998.
We asked Stafford about some of the ins and outs of booking musicians for the festival every year. Heres what she shared with us:
Q: How do you learn about the bands you invite to Festival International? A: I do research year round and attend other festivals, music conferences and showcases. Im also on a private list serve of North American presenters who share information and reviews on live performances across the U.S. and internationally.   Q: How do you choose from them all? A: After being here for so many years, you learn what will fit and will work for our audiences. I get great feedback from the programming vice president and committee, other staff members and advisors in the industry that I trust and have attended our festival.   Q: Since Festival International de Louisiane is a free festival, attracting bands with a limited budget must be a challenge. A: This is always a challenge. I have to keep close track of bands that are touring during our time period or pursue bands that will have financial support for travel from agencies in their country. But, as word has gotten out over the years amongst musicians, the Festival International Experience is on the wish list for many bands. A lot of bands give us a break on fees because they know our festival is free to the public and they really want to perform. Q: What is the requirement for the Francophone aspect of the festival? A: Although we have an emphasis on, or a larger percent of Francophone bands, its not necessarily a requirement. We highlight music from many different countries. We always include local French music as well. We do normally have more bands from Francophone countries rather than non-Francophone. From year to year, a lot of it depends on the touring cycle of bands and where those bands are from.   Q: Of the acts that travel far, do they tour the U.S. to make the trip worthwhile? For instance, do they play Jazz Fest in New Orleans as well? A: These days, because of expenses for Visas and Central Withholding Agreements with the IRS, its rare that a band would come in to perform only at Festival International. Its not really financially feasible. The exception would likely be a Canadian band. A couple of the bands might play at Jazz Fest and yes, I do try to help add dates to make the tours more financial sense for the artists. Thats where the North American Presenters list serve comes in very handy. One post and bookers from New York to California learn about the bands coming in and hopefully make offers. That process starts right after the festival for the next year. Its really a must for an international band to have a U.S. booking agent, especially if the band is not from North America. Its too difficult to offset expenses for travelling to the U.S. to perform without booking more than several venues to make a profit. Its different than it was in the early years of the festival.   Q: Do you partner with other festivals and venues to swing a band this way? A: Yes, I always help to make recommendations for bands for other venues or festivals where the routing may work. In the fall, I went on a trip to Morocco with several other music buyers and a booking agent. The intent was for all of the music buyers, such as myself, to block book these artists to offset the high travel expenses.   Q: How do you determine who plays on what stage, is there a certain focus for each one? A: Of course, most of the time, we schedule bands who we think will be a big draw in the later time slots. But sometimes, due to the routing of those bands (possibly a later flight out to connect to another gig), Ill have to place them earlier in the day. The rest is just a placement of a variety of genres that usually flow well. We like to think theres a little of everything going on at all times. I have a really large schedule on the wall in my office and I just move things around until the pieces fit like a puzzle and it looks good as a whole. Sometimes, Sami Parbhoo (festival VP of Programming) and I will just sit back and move things around over and over until we like the way it looks. We tend to put more of our indigenous music at the Heritage Stage. And the beer garden is more of a showcase of up and coming bands and sometimes already established home grown talent that doesnt necessary fit into the Francophone or Cajun/Zydeco category.   Q: What great bands have you introduced to Lafayette over the years? A: Wow, thats a hard one. I guess everybody has a favorite. Some of my personal favorites have been Balkan Beat Box, Chic Gamine, Bomba Estereo, Zap Mama and Sharon Jones & the Dap Kings, Angelique Kidjo and Salif Keita. We still get requests to bring back bands like The Waifs and some of the bands from the very early years.   Q: Has any acts played here that have blown up afterwards (in success)? A: There are a lot of acts who performed here just on the cusp of their major successes. A lot of very well-known Francophone acts like Amadou & Miriam, Rokia Traore, and Ceux Qui Marchent Debout played in the U.S. for the first time ever at our festival. And we were fortunate enough to have acts such as Gary Clark Jr., Sharon Jones & the Dap Kings, Charles Bradley and other U.S. artists who have very successful careers. And of course, theres Louisianas own GIVERS. They are extremely successful. Were lucky to have them as a headliner this year.
---
Cher Coen is a Lafayette-based freelance travel and food writer and author of Exploring Cajun Country: An Historic Guide to Acadiana and several other Louisiana-based books.