Mardi Gras is the salt, sugar and fat of the South Louisiana celebratory diet: an unhealthy confection that so deeply satisfies the animal cockles of the brain that it's worth the harm. So Mardi Gras is bad for you; so what?
There's no one way to Mardi Gras. And you'll certainly find that communities only miles from one another are worlds apart when it comes to how they celebrate the last week of sin before Lent.
Yep, Mardi Gras really does begin the weekend before the eponymous Fat Tuesday, arguably even earlier than. In fact, you'll note that the festivities, particularly the after-hours stuff, wrap up Tuesday night. (This year, Ash Wednesday is on Valentine's Day. That'll make for a guilty romance.)
Forget tradition for a minute; don't worry about how to ring in an authentic Mardi Gras and schedule an agenda that breaks all the rules. That's what Mardi Gras is all about, anyway.
Thursday, February 8, 2018
Chas Justus & The Jury with T'Monde
Artmosphere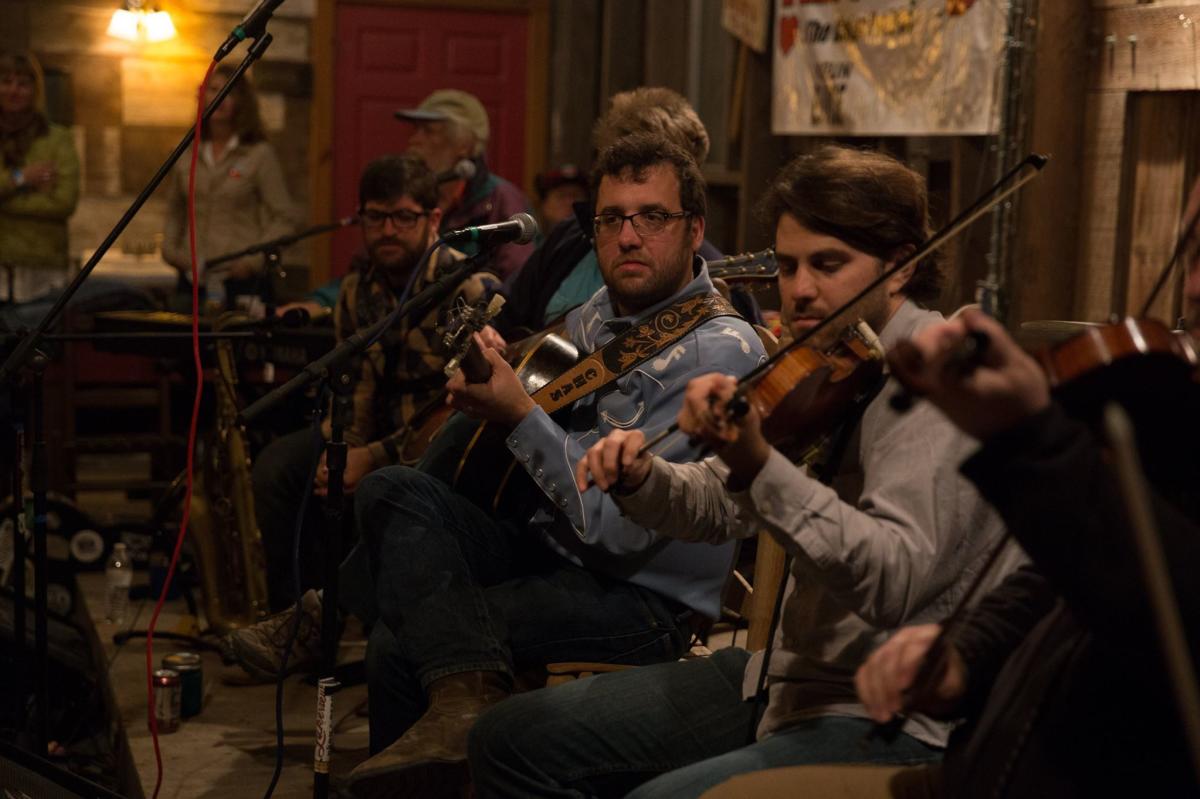 Image courtesy of Colin Gould
I'll allow Chas Justus the punned appellation of his backing band, the Jury, only because "Justus" is his honest-to-God, genuine-article last name. The Mississippi native has spent years in Acadiana coaxing boogie and jazz harmony out of archtop guitars with jukebox acts like The Revelers and The Red Stick Ramblers. The Western Swing of his solo work hones a fine laze, in particular, 2017's Chas Justus & The Jury, which drifts from start to finish like a raft down a river. Tracks like "Gimme Some Words I Can Dance To" are buoyant with Justus' charming and slurred sense of humor. Take in an aperitif-paced start to your Mardi Gras weekend and lather a sardonic base for your future hangovers. (Hint: He plays brunch at Artmosphere that week, too.)
Friday, February 9, 2018
Lost Bayou Ramblers with New Natives Brass Band
Warehouse 535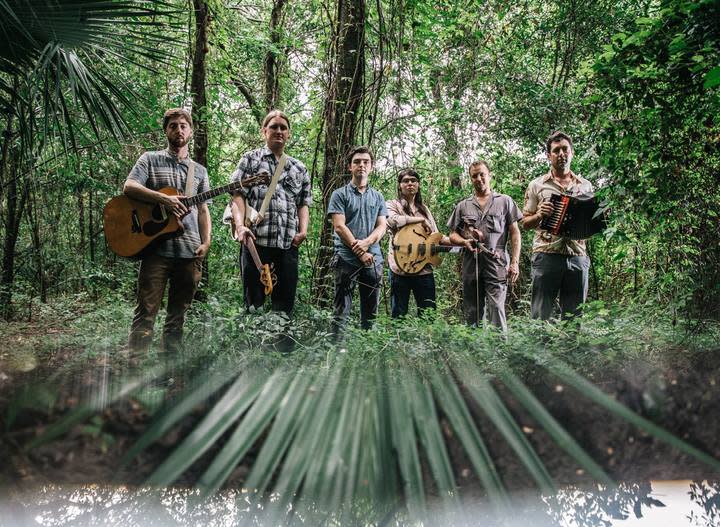 Image courtesy of LostBayouRamblers.com.
As previously noted in this column, you'd be hard-pressed to find a weekend that Lost Bayou Ramblers weren't playing. But, sadly, the 20-year-old psychedelic Cajun outfit calendar dependability is no more; they announced an open-ended (and most definitely indefinite) hiatus earlier this month. Now, Lost Bayou shows are a vanishing commodity, something to be savored and saluted at every opportunity, like eating king cakes while the sun sets on Lundi Gras. (Only now you can get king cakes year round from some joints, which is, frankly, appalling.) Follow the Krewe de Canailles parade, the first New Orleans-style walking parade in Lafayette, through Downtown to find the (newly crowned) Grammy award-winning Ramblers in their element at the end of the route, serving as masters of riotous ceremony.
Saturday, February 10, 2018
Metal Gras with Forming The Void, Radiant Knife, Space Cadaver and more
Freetown Boom Boom Room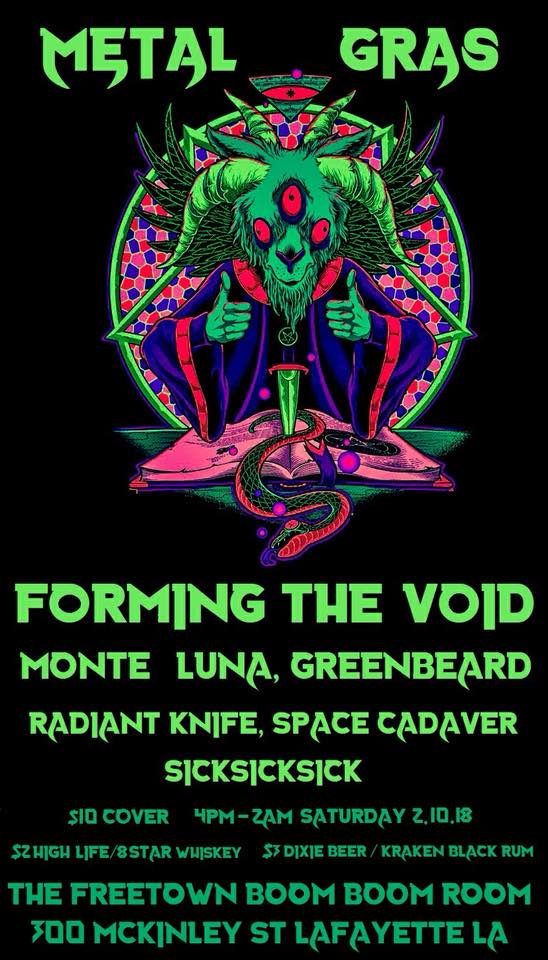 Frankly, Metal Gras sold me on the strength of its iconoclasm alone. While metal and Mardi Gras conflict in principle, navigating your way through the maddening roadblocks of a day parade could boil the blood enough to cause a craving for blast beats and death growls. (Dark Lord forbid that you need a cask of pig's blood and your route to the warlock's menagerie is cut off by the Krewe of Gabriel Parade.) Indeed, Mardi Gras is not revelry for all who dwell in Lafayette's cold, black heart. Thus Metal Gras. Despite operating in a dank and obscure shadow — where metal-heads, presumably, prefer it — Lafayette's metal scene has long produced dynamic, technically gifted thrashers. Look no further than prog-metal duo Radiant Knife's decidedly righteous "Choose Your Necrodestination" off their 2017 self-titled debut for proof.
Sunday, February 11, 2018
Jourdan Thibodeaux et Les Rôdailleurs
Blue Moon Saloon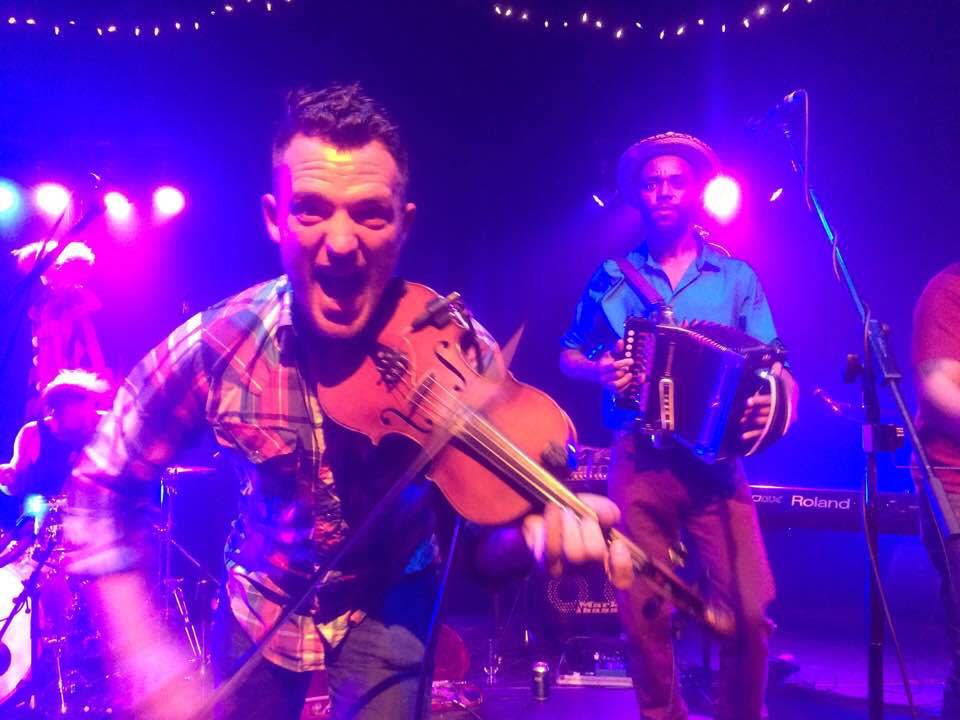 Image courtesy of Facebook.com/HotBoudin/
Songwriter and fiddler Jourdan Thibodeaux, of Cypress Island, waves the rowdy boy flag of Cajun/Creole mashups. He's ridden the feverish two steps common to both white and black French dance music to an insurgent local prominence. His band, Les Rôdailleurs, is an all-star line-up of cut-ups and extroverts (excepting stoic prodigy, Joel Savoy): Texas-born Creole accordionist and shaman Cedric Watson, jailhouse upright bassist Alan LaFleur and dynamo drummer Jay Miller. The evening marks the release of Thibodeaux's Valcour Records debut Boue, Boucane, et Bouteilles — literally, "Mud, Smoke, and Bottles."
Monday, February 12, 2018
The Viatones with Dylan LeBlanc & The Pollies
Blue Moon Saloon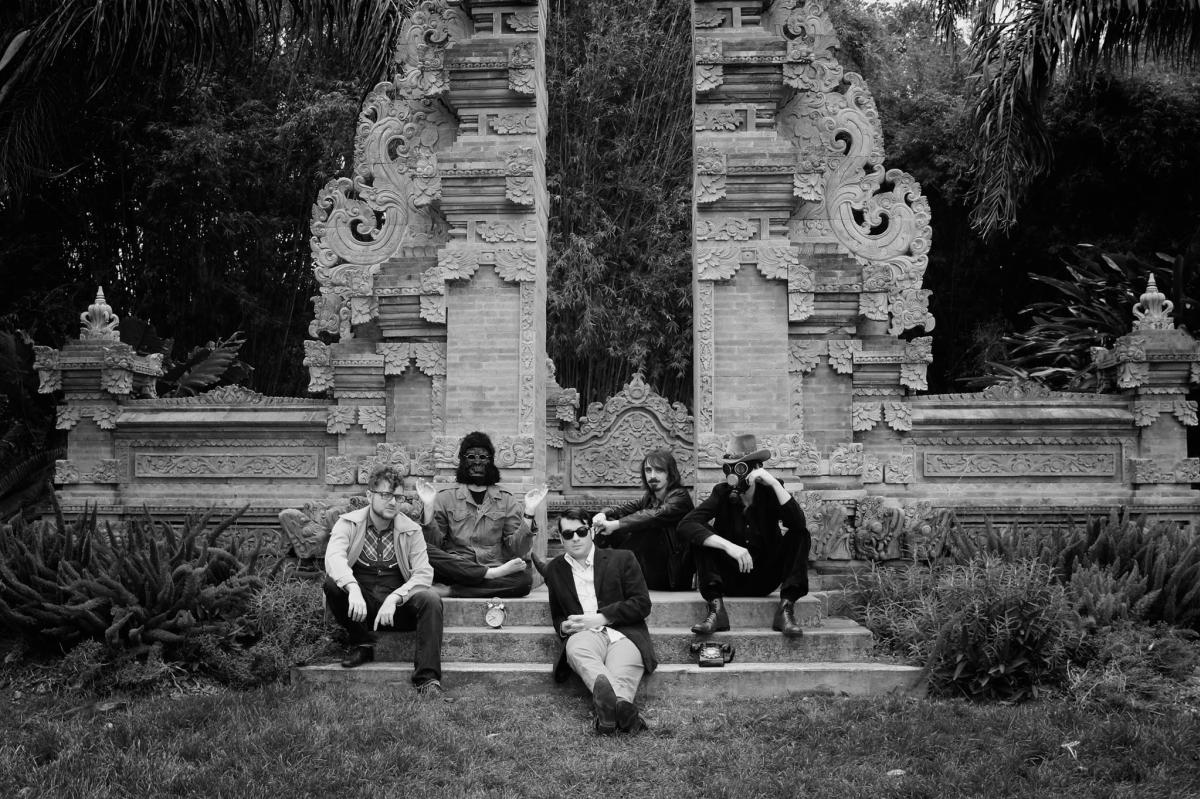 Image courtesy of Carly Viator
A Swiss Army band led by a chameleon-voiced acolyte of the 1960s "B" bands — The Beatles, The Beach Boys, Bob Dylan, The Band — The Viatones have nevertheless chiseled out a sound all their own. Primarily a vehicle for the rose-colored retro-songwriting of Blayze Viator and the production musings of Cajun wunderkind Chris Stafford (he plays lead guitar in this group), the quintet's tunefulness is its true signature. RayBan sunglasses signify Viator's baptism in the church of Roy Orbison. Whatever you do, don't confuse the look for hipster affectation.