I received a call about Brian Royer's art from an old friend and mentor from my days in the hospitality industry. His instructions were for me to come to a small apartment on the second story of an older complex in town. From the call, I had no idea what to expect and frankly, nothing could have prepared me for what lay ahead. When I entered the living room, no light source illuminated the room save a single black light. Then, Brian revealed his art.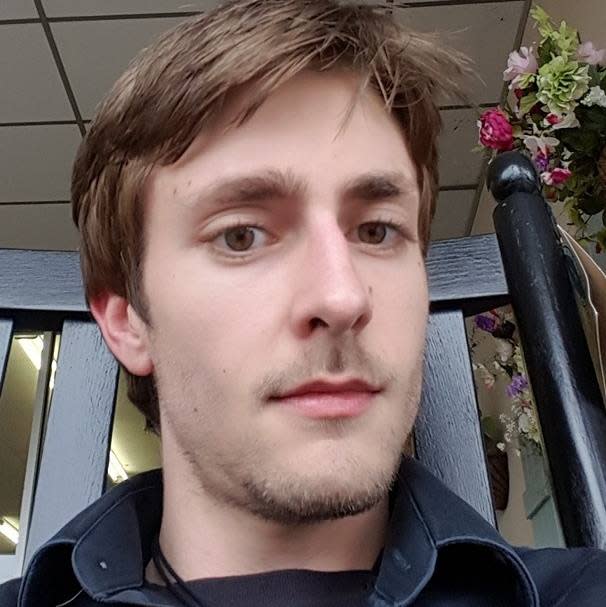 Gems and paint were glowing on every inch of the wall. In the daylight, they were one image but in the dark, under the black light, they formed new and interesting shapes and designs. For the last 4 years, Brian experimented with light reactive chemicals; finding ways to integrate them into his impressive collection of work. However, what caught my eye most were his collection of Light Cast Jewelry.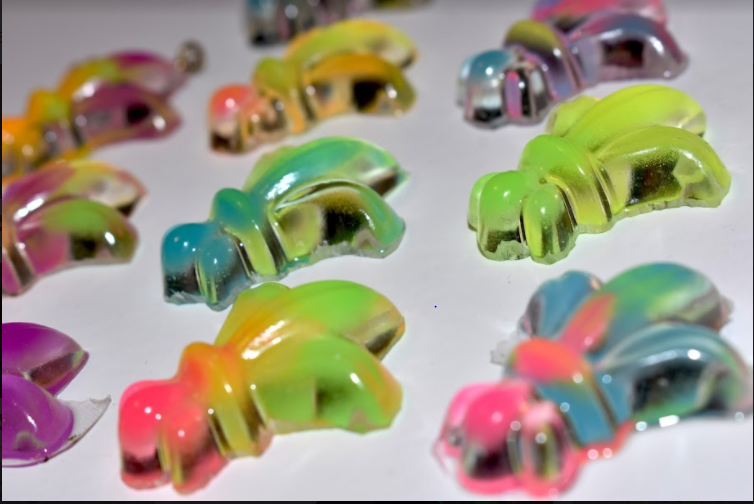 For the next two months, he and I worked on getting him into retail stores. We eventually contacted The Three Little Birds 1019 Auburn Ave, and the rest is history. He's currently featured in their store and is taking his first steps in the process of creating retail art.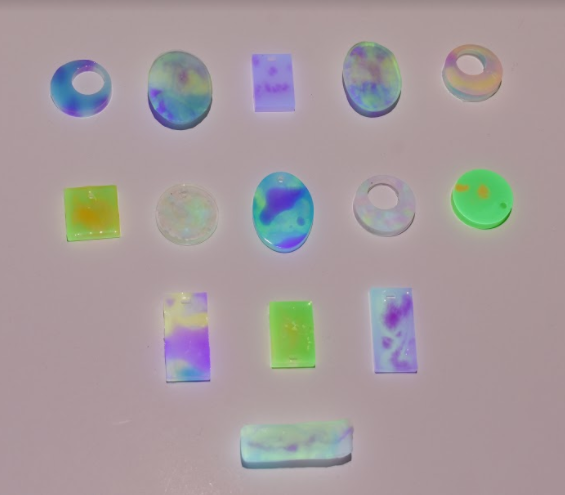 1. When did you know you were interested in crafting artwork? When did you know jewelry would be your medium?
I've never considered my artwork jewelry. I've always loved the effects of black lights and other light reactive products. You could say I like lights and things that emit light. Creating charms and gems with light reactive properties gives you both the joy of a glowing spectacle and a bit of art you can carry with you. Having my work with you, illuminating the night, gives you a sense of comfort. So if jewelry is the best way to keep my light close to my customers, then jewelry is my medium of choice.  
2. How long have you been working with light reactive art?  
When I moved into a new apartment 4 years ago, I began a project to deck out my room with black lights to compliment my glow-in-the-dark posters and artwork. Personally, I enjoyed the glowing ascetic. There was a lull in my art as life's many tasks got in the way. It was only a year and a half ago that my first real efforts to produce small light reactive gems began. Since then, I've worked in earnest daily to create work for friends, family, coworkers and with the last few weeks, the public market.
3. What was the point at which you moved from making art to selling in venues and boutiques?
I never planned to enter the market. In fact, it was only through the encouragement of a number of good friends that I decided to open my art to the public. For now, creating Light Cast Jewelry doesn't feel like a job or a brand. It's actually a ton of fun! I still work a 9 to 5 and this is my escape. I just happened to produce more than enough art for the current demand. As of now, I'm enjoying creating my work and sharing it with the public. This has been a great new journey and for now, I'm along for the ride.
4. Why choose isolation as a main factor in your creative process?
When I work on art I need to relax and let the art find me. I take stones or crystals and study the pieces. Then I match colors and shapes to the center piece of the creation. After acquiring the skills to create each Light Cast Jewelry Gem, the process has become more and more intuitive. During the solidification process, the colors often have a mind of their own. In each batch, there's at least one creation that thoroughly surprises me. 
5. What Projects do you have on the horizons and where can our readers find your work?
I'm currently working on a beach theme set called Amber Ocean. In my work, I've also been pushing myself to perfect my craft through diligence every day. New molds come in regularly, so there's always a chance for experimentation around every corner. My work is featured in stores at the Three Little Birds Boutique in Lafayette and online at Light Cast Jewelry's Facebook Page.