Thank goodness for public art. It revitalizes, beautifies and shares the unique stories and heritage of communities. And they withstand the test of time or at least a few decades. The Hub City has done its part to contribute to a movement to restore, enrich and honor its corner of the American South in intricate and awe-inspiring ways that are gifts to locals and visitors alike. Some of these murals are relatively new, in progress or have withstood the test of time for nearly 40 years. Each work of art holds a different message, and they can inspire over and over again, free of charge.
Downtown Lafayette Murals
An easy walk full of perks is Jefferson Street in downtown Lafayette. There's fine and casual dining, shopping, live music and breathtaking works of art along the way. Internationally renowned artist Robert Dafford completed a majority of downtown Lafayette's most iconic murals. Dafford's public artwork can be found in hundreds of places in the U.S., Canada, and Europe. A Lafayette resident, Dafford recently completed a series of murals outside of Lafayette's city and parish town hall building. Here is a list of Lafayette's mural must-stops:
Horizon (1988)
Robert Dafford
S.Buchanan and Vermilion Streets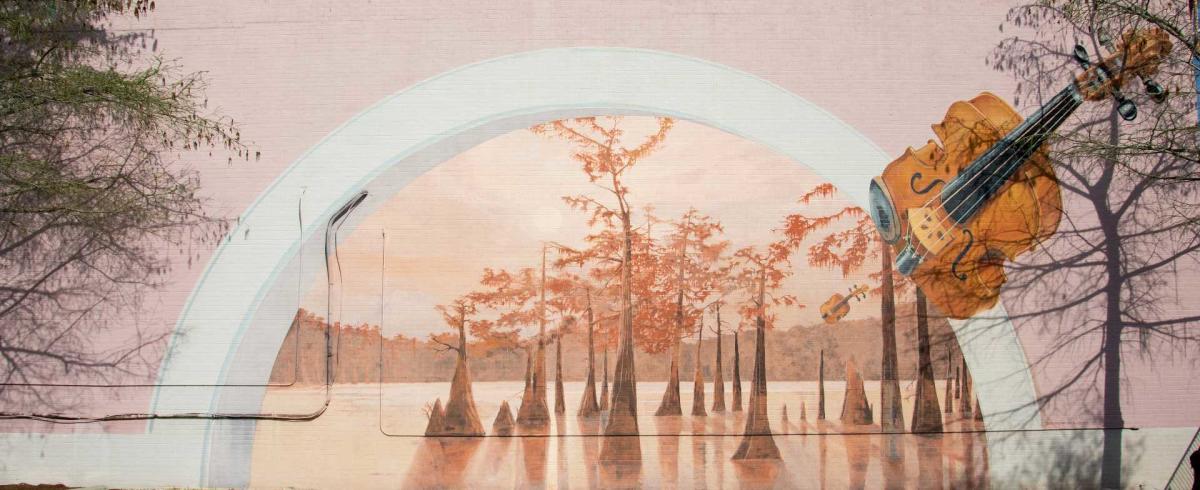 Taking only two weeks to complete, this Dafford original celebrates its birthday this year. It's one of many murals in the Hub City that portrays South Louisiana's iconic imagery. In this case, it's the Atchafalaya Basin and the fiddle. Only about 20 miles east of Lafayette, the Basin is Acadiana's iconic gateway, and you'll find its watery cypress forests depicted in several murals around town. You can find "Horizon," one of downtown Lafayette's earliest murals, at the corner of S. Buchanan and Vermilion streets.  
Ex-Garage (1984)
Robert Dafford
600 Jefferson Street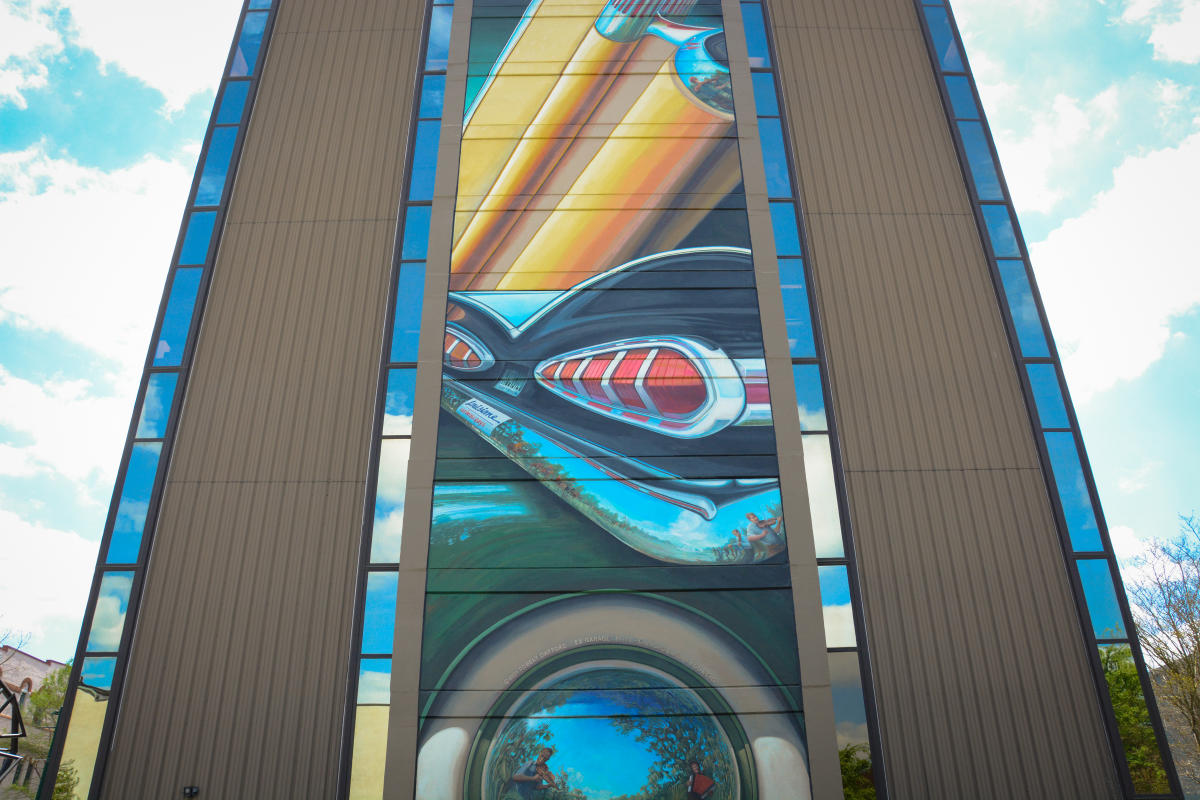 Striking, vibrant and a nod to the past, "Ex-Garage" prompts pause and some serious neck-craning to fully take in. With the assistance of John Pourcio and Douglas Dafford, Robert Dafford pulled from mid-century Cajun and Creole culture and reflected off the chrome of classic automobiles. What is now Jefferson Tower was once a garage, hence the mural's name. Look closely from the bottom to the top, and you'll see portraits in the likeness of Creole and Zydeco musicians, Canray Fontenot and Clifton Chenier, Cajun artists Dewey Balfa and Michael Doucet and more. Keep an eye out for the Courier de Mardi Gras procession, too. This breathtaking display has as much flash as it does elegance tipping its hat to South Louisiana culture in the mid-1900s.  
Fields of Study (2016)
Chris Pavlick
Lafayette Science Museum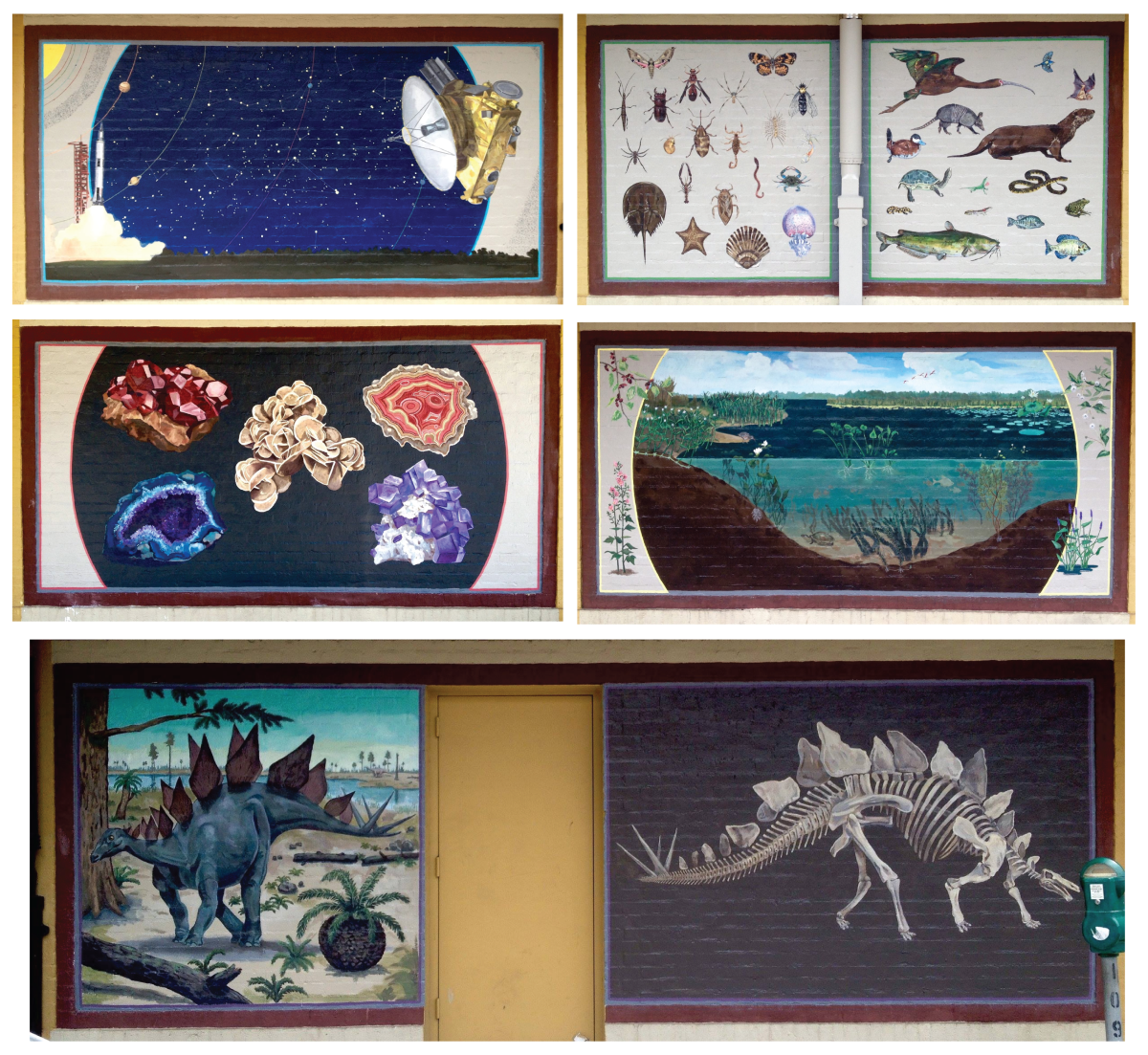 What better place to celebrate scientific exploration through art than the science museum? Chris Pavlick's mural series "Fields of Study" is a new addition to the public art in downtown Lafayette and was completed just two years ago. Pavlick, who has worked with Dafford for many years, focused on five facets of scientific study-outer space, birds and mammals, geology, dinosaurs, and insects. Basically, the science that fascinated us as kids, and still interests us as adults.
Premier, Dernier et Toujours
Robert Dafford
712 Jefferson Street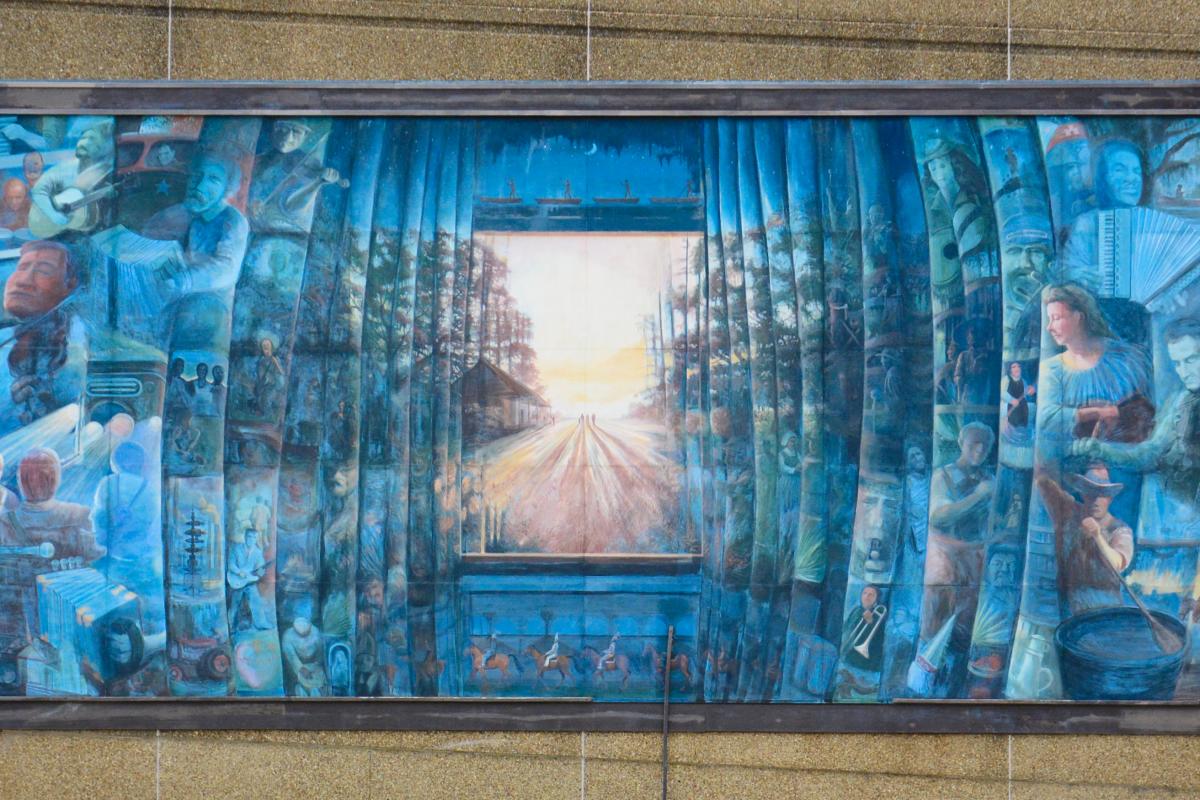 Pieced together like a quilt, this is a story containing many stories of how cultures journeyed across the globe and met in South Louisiana. From exploration, war and exile to new lives in prairies and swampland, this mural honors tradition and even touches on South Louisiana's emergence in popular culture. All these stories meet in the middle, along a winding dirt road. While this mural was taken down for maintenance of the parking garage it has been preserved and will hopefully be hanging in Lafayette again soon.
Stereo Prairie (1994)
Robert Dafford
Children's Museum of Acadiana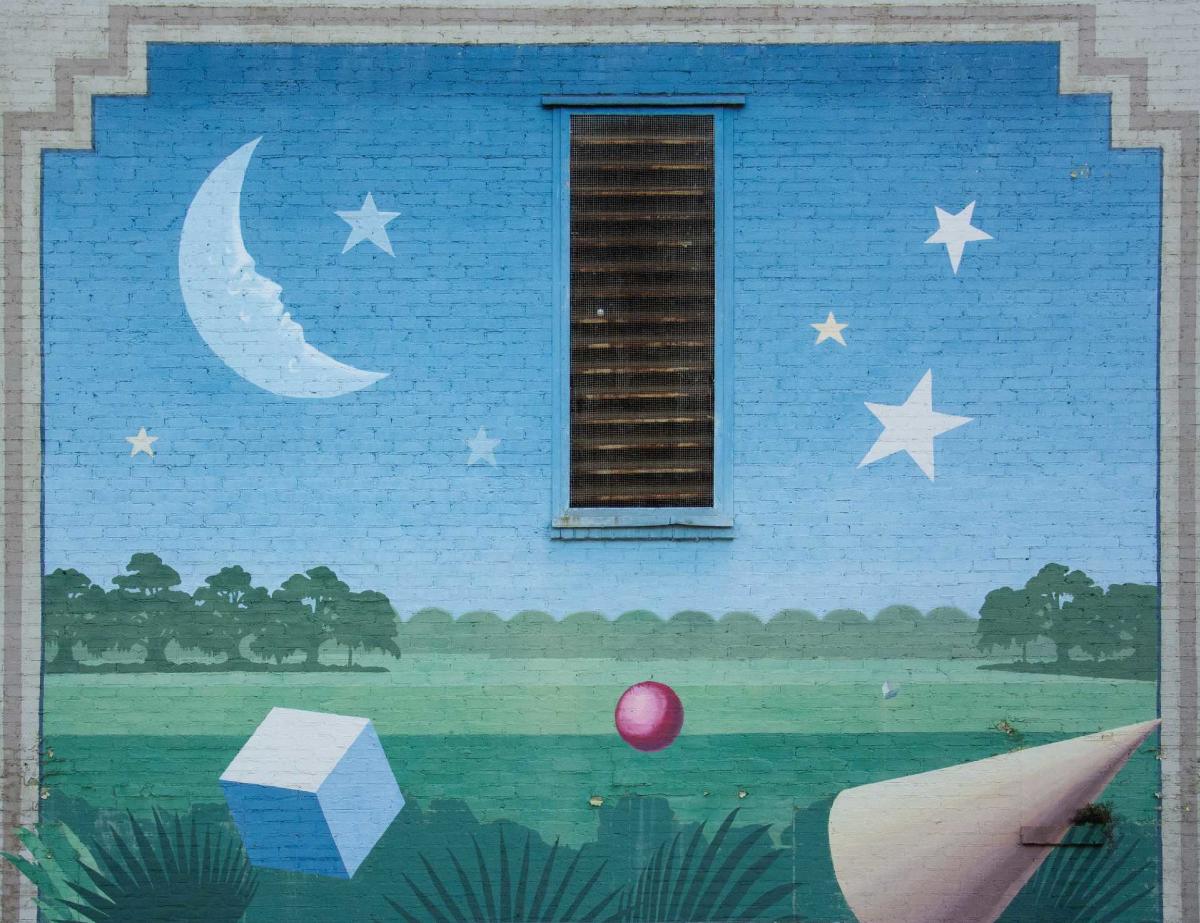 You can find this unique work of art on the exterior of the Children's Museum of Acadiana. The mural was a collaborative project by Dafford, local artist Herb Roe (who has also worked with Dafford on projects around the country), Chris Condor, Sherrie Bennet and several other artists. Completed 24 years ago, "Stereo Prairie" is considered to be one of the few, if not the only, three-dimensional murals in the world. "When you meld two of the images they pop out into 3-D. The stars, the moon, the trees, and the objects dancing across the landscape all become three-dimensional," Dafford told AcadianaHistorical.com.
Downtown Reawakening (1984)
Tanya Falgout
Parc Auto du Centre-Ville parking garage, Vermilion Street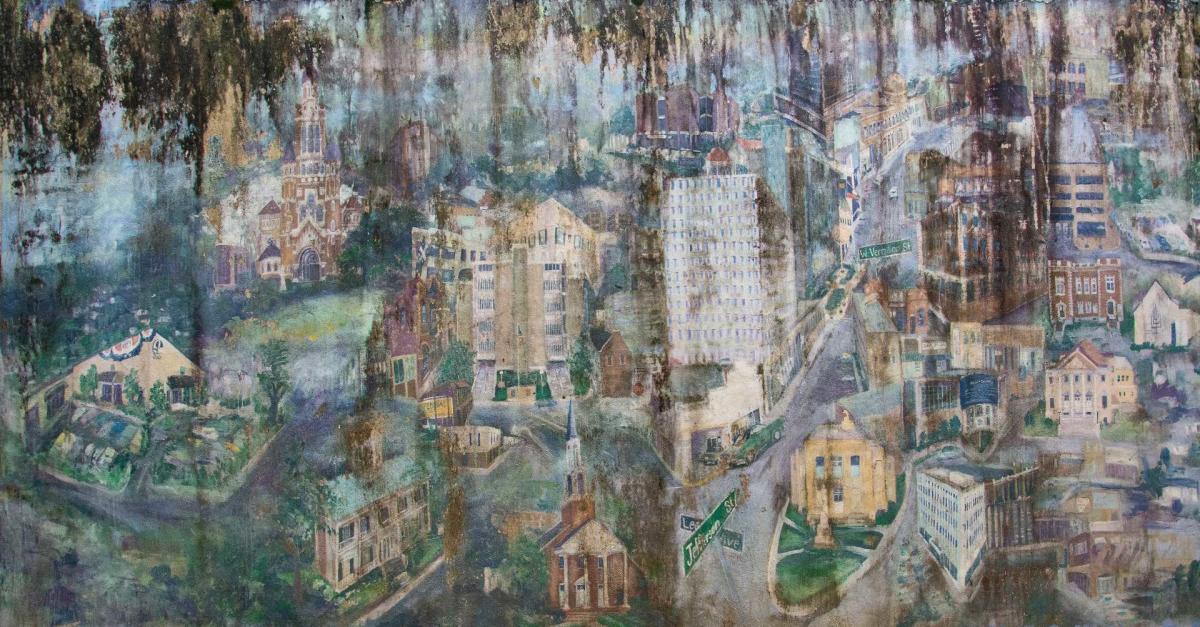 Considered to be one of the first completed murals in Lafayette's downtown district, "Downtown Reawakening" is tucked just slightly out of plain sight inside the entrance of the Parc Auto du Centre-Ville parking garage on Vermilion Street. Local multi-media artist and gallery owner Tanya Falgout was behind the project. Still steadily involved in the local arts community, Falgout's vision for the mural came from photos of downtown taken from the top of the new parking lot built in the early 80s.
Until All That's Left is a Postcard (1986)
Robert Dafford
Jefferson and Garfield Street

Another Dafford original, "Escape from the Postcards" offers its own level of dimension. The mural's backdrop is the Atchafalaya Basin in its present state. Among protected cypress trees alive today are reminders of a voracious logging industry that destroyed much of the forest in the early 1900s, leaving stumps throughout the Basin's waterways. The ecosystem's wildlife takes over the forefront of the mural, including a painted bunting, a favorite find for birders. The mural's message urges preservation of South Louisiana's fragile and unique environment so it's left for future generations.
Lafayette City-Parish Hall (2017)
Robert Dafford
705 W. University Avenue
City Hall needed a facelift. Officials opted for an artistic makeover that reflects the region's landscape and culture. Officials turned to Dafford to complete the task. Each painting around the city-parish hall is a snapshot of early life in South Louisiana and its terrain of oak and cypress. Dafford completed the project just recently and, like much of his work, it was no small task. If the city hall paintings were positioned from end to end, they would measure a total of 500 feet.
Iris (2016)
Kelli Smith
500 Jefferson Street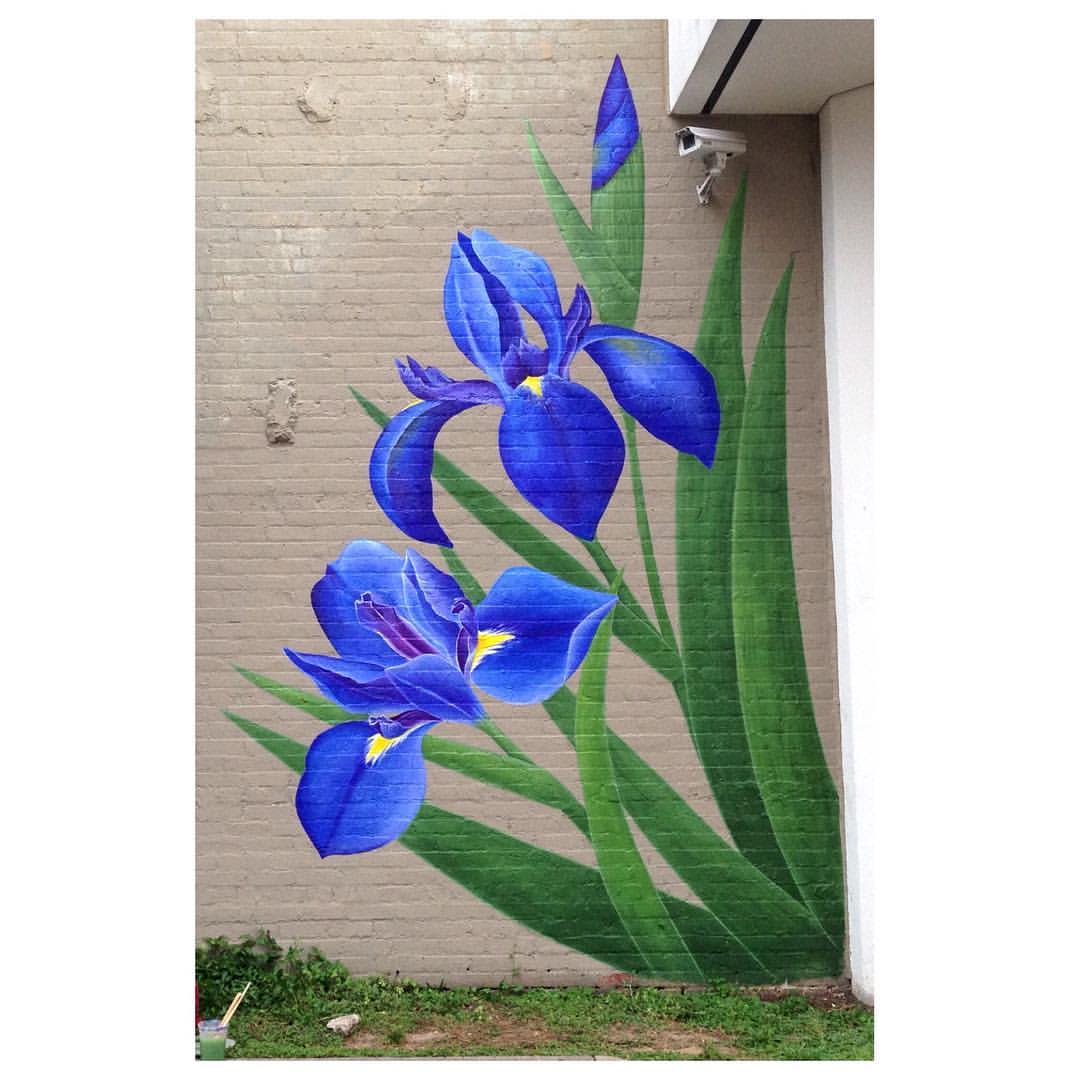 The work of local artist Kelli Smith can be found on the side of a former bank building that was transformed into the restaurant and bar, Jefferson Street Pub. Smith's work was funded through a local initiative called "Creativity Everywhere" which provides grants for public art around the Hub City.
Thalassa (2016)
Susan David
113 Clinton Street
Local multi-media artist and director of Freetown Studios, Susan David, is behind "Thalassa," a mythical, two-story mural at Basin Arts. David's distinctive style can be found in other public art projects around town including behind The Greenroom on Jefferson Street.
Deep-Rooted (2017)
Dirk Guidry
401 E. Cypress Street
A newly completed mural can be seen as you drive down Johnston Street from U.S. 90., but it's worth a stop to look. Lafayette artist Dirk Guidry took the region's love for dance, music, and food and created a work of art that captures the "Happiest City" aspect of the Hub City. A majority of the images were taken from actual photos of local festivals over the years. Guidry completed the project through Art Spark, a collaborative program by the Acadiana Center for the Arts and Lafayette Economic Development Authority.
McComb-Veazey Neighborhood Living Legends Wall (2016)
Adrian Fulton
713 Surrey Street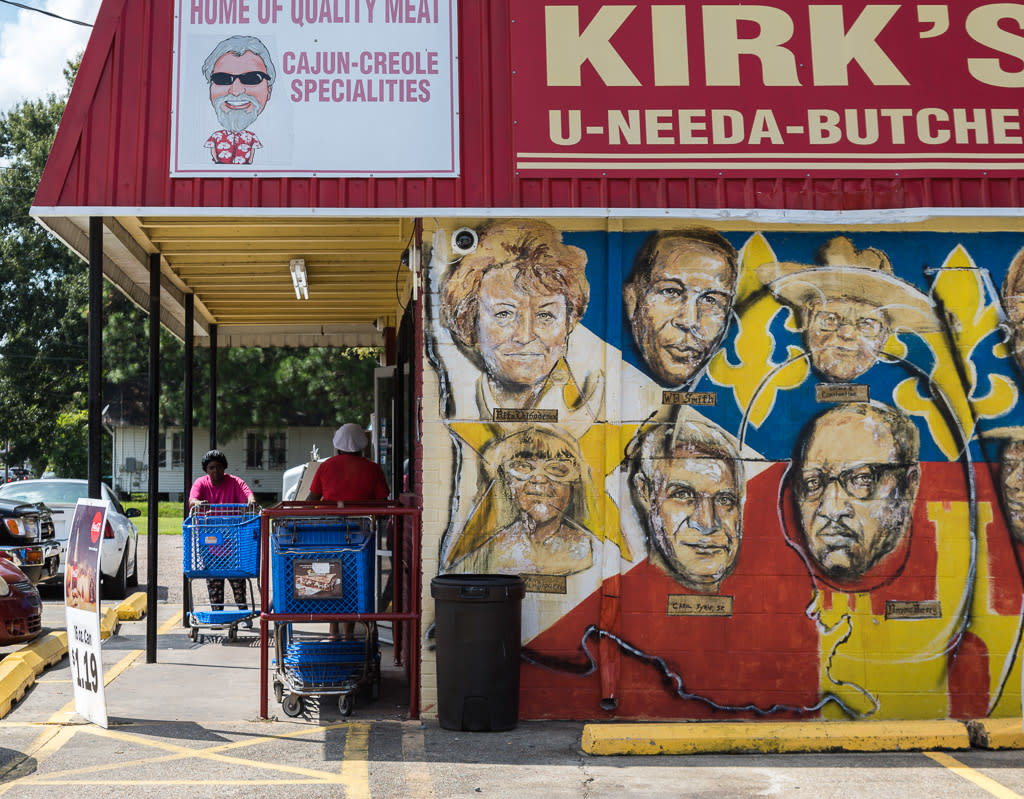 Public art can be found just about anywhere, and in this case, it's on the side of a butcher shop. Artist Adrian Fulton paid homage to local heroes in the historic McComb-Veazey neighborhood with a living legends wall on the side of Kirk's U-Needa-Butcher shop on Surrey Street. Nine educators, civic and community activists, and other contributors are honored in the mural located in what may be Lafayette's next cultural district. McComb-Veazey's rich Creole history plays into the neighborhood's revitalization project, which began 10 years ago.
Works of public art can be found in just about every municipality in Acadiana. You can see them in locations such as downtown New Iberia, Rayne, Carencro, and Delcambre.