Hiking is the perfect way for the entire family, at any skill level, to experience the outdoors without breaking the budget. It provides the opportunity to see places you'd never get to see otherwise, at a pace that allows you to really experience your surroundings.
Before setting out, be aware that heavy rains can make trails in this area extremely muddy. During the summer, be prepared for high temperatures and humidity and be sure to carry plenty of water. Consider carrying bug spray, as mosquitoes and ticks can get quite bad during the warmer parts of the year. Louisiana is home to several species of venomous snakes, as well as alligators, so be cautious and give them wide berth if spotted. All trails listed, except for the Louisiana State Arboretum, are open to pets, so feel free to take your dog along for the hike, but they must be leashed at all times. Always follow leave no trace practices-pack out all trash (including food and pet waste), and do not disturb wildlife or collect or damage plants. Be a good steward of our public lands and try to leave them nicer than you found them!
Here are our choices for the top five hiking spots in and around Lafayette.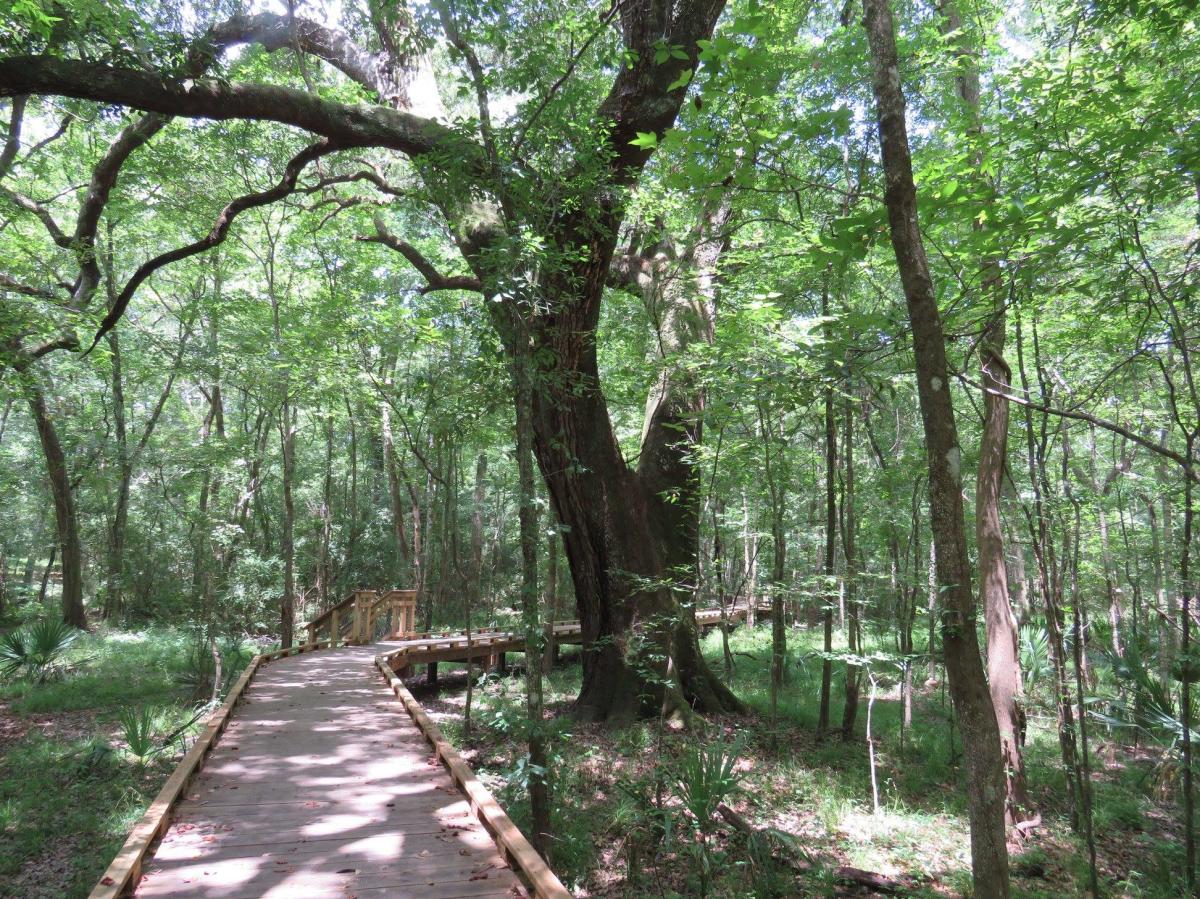 Consisting of two separate tracts of land, Acadiana Park has a total of 6 miles of hiking trails, all within the city limits! The southern tract, located at 1205 East Alexander Street, is home to 2.5 miles of hiking trails that wind through the woods, as well as the Acadiana Park Nature Station. Be sure to stop in at the Nature Station for exhibits and activities highlighting local ecology and natural history, then head across the bridge to access the trail system. These trails are a series of interconnected loops, part of which is a section of above-ground boardwalk that is wheelchair or stroller accessible. These trails make it easy to tailor a hike to the distance you'd like, and are the perfect spot to bring the kids along for some adventure! A map of the southern tract trail system can be found here.
On the 107-acre northern tract, you can explore 3.5 miles of interconnected loop trails. The trailhead can be a bit tricky to find- take Louisiana Avenue north towards I-10, and turn right on Shadow Bluff Drive. After 0.2 miles, you will cross a bridge over the Dan Deballion Canal. Immediately after the bridge, turn right into a small gravel parking area. Park here and follow the chain-link fence to the left into the woods to enter the trail system. Directly behind the fence is a sign showing a map of the trails. Click here for a digital version.
There are no facilities at the northern tract, but bathrooms are available at the southern tract. All trails at Acadiana Park are open daily from sunrise to sunset. Hiking trails are open to foot traffic only- bicycles are allowed only on the designated mountain bike trails, and wheelchairs and strollers are welcome on the boardwalk sections of the southern tract trails.
Lake Martin/Cypress Island Preserve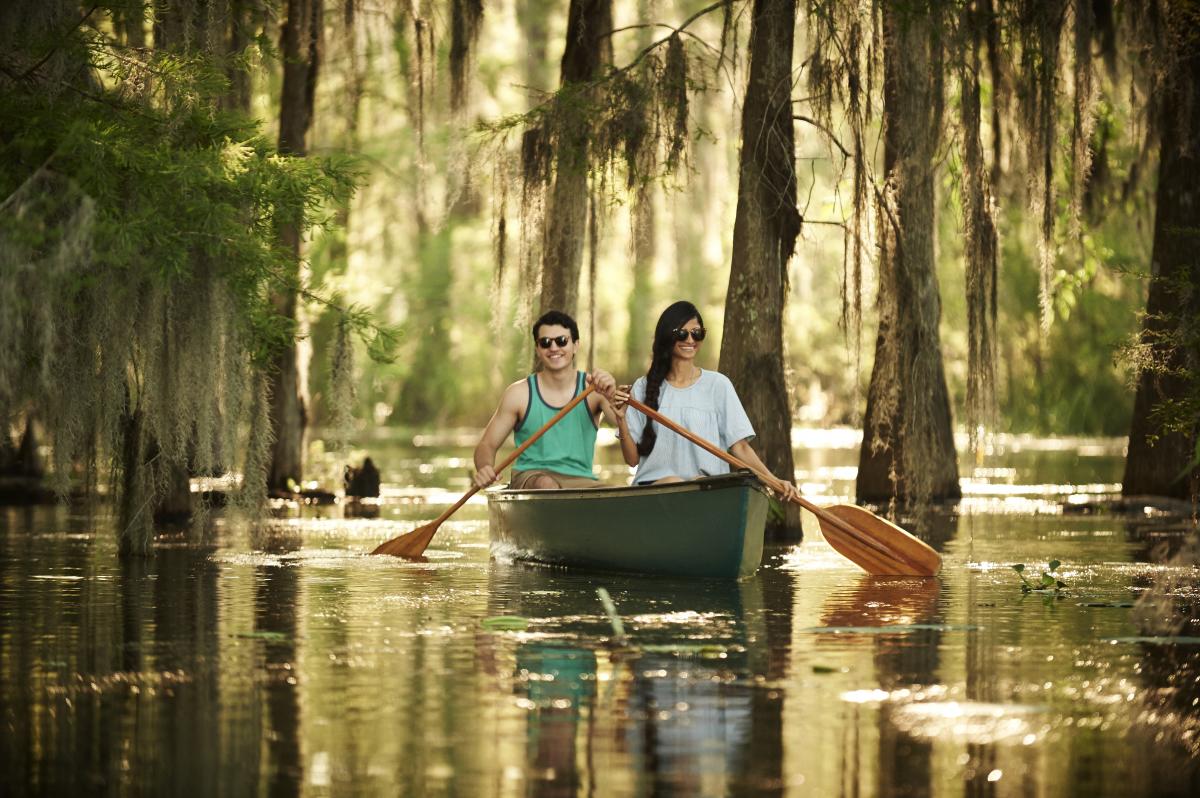 Less than a 20-minute drive from Lafayette lies one of the region's best outdoor attractions. Cypress Island Preserve, maintained by the Nature Conservancy, contains nearly 10,000 acres of cypress-tupelo swamp and bottomland hardwood forest. Lake Martin, located within the preserve, is the nesting ground for thousands of wetland wading birds during the spring, and is a great spot for paddling and/or hiking. Follow Rookery Road (accessed from either LA Hwy 353 or LA Hwy 31/Lake Martin Road) along the eastern edge of the lake for amazing views of the nesting birds between March and June.
Along the western edge of the lake is the Lake Martin Levee Trail. This trail is a 2.5-mile-long path stretching from the southern end of Rookery Road to the northern end. I recommend parking at the southern trailhead and walking north, tailoring the length of your hike to fit your schedule or skill level. The path is easily accessible and provides a great vantage point from which to spot birds and alligators, both in the lake to the east and in the wetlands on western side of the levee. Before starting out, take a look at the signage near the trailhead for help in identifying birds seen in the area, or check out our bird identification guide found here. About 1.3 miles into your walk, a peninsula extends out into the lake and provides a great view of the water. At about 1.6 miles, there is a small set of additional trails that branch off to the west. Be aware that from June through October, the Levee Trail is closed for alligator nesting season!
Just a bit down Rookery Road from the trailhead you'll find an elevated boardwalk through the swamp. Follow this short path to get an insider's view of the lake! Also located near the southern end of the trail, just across Rookery Road, is the Cypress Island Visitor Center. Open during the busy Spring months from 10:00 a.m. - 4:00 p.m. on Wednesdays through Sundays, and during the rest of the year from 10:00 a.m. - 4:00 p.m. only on Saturdays and Sundays. Call ahead at (337) 342-2475 for current hours.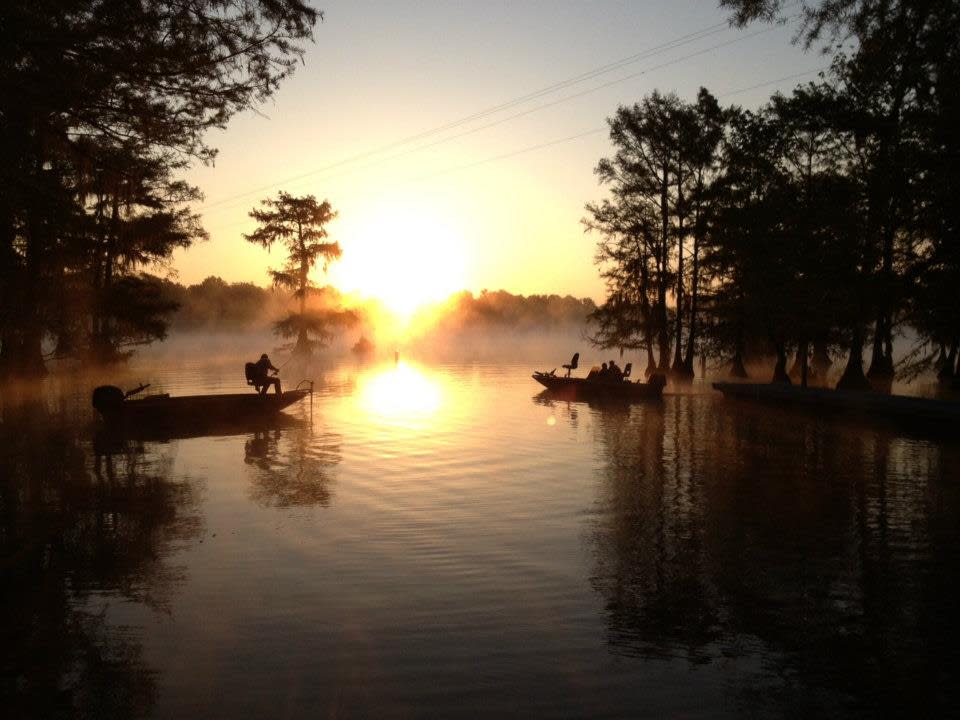 If you are looking to do a longer hike or overnight backpacking trip close to Lafayette, then Chicot State Park is the place! Located about an hour from Lafayette at 3469 Chicot Park Road, Ville Platte, Chicot is home to a 2,000-acre lake circled by a 19-mile hiking and mountain biking trail. Along the trail are seven primitive campsites available for use by backpackers. The trail can be accessed at four trailheads with parking available at each.
As part of the Louisiana State Park system, there is a $3/person entrance fee, and an overnight camping fee of $1 per person per night for the backpacking sites. Backcountry permits are required and can be obtained at the park entrance station. A trip plan is required as part of the permitting process, with campsite number and expected start and finish times. The entrance station is open Sunday to Thursday from 8:00 a.m. – 5:00 p.m., and Friday and Saturday from 8:00 a.m. – 10:00 p.m. For a map of the trail system, trailheads and primitive campsites, click here. For more information, contact the park office at (337) 363-2403.
Now part of Chicot State Park, the Louisiana State Arboretum was established in 1961 as the first state supported arboretum in the country. It is 600 acres of forest that highlights plant species indigenous to the state. The trail system can be accessed free of charge from the Dormon Lodge, on LA Hwy 3042 just north of the main entrance to Chicot State Park. Those wanting to visit the J.D. "Prof" LaFleur Nature Center (highly recommended) must enter through Chicot and pay the $3/per person park entry fee. The arboretum trails can be accessed from the Nature Center as well.
The trail system is over 4 miles of interconnected loops that wind through wooded areas, complete with educational signage indicating plant species and ecological information about the area. For a list of plant species found in the preserve, click here and for an explanation of the various habitat types found at the arboretum, follow this link.
As an arboretum, this area is set aside for preservation and education, and is subject to specific rules to protect the flora and fauna. No pets are allowed on the trails, and no collecting of any kind is permitted. For a complete list of rules, see the Friends of the Louisiana State Arboretum regulation guide.
Kisatchie National Forest is Louisiana's only National Forest, and contains over 600,000 acres of public lands divided into five different ranger districts across the central and northern parts of the state. While most of these areas are a bit of a drive from Lafayette, the trails in Kisatchie are some of the best in the state and include a variety of distances and skill levels for day hikes or for longer backpacking trips. Kisatchie is home to two of our top five hiking spots-the Calcasieu and Kisatchie Ranger Districts.
Kisatchie is also home to a plethora of wildlife, including rare plants and animals such as wild orchids, several carnivorous plants, red cockaded woodpeckers, and Louisiana black bears. Please note that Kisatchie National Forest is open to hunting, so before you go make sure to check on hunting seasons that may be in progress. If you are hiking during hunting season, be sure to wear bright colors, preferably orange, so as to be easily spotted by hunters.
The Calcasieu Ranger District of Kisatchie National Forest is located southwest of Alexandria, about an hour and a half from Lafayette. Within this district is the Wild Azalea National Recreation Trail, Louisiana's longest single trail. The trail stretches 26 miles from the town of Woodworth to Valentine Lake, and is perfect for a two or three day overnight trip. The best time to hike this trail is in the Spring, when the wild azaleas are in bloom.
Near the town of Gardner is Kincaid Lake Recreation Area, which maintains additional trails in the area. The recreation area charges a day use fee, and car camping and primitive camping sites are available at an additional charge. Perfect for a day hike is the Kincaid Loop Trail, which winds 9 miles around a peninsula that juts into the Kincaid Reservoir. The easiest place to access the trail is just past the entrance station on Forest Service Road 205. Parking is available at the trail head. Confusingly, some authors refer to this trail as the Kincaid Lakeshore Trail, which is an additional trail that skirts another section of the reservoir's shoreline and is connected to the Kincaid Loop Trail by the Lamotte Creek Trail. See the map here for the locations of all of these trails. A spur trail also connects this system with the Wild Azalea Trail, which makes a several-day backpacking trip possible here.
South of Natchitoches, about 2 hours from Lafayette, lies the Kisatchie Ranger District. Within this tract is the Backbone Trail, one of the most scenic trails in the state. It is a 7.5 mile point to point trail that begins and ends on the Longleaf Trail Scenic Byway (Parish Road 830). With an additional 2.5 miles of walking along the road, you can make this in to a 10-mile loop trail. Parking is available at both trailheads, and restrooms are available at the southern trailhead.
For a shorter hike in this area, consider the Longleaf Vista Interpretive Trail. At 1.5 miles, this loop trail is a family friendly hike that winds through a variety of habitats and provides several scenic overlooks that are few and far between in Louisiana! Parking and restrooms are available at the trailhead, which is located at the Longleaf Vista Recreation Area, off of Longleaf Trail Scenic Byway (Parish Road 830).
Other long trails nearby are the Caroline Dormon and the Sandstone Multi-Use Trails. These can be combined with the Backbone Trail and a few short road walks to create a longer, several day backpacking trip.
Visit these links to find the gear and additional information you may need to plan your next hike:
Lafayette outfitter Pack and Paddle is the place to go for all your hiking gear or information about local hikes. Visit their website or call (337) 232-5854 for more information.
Eric Heber of Baton Rouge has been putting together a catalog of hiking trails around the state. Housed at LouisianaHikes.com, he has trail maps and information, as well as videos from the trails he's hiked. These videos, as well as others about backpacking gear and cooking are also available on his YouTube channel.
The Louisiana Hiking Club is a great resource for trail information, as well as for group hikes. Visit their website or Facebook page for more information or to join the club.
Leave No Trace Guidelines
Leave No Trace is an organization that promotes responsible backcountry practices. For more information on how to minimize your impact on the backcountry, click here.