You can't step foot in Cajun country without hearing it. "La Porte d'en Arrière" (The Back Door) is one of the most played and recorded songs in Cajun music. Released in 1962, the French two-step about sneaking back into one's home after a night on the town became a hit almost instantaneously. But while the song might have brought D.L. Menard international acclaim and is estimated to have sold over a million copies, it is far from his only accomplishment.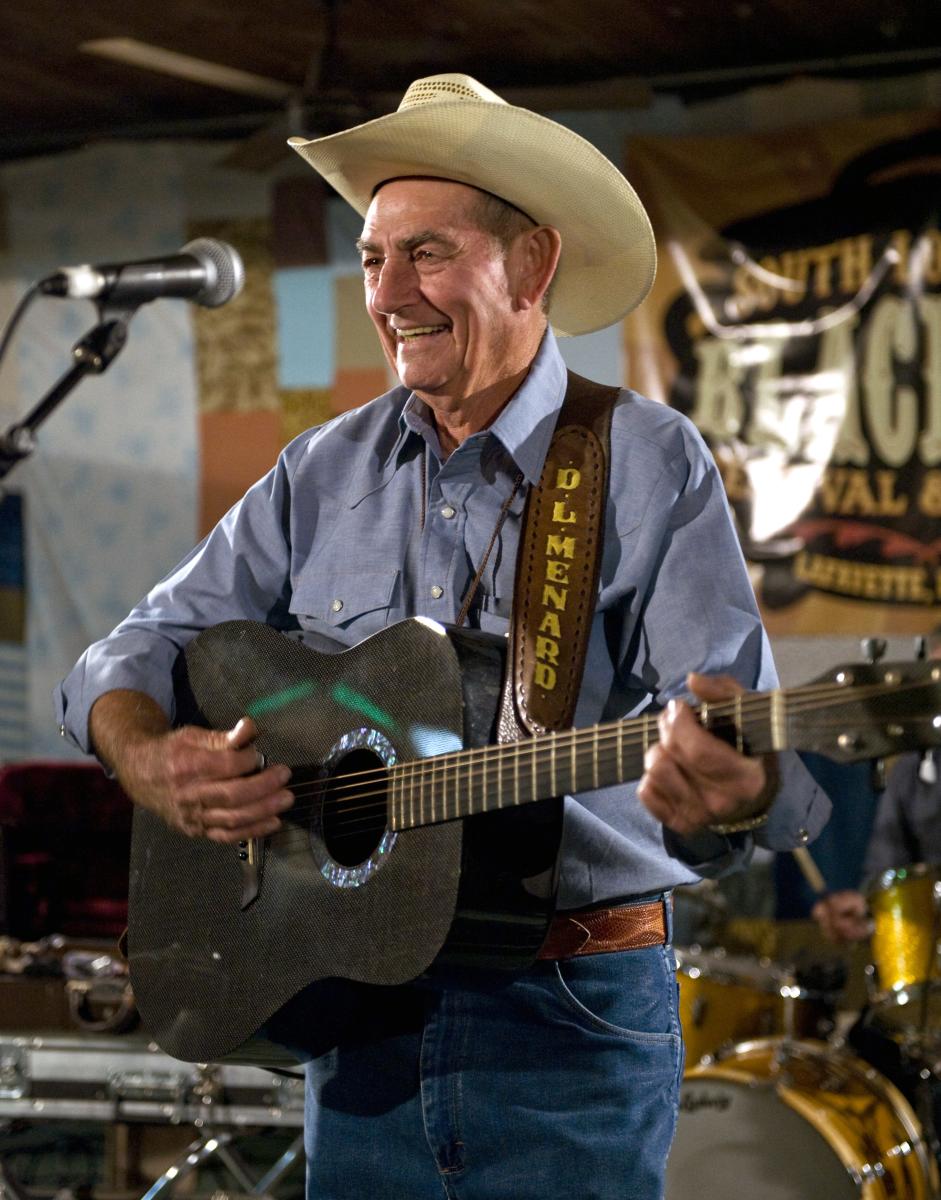 Photo courtesy of David Simpson
Roots
Doris Leon Menard was born in 1932 in Vermilion Parish to Ophy and Helena Primeaux Menard. D.L.'s early motivation to play music was two-fold. The sounds of Hank Williams and early country music as well as the lack of French songs on the radio.
Defining Moment
At just sixteen, Menard and his family moved to Erath. After hearing live Cajun music for the first time, Menard got offered the chance to learn how to play the guitar. After buying one for only $11, D.L. would learn the guitar and land his first dancehall job all within two months.
The Most Famous Cajun-French Song Was Written in English
D.L.'s early career consisted on mainly English-based songs. Menard came up at a time when French was still banned in Louisiana schools. It would take the Louisiana Aces to draw the Cajun out of the "Cajun Hank Williams" and to develop his French-speaking skills.
By 1960, D.L. could compose his own lyrics in French. "Vales de Jolly Roger" was D.L.'s first recorded song. The second was a song that Menard wrote in an hour while working at a service station. "The story just came to me all at once, but I was working in a service station at the time. I had to fix flats and pump gas and serve the people, so I was only able to get to the song between jobs. I knew exactly what I wanted to say, but I didn't have time to sit down and write it all out at once. Every little chance I had, I would get my notepad and write down what I could. I wrote the words in English because I don't know how to write in French, but the song was in French." That song? "The Back Door".
From "The Back Door" to the World's Stage
Said to be an overnight success when it was first released, Menard would sell over 500,000 in 1962 alone. To put that into perspective, census numbers from 1960 indicate the population of Acadiana at the time was around 416,000. In just one year, Menard would end the drought of non-French music on the radio.
Those efforts would take Menard around the world to 40 countries and would be recognized by the National Endowment for the Arts. D.L. Menard received a National Heritage Fellowship in 1994 for his efforts to preserve Cajun music and culture. In 2014, Rolling Stone magazine listed the song number 72 in its list of "100 Greatest Country Songs of All Time".
A Man of Many Talents
Menard would be nominated for not one, but two GRAMMYs as he continued to play with the Louisiana Aces. While recognized globally for his music, many in Acadiana commended Menard for some of his other work. A renown craftsman, Menard learned how to make rocking chairs and would often hold demonstrations when not performing.
For many, Menard's life encapsulates and defines what it means to be "Cajun". A passion for music and culture, with a drive to preserve one's heritage. To recognize the French language as something that should be embraced. And to promote Acadiana and its people by simply being yourself. That is what it means to live life as a Cajun and D.L. Menard lived that life to the fullest.
Sources
Know Louisiana
Additional Info
KTDY - Five Things You Don't Know About The Most Popular Cajun Song Ever
KTDY - 1989 Cajun Documentary Jai Ete Au Bal Featuring D.L. Menard
Playlist