Cities around the country have had to get creative when it comes to finding parkland in urban areas. Dallas developed Klyde Warren Park over the freeway and New York transformed abandoned train tracks into the High Line. Lucky for Lafayette, 100 acres of green space was made available to the public right in the heart of the city.
 
The pastoral property with centuries-old oaks was once a cattle farm and equestrian center for the University of Louisiana at Lafayette (UL). As a student 15 years ago, Elizabeth "EB" Brooks and a group of her piers saved the horse farm from private development. Now she's leading a $30 million campaign to build a world-class park with private dollars.

 
"Creating Moncus Park has truly been a community effort—it's a park for and by the community," says Brooks. "These days, parks and public spaces offer more community programming and art installations than ever before. The new traditions that we are starting here at Moncus Park will only get better with time once we open with all of our new, community-inspired amenities."
 
When Moncus Park opens this fall, locals and visitors can jog along the 2.5-mile trail, fish in the scenic lake, picnic on the great lawn, run down rare rolling hills, meander along the boardwalk, and play inside whimsical tree houses built by Animal Planet's own "Treehouse Master" Pete Nelson.
 
Dogs are welcome on a leash throughout the trails and green spaces, or they may play freely inside the fenced-in dog park featuring artificial turf, play features, and water access.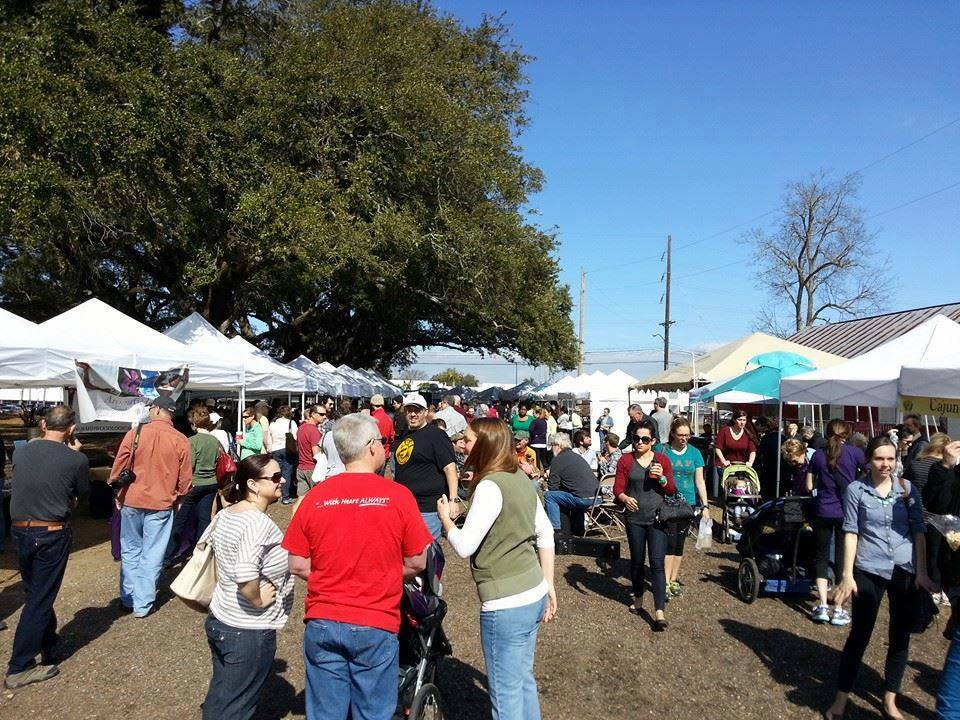 Moncus Park will remain home to the Lafayette Farmers & Artisans Market, held throughout the park's construction, every Saturday from 8 a.m. to noon. Extremely popular to visitors and locals, the weekly farmers market features entertainment like live Cajun music, seasonal activities, and face painters as well as delicious culinary options from food trucks, local farmers, chefs and bakers.
 
Future plans for the park include a farmers market pavilion, an amphitheater, carousel, Veterans Memorial, and a splash pad designed by UL alum Jim Garland, known for his incredible water feature at the Bellagio in Las Vegas.
 
The park is adjacent to Red Lerilles, the largest health and fitness club in the Southeast. Future partnerships might include classes like yoga on the lawn.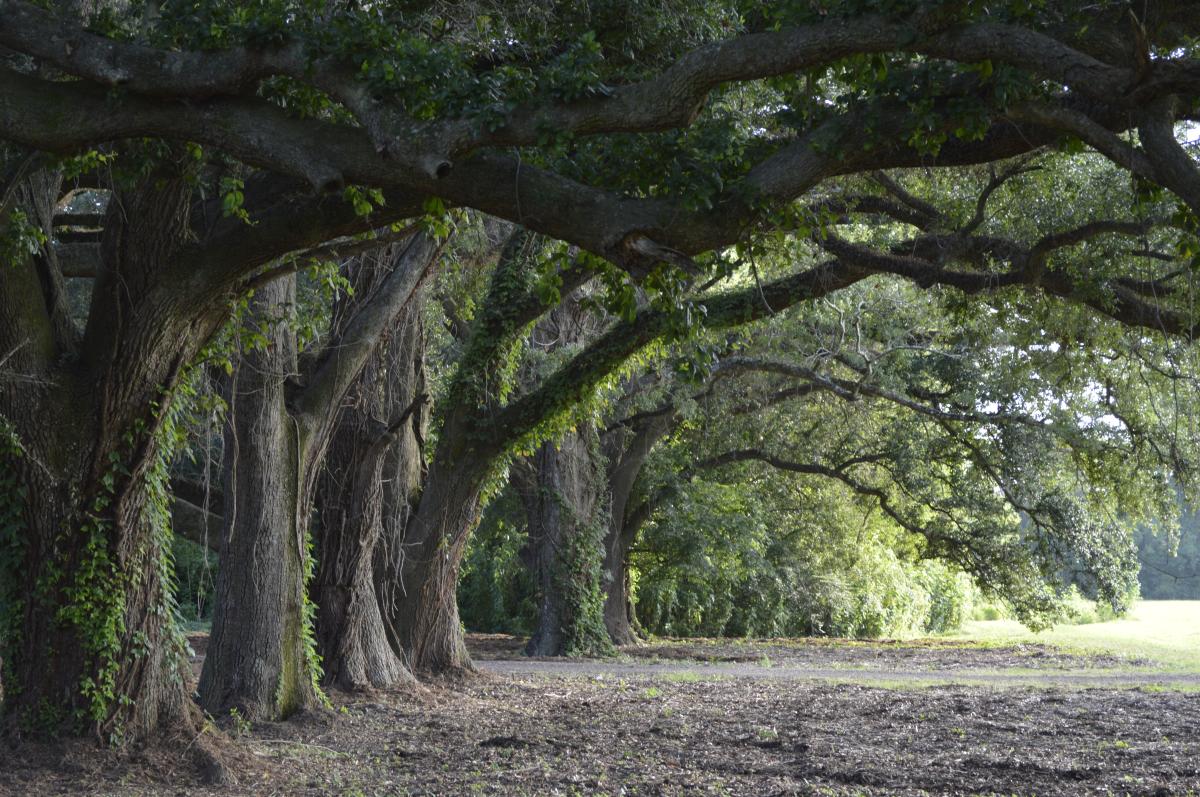 "Oak Alley in the back of the property will be a perfect spot for weddings or corporate events like picnics and crawfish boils," says Jamie Hebert, special events and programming manager. "We can't wait to work with groups and the visitors market."
 
Families can pick up toy airplanes, boats, or kites at Big Boy Toys across the street. Or next door in the South College Shopping Center, park visitors can grab a picnic lunch from Twin's or doggie treats from Spoiled! Bikes and fishing poles will also be welcome; the lake is stocked with bluegill and bass for catch-and-release.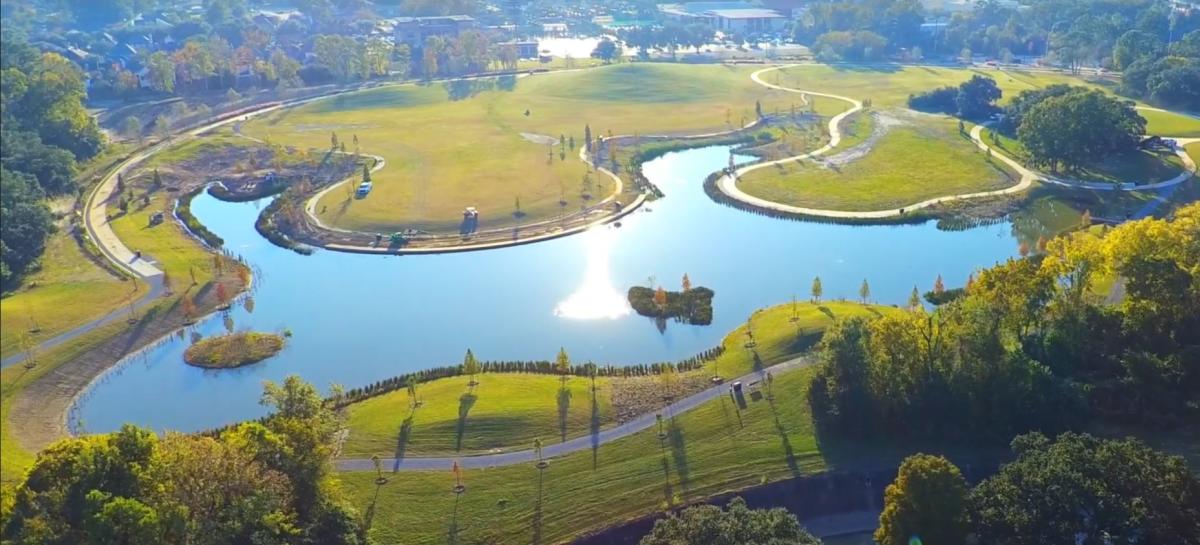 EB and her team have worked primarily with Design Workshop, an award-winning firm known for its innovative urban projects in cities like Houston, Denver, Phoenix, Vancouver, and Green Bay. The firm's main points of contact on Moncus Park are all from Louisiana.
 
Not only are the elements fun, but much of the park is also handicap accessible as well as sustainable, with solar-powered lights, a rain garden, and stations for refilling water bottles. The four-acre lake will serve as the park's irrigation source, rather than city water. The Louisiana Iris Society donated 800 native irises for the lake, and 250 native magnolias, oaks, and cypress trees, as well as Celebration Bermudagrass, have been planted on the property.
 
For more information, visit MoncusPark.org or check out the progress at 2901 Johnston St.