The po-boy is Louisiana's most widely eaten homegrown sandwich. Similar to the hoagie or submarine, the po-boy — variously spelled poboy, po'boy, or poor boy — is culturally representative of its city of birth, New Orleans, and the regions where it is most commonly consumed: southern Louisiana and the greater Gulf Coast.
The beauty of the po-boy is its malleability, the ability of the French loaf to envelope a diversity of fillings. The most popular stuffings are roast beef with gravy and fried seafood, most notably: shrimp, oyster, catfish, and soft-shell crab. Sliced cold cuts — turkey, ham, and the requisite cheese pairings — are available at every classic and contemporary po-boy counter.
French bread sometimes referred to as a "loaf," is the go-to vehicle for getting po-boy fillings to mouth. The bread's brittle-crisp exterior beautifully complements its airy-light interior. This contrast is due to a recipe that calls for more water and less flour than a traditional French baguette.
Today, the po-boy is a staple of Lafayette lunch counters and dining rooms. There are po-boy-centric lunch spots that serve familiar versions of the New Orleans sandwich, while others innovate on the po-boy's familiar fillings to arguably outshine anything the Crescent City serves up. Menus at seafood restaurants almost always have a listing of po-boys, with several places seeking to outdo the others, overstuffing their loaves with creative ingredients. The po-boy is anything but static.
Lafayette Parish has become a true po-boy region.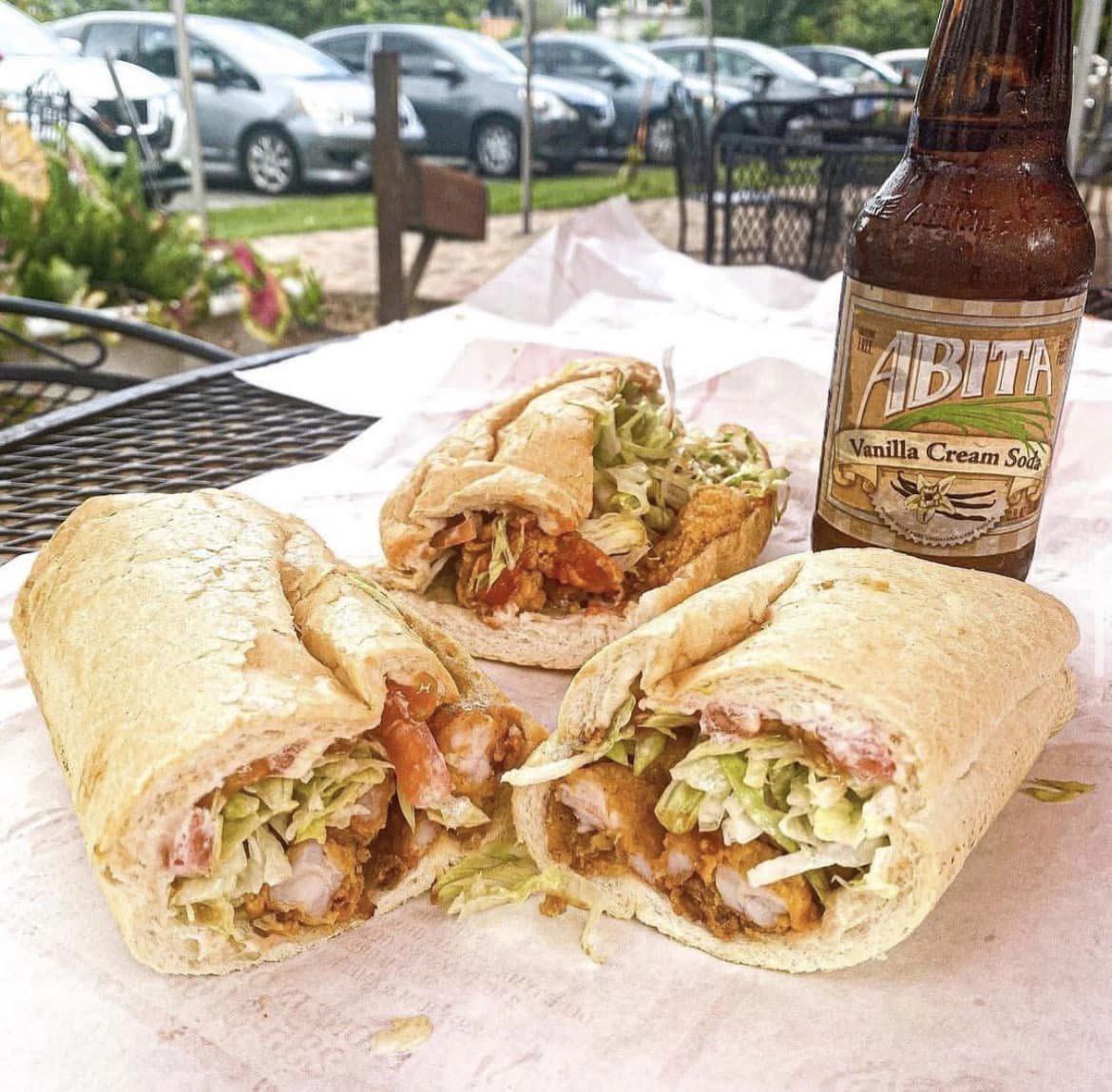 Over the past century-plus, the building in Broussard that houses this po-boy shop has been a drugstore, post office, grocery, furniture warehouse, dance studio, and finally, in the early 1970s, a sandwich shop known as Jo's before becoming BJ's. Olde Tyme Grocery owner Glenn Murphree bought the sandwich business in 1995. It's safe to think of BJ's Poor Boys & Plate Lunches as Olde Tyme on the parish's south side, with shrimp, roast beef, and hamburger po-boys made just like they do in Murphree's storied sandwich shop. Weekly plate lunch specials sate eaters not hungry for a sandwich. Look out for the shrimp and egg stew, fried frog legs with shrimp fried rice, crawfish étouffée, and crawfish fettuccine. BJ's sets a course of its own while serving po-boys, as they like to say, "in the Olde Tyme tradition."
 
107 N. Morgan Ave., Broussard, LA 70518
(337) 839-8300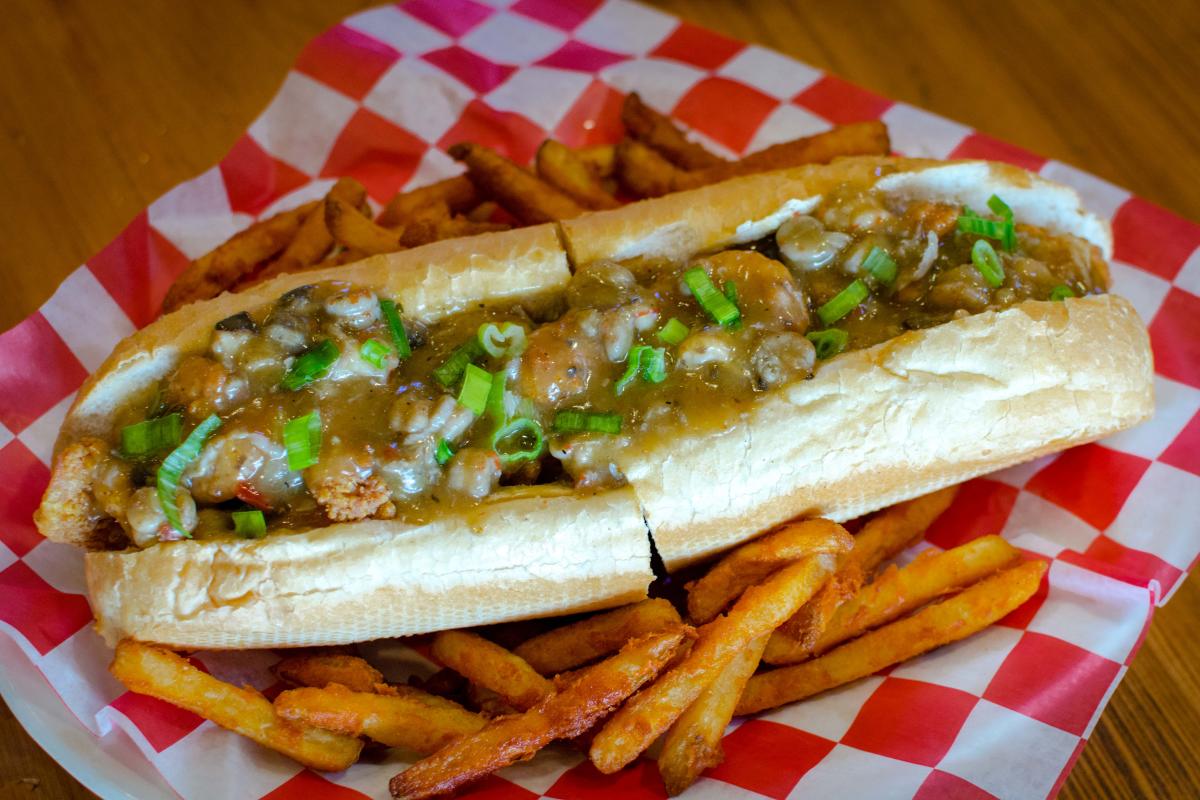 Despite the po-boy's inherent flexibility — you can stuff most anything between the bread — rarely does the sandwich deviate from the norm. Not so at the Cajun Table. Here, there's fried catfish and fried shrimp po-boys, both served alongside the restaurant's signature Table Dip. But look to the Pirogue Party, a fried shrimp po-boy smothered in what they call Maw's crawfish dip. Maw, is the grandma of Sean Suire, who opened The Cajun Table with his wife, Lauren Liner, in 2017, after a couple years of operating a food truck around town. Before that, the couple — she's from New Orleans, he's a former crawfish former from Cow Island — gained a following from throwing backyard parties at their Azalea Street home for in-the-know eaters. The Cajun Table offers a little bit of everything Acadiana: seasonal boiled seafood, daily plate lunch specials, and fried seafood platters. But don't skip on that po-boy, so order a Pirogue for the table and make your meal a party.
 
4510 Ambassador Caffery Pkwy., Suite D, Lafayette, LA 70508
(337) 806-9565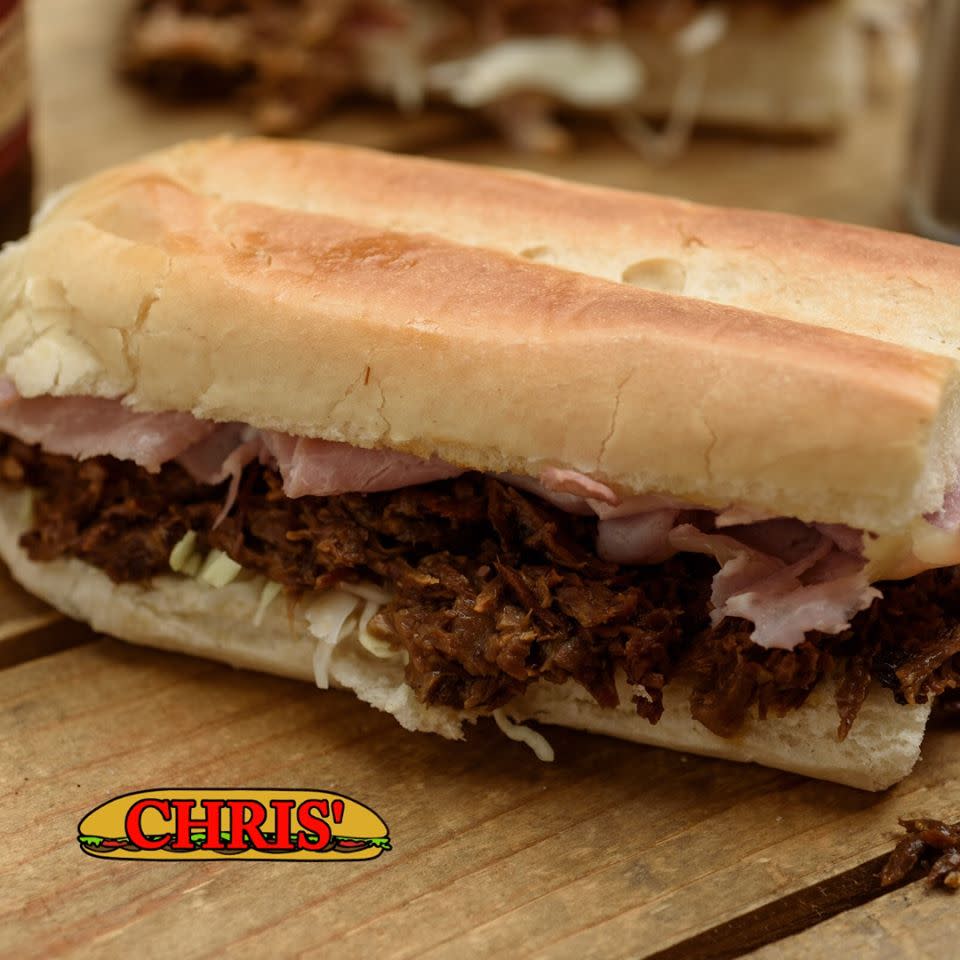 Open since 1978, making it Lafayette's oldest continually operating po-boy shop, Chris' is a local classic. Their slogan, "For A Taste As Natural As New Orleans," spells out what this sandwich shop does right: fried shrimp, oyster, and catfish; dripping slices of roast beef; loaf-busting smoked sausage; sliced deli meats. But there are also nods to southwest Louisiana flavors, like the Cajun pork roast and barbecue beef po-boys. Splurge, forgo the bun, and order a fried seafood combination platter or, if you must, a fried or boiled shrimp salad. The rich, dark-rouxed, much-loved chicken and sausage gumbo — or seasonal seafood gumbo — begs for the dunking of any sandwich remnants. With two locations on opposite sides of town, there's always a Chris' po-boy within reach.
 
1930 W. Pinhook Rd., Lafayette, LA 70508
(337) 234-6333
 
703 Robley Dr., Lafayette, LA 70503
(337) 981-1818
Back in 1985, Louis Dupuis opened a pair of adjoining businesses in an empty University Avenue storefront — a liquor store and a po-boy shop — with the idea of keeping whichever of the two attracted the most customers. The po-boys easily won out. Today, Julien's Poboys serves up more than twenty po-boys, including alligator sausage, prime rib, shrimp en brochette (fried and bacon wrapped), and grilled Ahi tuna. In the mood for something overstuffed? Try the Ragin Cajun: sliced ham, simmered in crab boil seasoning, daubed with melted jalapeño cheese. The Real Jule: roast beef topped with chili, onions, and cheddar. Or the Italian Stallion: ham and provolone smothered in olive salad. Every po-boy pairs beautifully with a side of onion strings.
 
1900 W. University Ave., Lafayette, LA 70506
(337) 232-5168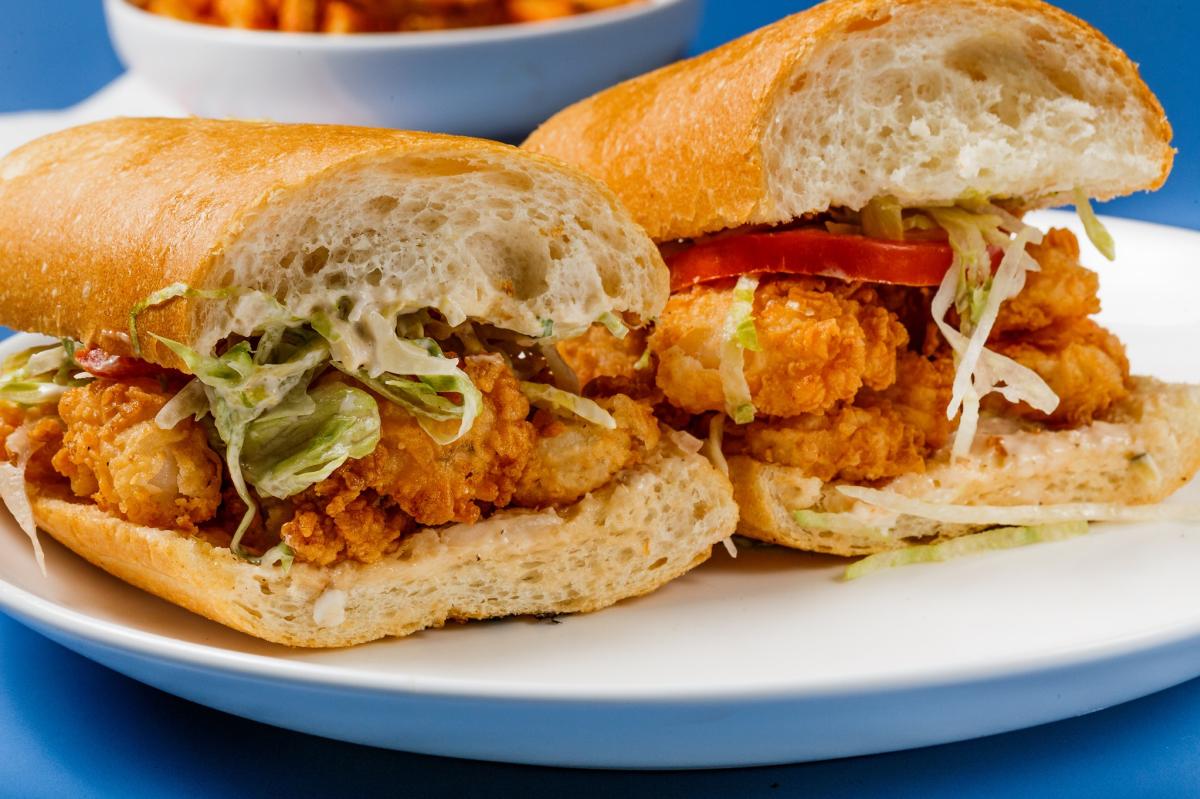 You might not think of ordering a po-boy at this smoked and spiral-sliced ham emporium, but hear us out. The Lafayette location of Logan Farms Honey Glazed Hams, the Houston-based franchise, is one of Hub City's premier sandwich spots. Logan Farms's po-boy menu specializes in the basics: ham, turkey, and roast beef. There's a club sandwich, a Cuban smeared with pesto, and even a take on a New Orleans muffaletta. Skip these and order up a shrimp po-boy, which comes overstuffed with golden-crisp fried wonders doused in a garlic butter sauce. When that garlic butter melds with the classic swipe of mayonnaise, this po-boy rises above its humble ranks to become a truly transcendental sandwich.
 
2817-A Johnston St, Lafayette, LA 70503
(337) 233-2493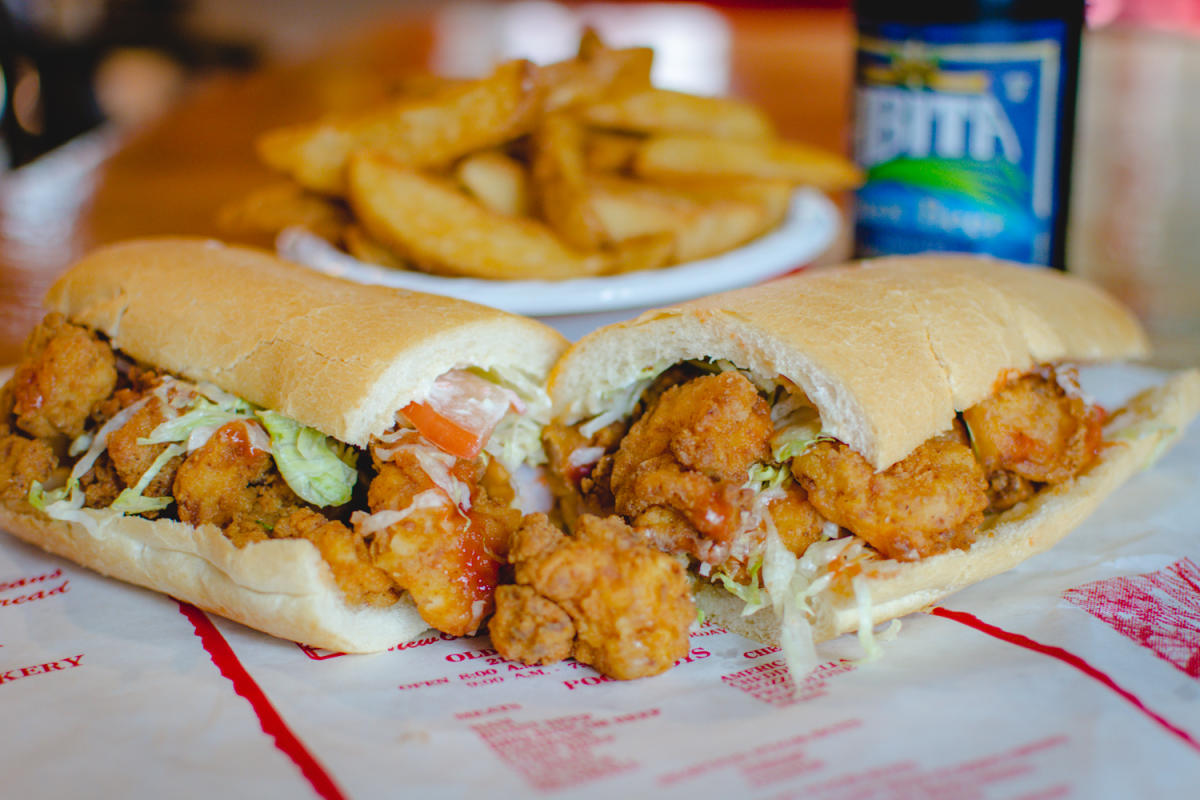 There are few more iconic Louisiana restaurants than Olde Tyme Grocery. Opened in 1982 by New Orleans transplant Glenn Murphree, Olde Tyme quietly transformed from a former cornerstone named St. Mary's Grocery into one of Lafayette's most storied dining rooms. It's a place where weekly regulars, college students, and tourists mingle. Where the walls run chockablock with USL-turned-ULL memorabilia. Where the menu hardly ever changes. In the days of experimental eats, Olde Tyme's po-boy offerings are, well, old-timey, with an eye toward deli meats: ham, turkey, roast beef, barbecue ham and beef, pastrami, corn beef. There's sausage and meatball sandwiches, as well as the fried standards: shrimp, oyster, and Friday-only catfish. There's the occasional Lenten special, sure, but there's something about that simple sandwich and these surroundings. This is a place where, despite the po-boy's portability, it's best to grab a cold beer or soft drink and a seat.
 
218 West Saint Mary Blvd., Lafayette, Louisiana 70506
(337) 235-8165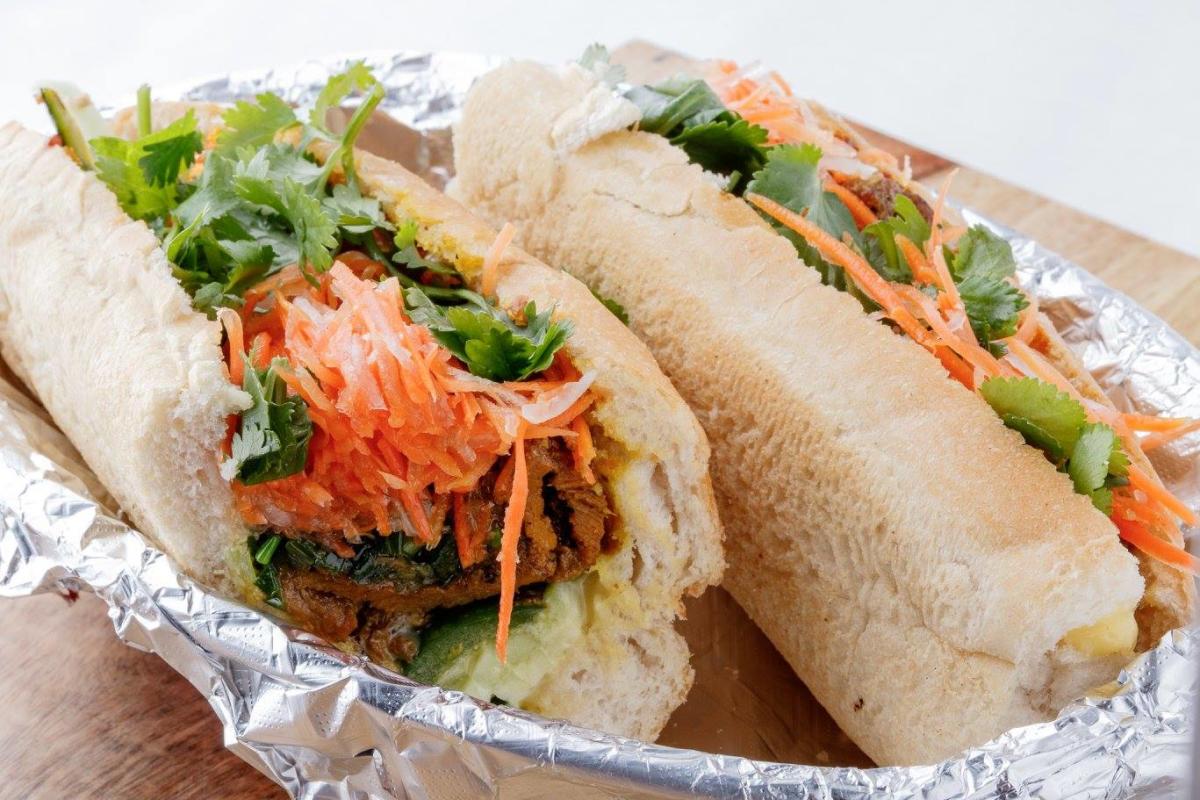 South Louisiana has been home to a large Vietnamese population since the 1970s when the greater Gulf of Mexico region enticed immigrants looking for a similar climate and environment. The two regions — South Louisiana and Vietnam — share a familiar French colonial history and culinary culture. The French-loaved po-boy shares affinities with Vietnam's favorite sandwich, the bánh mì. Literally translated as 'bread made from wheat,' the bánh mì, like the po-boy, is most often overstuffed with meat and veggies (pickled veggies, wheels of fresh jalapeño, cucumber spears, and cilantro) and slathered with mayo. Transplanted to Louisiana, the sandwich has long been sold under the moniker "Vietnamese po-boy." The bánh mì is listed as such on the menu at Pho Home, where po-boys arrive filled with chargrilled, Vietnamese-spiced pork, chicken, or beef. The sandwich pairs well with a bowl of traditional Vietnamese pho.
 
120 Curran Ln., Lafayette, LA 70506
(337) 412-6195

The history of Poor Boy's Riverside Inn dates back to 1932 when Hulo Landry left his job at the Evangeline Bread factory after developing an allergy to flour. Looking to make a buck, he began pushing a cart up and down the streets of downtown Lafayette, selling snowballs and the occasional po-boy sandwich. Customers nicknamed him Poor Boy, a name which he bestowed upon his first restaurant. In 1939, Poor Boy's moved to a riverside location along Pinhook Road, where it would remain for the next four decades before moving to Broussard. Today, Poor Boy's Riverside Inn is owned and operated by Hulo Landry's grandson Richard Hurst and his wife, Lori. The restaurant specializes in gumbos and fresh oysters, crawfish, crab, and flounder. And though the menu's po-boy section of the menu can be easy to overlook, do not miss the crawfish étouffée po-boy.
 
240 Tubing Rd., Broussard, LA 70518
(337) 837-4011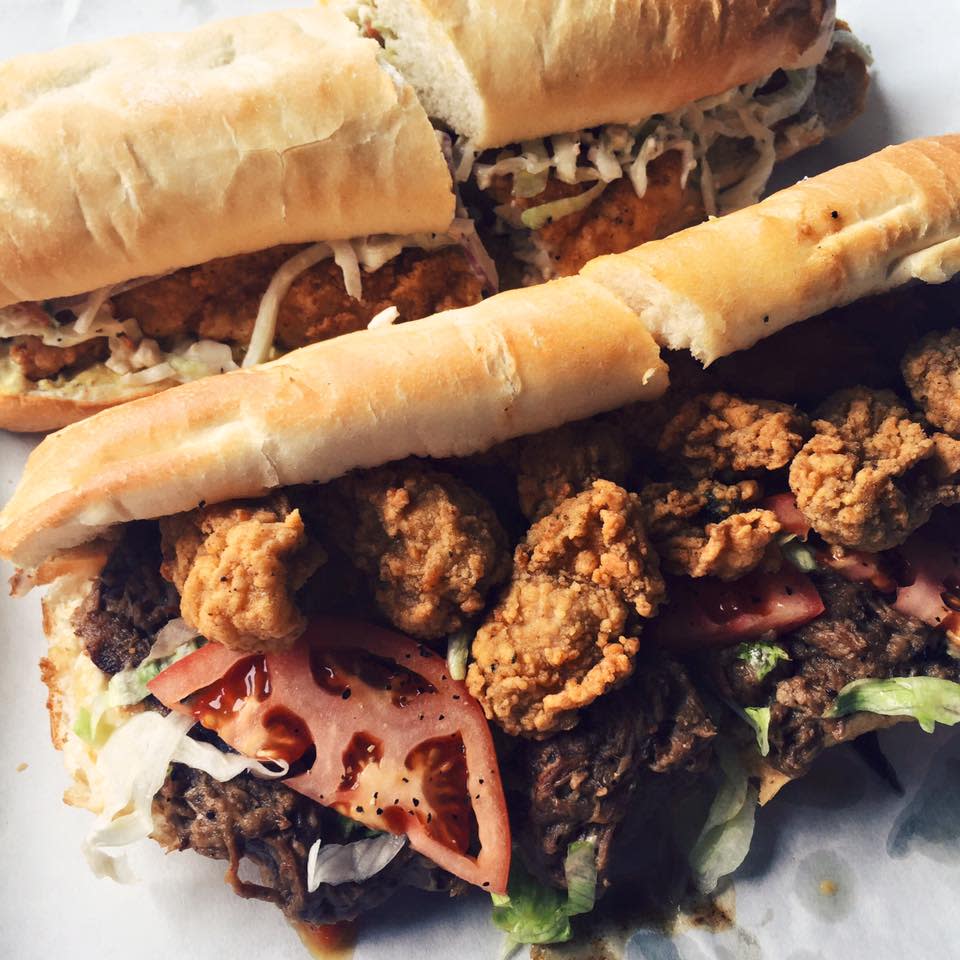 At Pop's, located in downtown Lafayette, owner Collin Cormier melds po-boy history with a contemporary, chef-centric vision. There's a crawfish boil-seasoned sausage sandwich and a terrific meatball po-boy, The Darlene. The Delcambre Dandy rewrites the fried shrimp po-boy with arugula, tomato, and a tart lemon caper sauce. While the Boudreaux builds upon the tried-and-true fried catfish sandwich by adding blue cheese coleslaw and pickled okra tartar sauce. For vegetarians — or those looking to try something new to the po-boy wheelhouse — there's the superb Red Bean Falafel. Pop's also might be the only place in Lafayette to serve a version of New Orleans's french fried potato po-boy; the fries in the Big "frite-a" — note the punny name — come smothered in gravy and smoked gouda. The sides are just as thoughtful, tasty, and fun. Try the fried pickled okra, Fire Crackers with pimento cheese, or hush puppies with cane butter. Pop's continues to stake a claim as Louisiana's most innovative po-boy shop.
 
740 Jefferson St., Lafayette, LA 70501
(337) 534-0621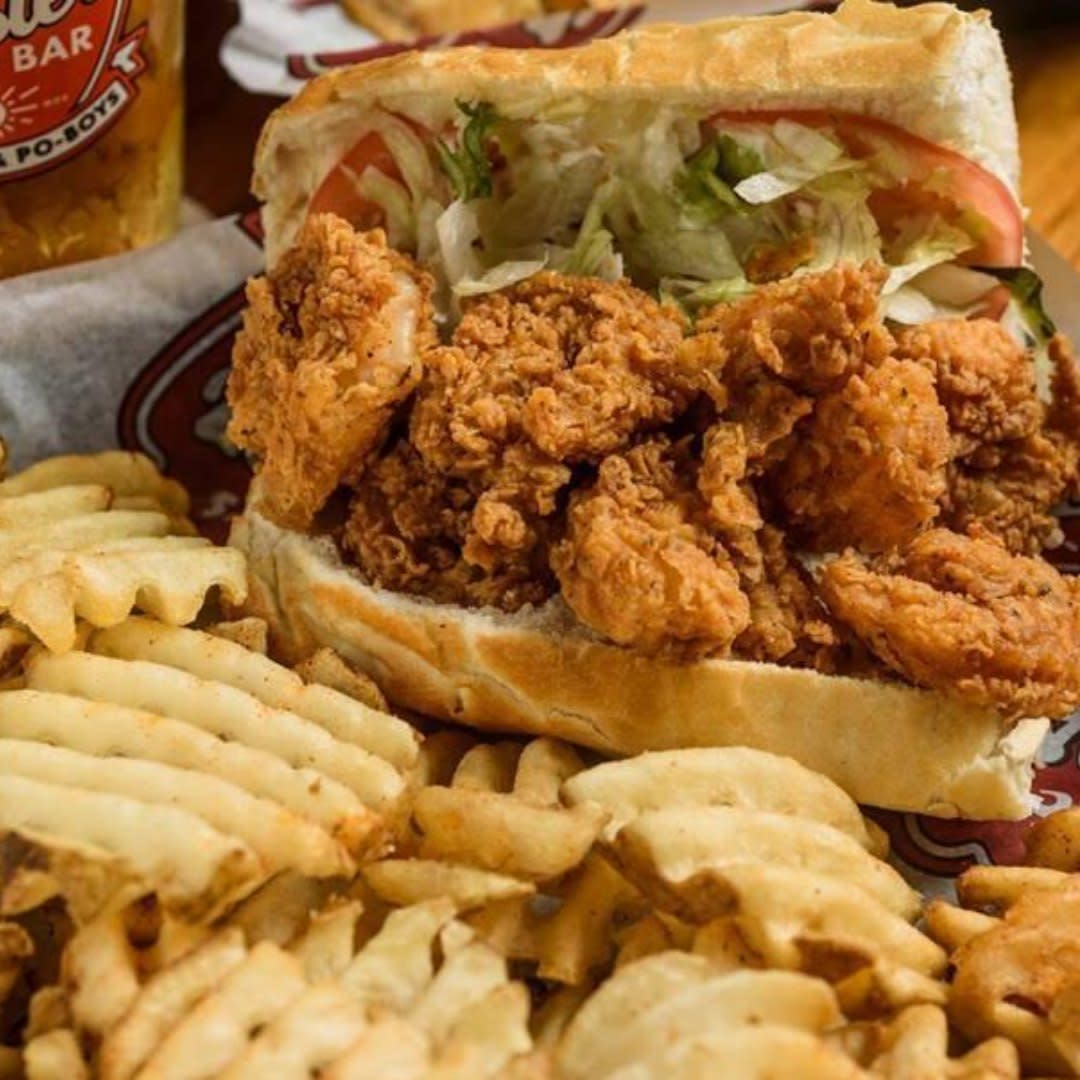 Uncle T's of Scott is a restaurant not content with offering the same old dishes. Sure, you can get the po-boy classics here: fried shrimp, fried oyster, and roast beef. But why not indulge with any of Uncle T's specialty po-boys, like The Landry, which piles high the trifecta of fried shrimp, oyster, and crawfish. Or try the Swamp Thing, with fried alligator and candied jalapeños. The Nonc T Special stacks roast beef, ham, turkey, provolone, and American cheese, dressed with jalapeño mayo. Opened in 2016 by Anthony and Lexi Hebert, in a building that originally housed the town post office and then a bustling billiards hall, Uncle T's offers oysters (raw and charbroiled four ways), boiled and fried seafood platters, and a full bar. Even the burgers are served on Langlinais French bread. This newcomer on the scene has quickly become a big and buzzy restaurant, a place well worth the short drive.
 
1001 St. Mary St., Scott, LA 70583
(337) 504-2285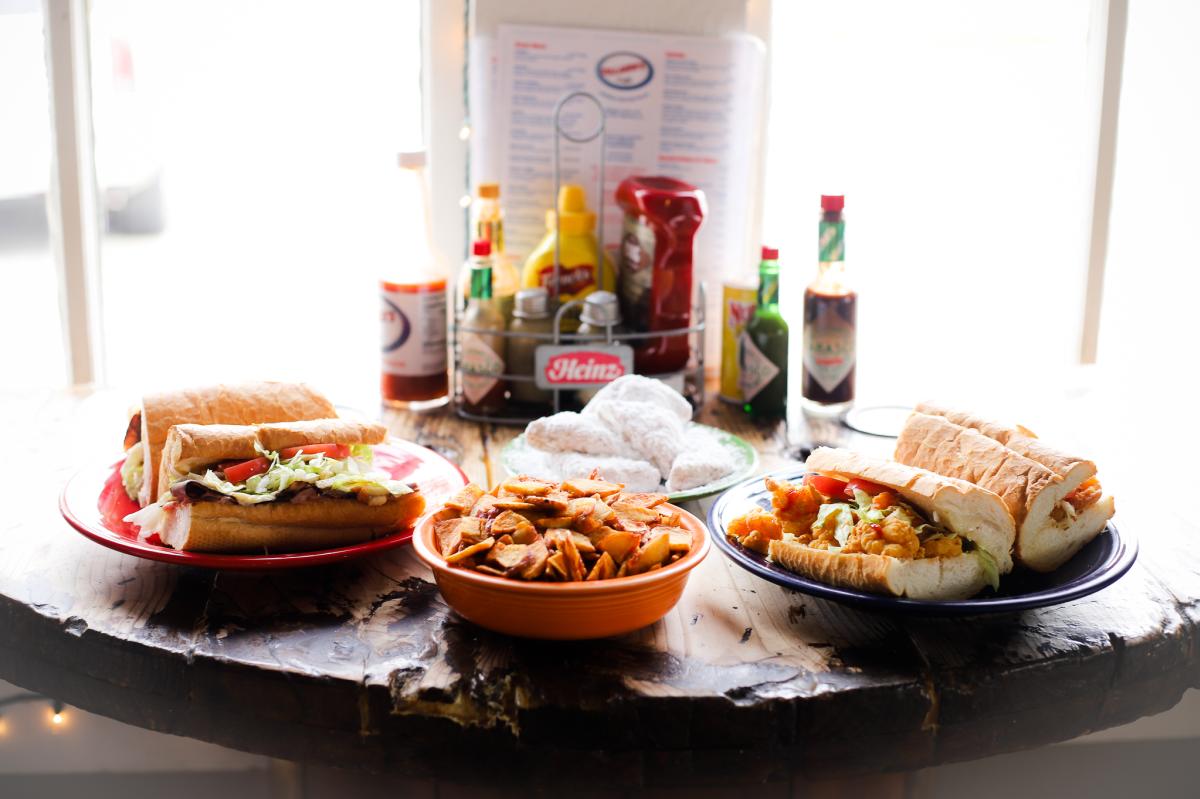 Villager's Cafe looks and feels like a place that's been there for several generations but opened just back in 1997. Despite being relatively new, as things go, this po-boy shop has reached destination status. Located along the town of Maurice's main drag, Highway 167, a visit to Villager's pairs nicely with a visit to the adjacent City Bar, the nearly century-old "World Famous Saloon." Try the slow-cooked pot roast po-boy, or the Villager: ham, roast beef, and pepper jack cheese topped with au jus gravy. Or stop in for the daily specials; Wednesday's fried catfish is a deal that cannot be beaten. The fried red potatoes, little triangular nuggets of crisped magnificence, justly received a rave in National Geographic. Grab a seat, sandwich, and cold drink on the screened front porch and watch the town drive by.
 
8400 Maurice Ave., Maurice, LA 70555
(337) 898-1554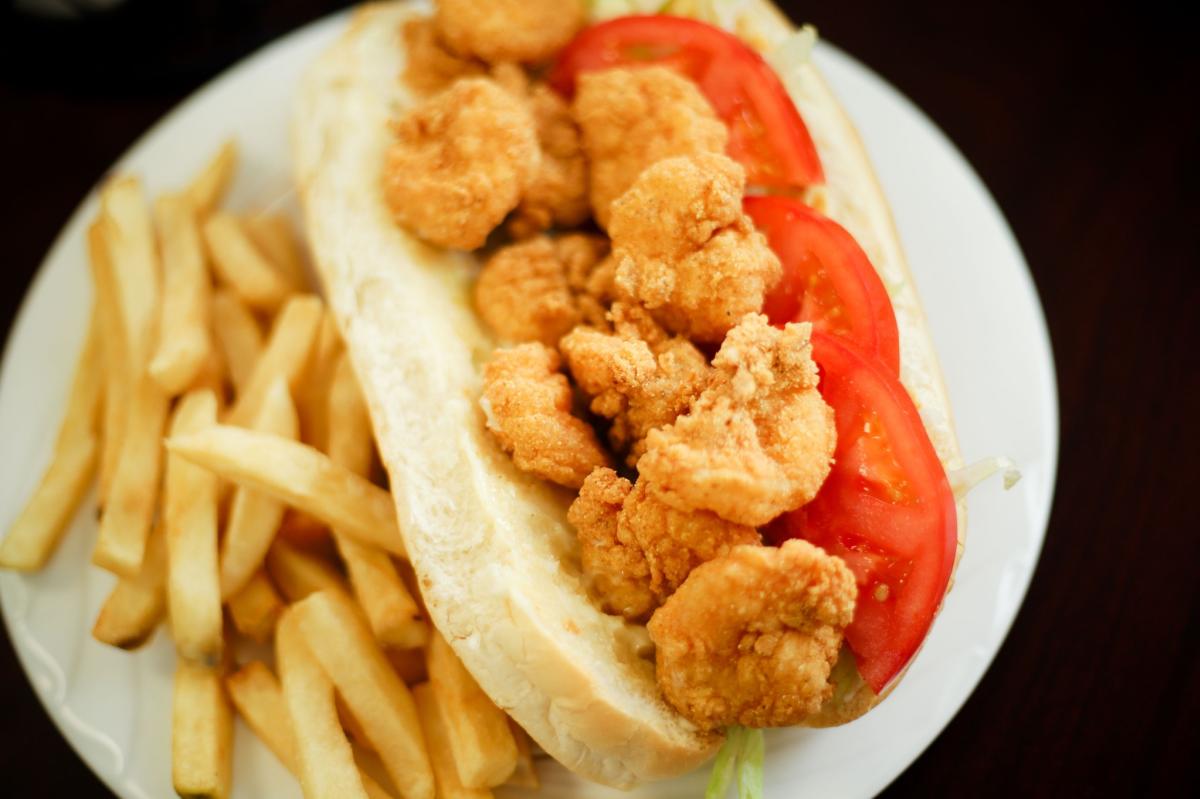 The Brown Skillet is one of the many Lafayette-area sandwich shops that surf the po-boy-meets-plate-lunch continuum. There's the standard — and standout — fried catfish, shrimp, and oyster po-boys (also all available as burgers, baskets, and platters). But the menu also carries an array of daily lunch plates and specials. Red and white beans, rice and gravy, rice dressing, crawfish étouffée, hamburger steak, fried chicken, and fried pork chops (there's also plenty of breakfast combos, sandwiches, and sides to explore). The creamy macaroni and cheese has quickly found a dedicated local fanbase since the Brown Skillet relocated from St. Martinville to Lafayette in 2019. Owner and New Orleans-native Earnest Brown brings a taste of the Crescent City's po-boy culture to the Hub City while operating one of the region's few Black-owned po-boy establishments.    
 
519 S Pierce St., Lafayette, LA 70501
(337) 636-3225