As the sun begins its early rise one Saturday morning, I find myself at Moncus Park under a smattering of still-thriving oak trees. Flickering string lights lining the oaks work to illuminate the main entryway of the park before daylight fully shines on the gravel-and-dirt staging area.
"Hey! Have you tried our boudin and sweet potato pie yet?"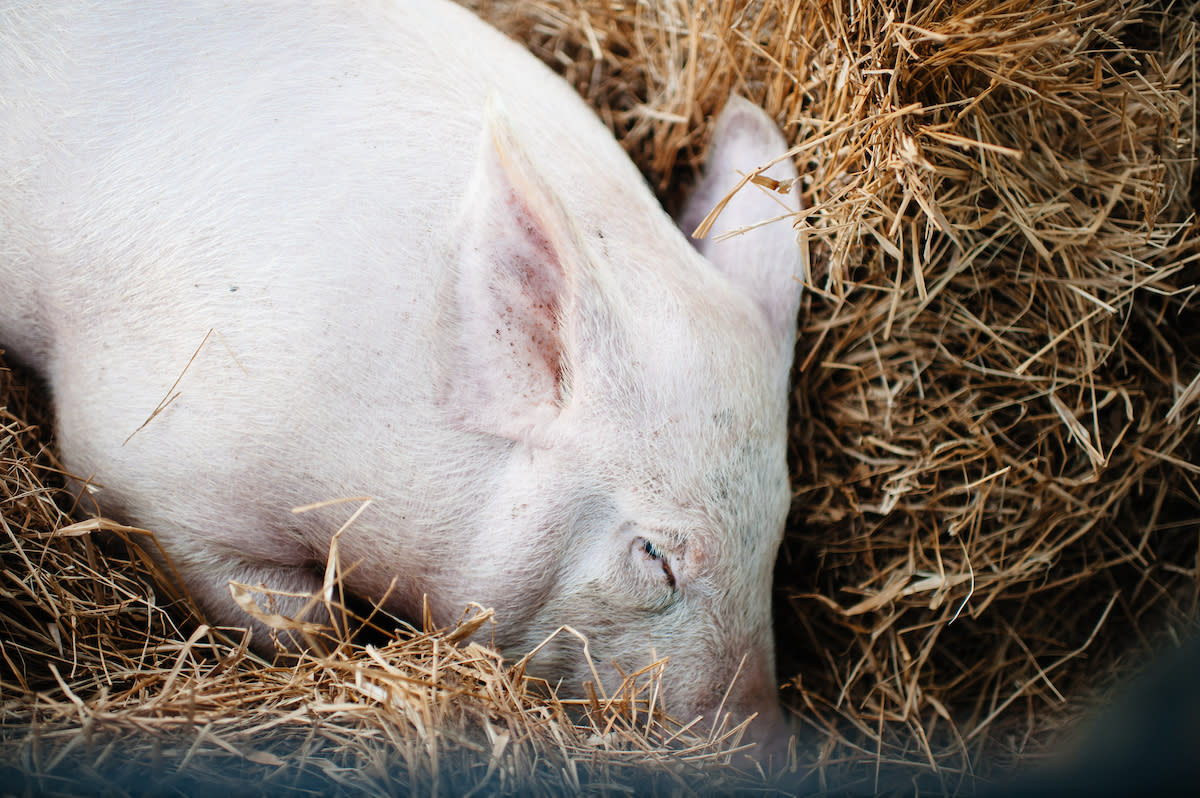 I turn to see Tim Melancon, a fourth-generation pig farmer who currently owns and operates T Moise Farms. They specialize in pasture-raised, Berkshire pigs reared and cultivated with no additives or processed products. Whether it's the exclusivity of their boudin (only found at the market on Saturdays) or the care in which they raise their stock, I've come to cherish the rare occasions I get to stop by and grab a link (or two, or three) to kickstart my weekend right.
We talk over a small sliver of a sample of his newest creation, a sweet and savory sweet potato and boudin pie that's sold in 6-inch tin rounds. He beams as he hands them out to a few other customers, and his wife, who typically helms the front counter, gives an eye-roll and a laugh. "He's so proud of his new creation. That goodness all came from his brain."
I wish, as a veteran and former vendor of the Lafayette Farmers' and Artisans' Market, I could say this interaction of kindness and the neighborly conversation was unique to me. But every Saturday morning, come rain or shine, Tim and dozens of local artisans, growers, craftsman, gourmet food vendors and musicians set up shop at Lafayette's central park and serve up heaps of carefully crafted and curated goods alongside something you won't find at any big-box stores: familiarity.
Along with highlighting local resources, farmers markets like this one offer a place for families and friends to connect both with one another and the local community. I see plenty of familiar faces, pet a few very cool dogs, and support a wide variety of businesses—from produce, bread, and meat to round out my weekly grocery runs to breakfast and dessert—all in one place. Along the way, each vendor is quick (and proud) to talk about the craft they specialize in and their current offerings. This gives customers a personalized look at the process and people they're supporting with each transaction.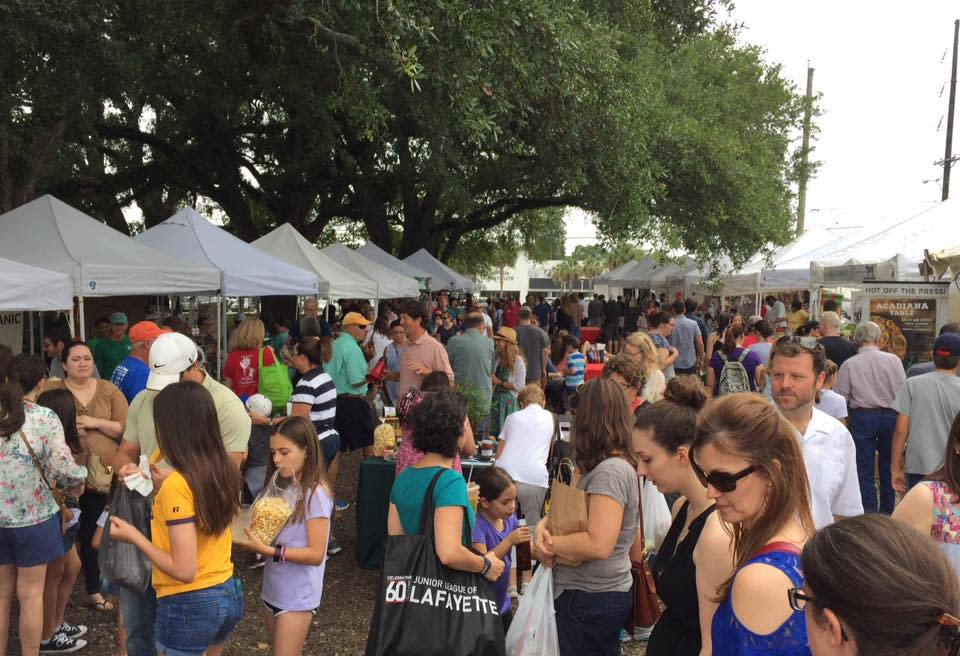 Image courtesy of Lafayette Farmers and Artisans Market at the Horse Farm
From sweet treats, savory servings, and beautifully crafted artisan jewelry, this market has something for everyone all under a canopy of oaks. The horse farm, the market's home venue, got its nickname quite literally because it was once a 100-acre horse farm in the heart of the city. A grassroots movement saved the property, now officially titled Moncus Park at the Horse Farm, from becoming developed into retail space. The movement convinced city officials that it was worthy of being transformed into a city park. Today, it is a beloved Hub City gem.
And that's not the only local farmers' market with a fascinating origin.
Drive about 25 miles southwest, and you'll find some of the freshest seafood around. In fact, you can buy it right off the boats from the fisherman who made the catch. The town of Delcambre lies directly between Iberia and Vermilion parishes with access to Vermilion Bay, which opens up to the Gulf of Mexico. It's home to the annual Shrimp Festival and to generations of fisherman who have weathered catastrophic storms, economic turmoil, and a devastating oil spill seven years ago.
And in classic South Louisiana fashion, this community keeps moving forward, now with a direct dockside seafood operation and a vibrant farmers market held on the first of each month.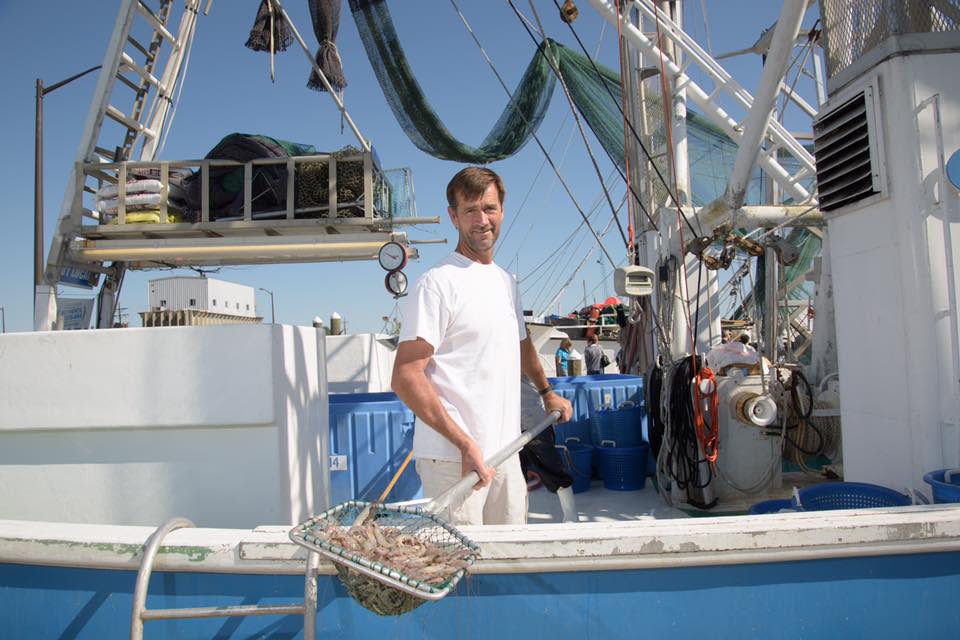 Image courtesy of Delcambre Seafood & Farmers Market
The Delcambre Seafood and Farmers Market made its debut a few years ago with a brand new waterfront pavilion. Along with the monthly market, DelcambreDirectSeafood.com can put you in touch with daily local catches sold straight from the dock.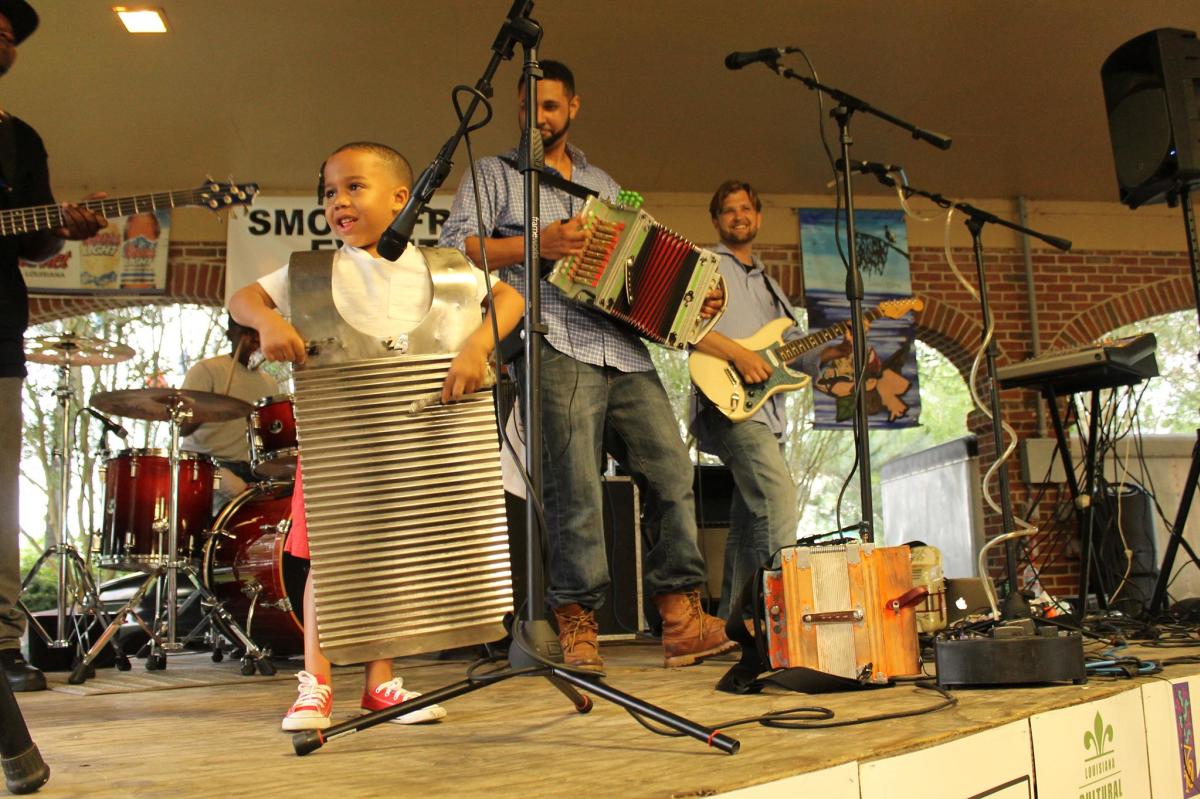 Image courtesy of Opelousas Music and Market
Moving north, the city of Opelousas' Music and Market series kicks off every spring and fall on Friday nights. At the Le Vieux Village's pavilion from 5:30 to 8:30 p.m. each week, different Cajun and Zydeco bands perform as vendors sell seasonal bounties of produce from mustard greens and yams to sweet dough pies and more. No matter why you've come, there's going to be a party at the end of each week, which is why it remains one of my favorite local events.
That's just a sampling of the markets going on the Acadiana seasonally and throughout the year. Below is a more detailed list.
*Note, this list is subject to change. Be sure to check with individual, potentially seasonal markets before planning your trip.
Lafayette Farmers and Artisan Market at the Horse Farm, year-round, 8 a.m. to 12 p.m., 2913 Johnston St., Lafayette.
Hub City Farmers Market, year-round, Saturdays from 8 a.m. to noon, 427 Heymann St, Lafayette.
Abbeville Farmers Market, seasonal, Saturday, 8 a.m. to 1 p.m., 200 Magdalen Square St., Abbeville.  
Delcambre Seafood and Farmers Market, seasonal, on the first Saturday of each month, Bayou Carlin Cove, 605 S. S. Railroad St., Delcambre.
Eunice Farmers Market, year-round, Wednesday from 3 p.m. to 6 p.m., Saturdays at 10 a.m., 2nd Street and Park Avenue, Eunice.
Kaplan Farmers Market, year-round, second Saturday of each month, 8 a.m, 119 N. Irving Ave., Kaplan.
Sunrise Saturdays in Sunset- The Farmers Market, each Saturday from 8 a.m. to noon, 832, Napoleon Ave., Sunset.
Opelousas Farmer Market, Tuesday, Thursday, Saturday, from 6:30 a.m. to 11 a.m., Farmers Market Pavilion, 828 East Landry St., Opelousas.
Music & Market, seasonal, Fridays from 5:30 to 8:30 p.m., 828 East Landry St., Opelousas.
Bayou Teche Farmers Market, year-round, Saturdays from 9 a.m. to 1 p.m., 203 New Market St., St. Martinville.
Teche Area Farmers Market, seasonal, Tuesday, 2:30 p.m. to 6 p.m., Saturday, 7 a.m. to 11 a.m., Bouligny Plaza, 128 W. Main, New Iberia
Washington Community Farmer's Market, year-round, Saturdays from 8:30 a.m. to 11 a.m., Town Center, 402 N. Washington, Washington