Since the very first Festival International de Louisiane in 1986 photographer Philip Gould has captured moments that show how the unique festival has grown to become one of the largest non-ticketed Francophone events in the world. We have partnered with him to showcase some his most memorable moments from years past.  We hope you enjoy this 30 year photo retrospective by Philip Gould.
"I have photographed Festival International nearly every year since its debut in 1987 to the present. It has been an honor to be at the birth, to bear witness to its growth, and to document its long, rich life.
Festival International has done more to transform Lafayette from a city still steeped in Cajun and Creole tradition to one that connects creatively to the entire world. Each year, the Festival invites performers from nearly every continent to perform downtown in what is effectively our village.
With this presentation you will find for the next thirty days a different image taken at Festival. The photographs run consecutively, one a day, from 1987 to last year's event in 2015.
If the festival has been part of your life over the years, I hope the photographs will trigger fond memories for you. If you have not yet had the chance to see it for yourself, I hope these images will inspire you to get in a car, on a train, or an airplane and come join us."
– Philip Gould, Photographer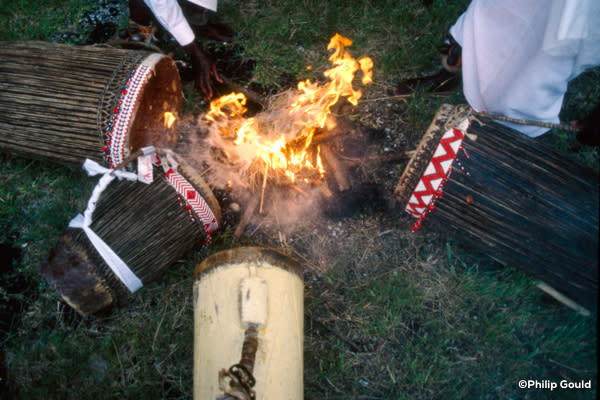 Tuning drums by fire. Members of the Rwanda Master Drummers heat tune their drums before performing at the first Festival International de Louisiane in July 1987. Their performance was at the very least an eye opener for Lafayette. The notion of tuning drums by fire revealed just how connected these master drummers were to the elements.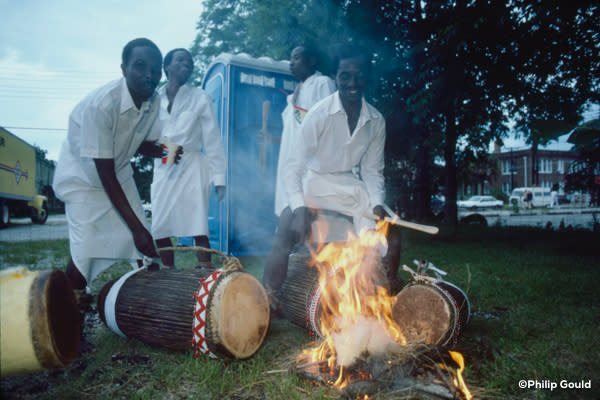 One other note, several years after their performance Rwanda became embroiled in a deadly civil war between Hutus and Tutsi's. The fact that some members of the group may have not survived this conflict was profoundly sad. I only hold the gratitude that they were able to share their talents and open our ears and eyes to their faraway world beforehand.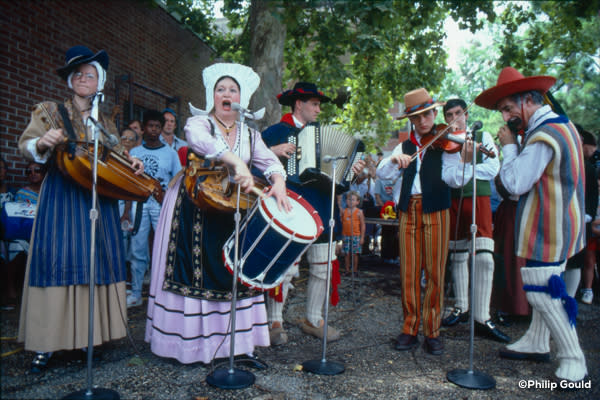 Members of the Assemblee du Pays Normand in France also performed the first year of the Festival in 1987. Their traditional performance attire was suited for the chilly Normandy climate. Nonetheless, members performed in full cold weather woolens to share musical customs with us that first year — in July.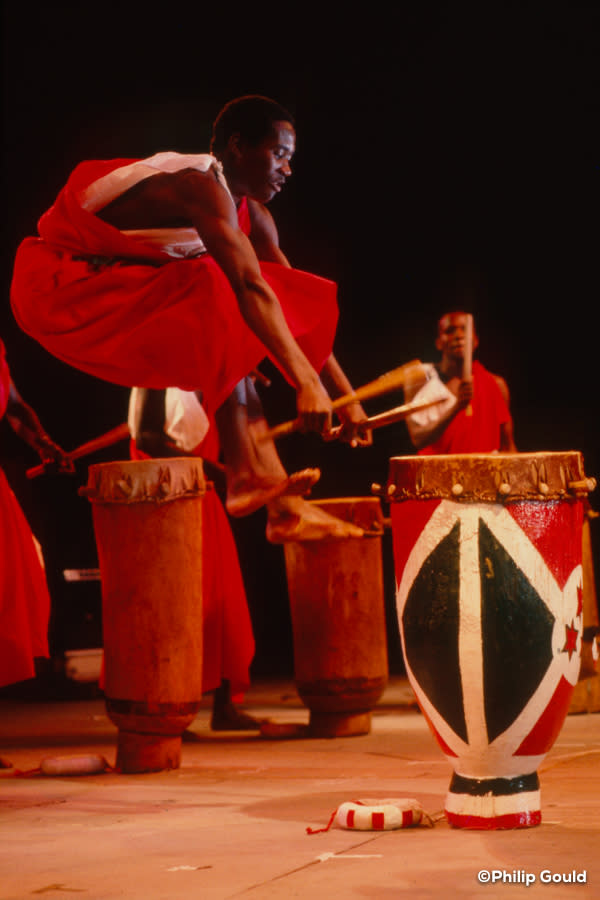 Burundi Master Drummers perform in Lafayette for the first time in 1989. Like their counterparts from neighboring Rwanda, these folks also had a strong tradition of performance with traditional drums.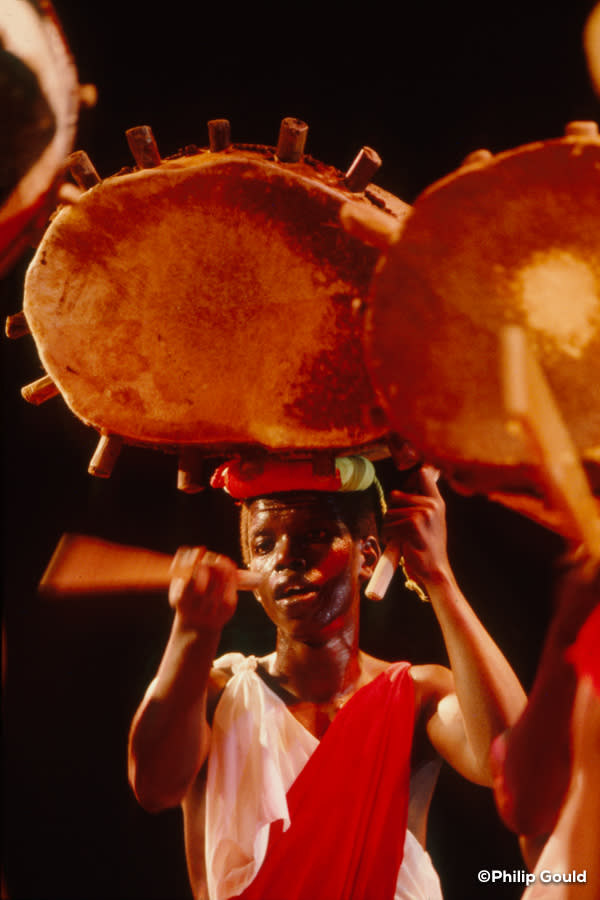 I took one of my favorite festival photographs then which showed a drummer fully airborne striking the drum from peak height.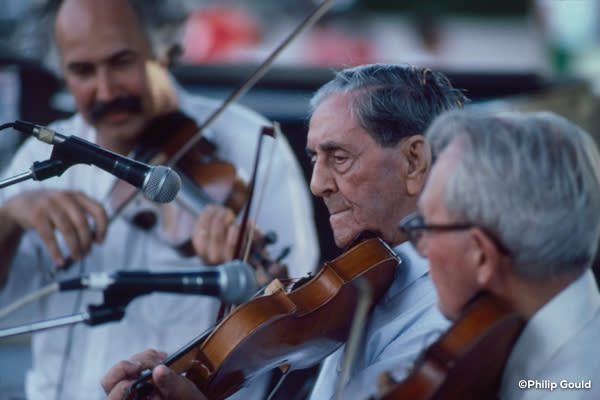 One meaningful element of Festival International de Louisiane was the opportunity it offered for local musicians to perform in an international context. Case in point, iconic Cajun fiddler Dennis Mc Gee performed at the first festival in 1987 backed up by partner Sady Courville and long-time student Michael Doucet.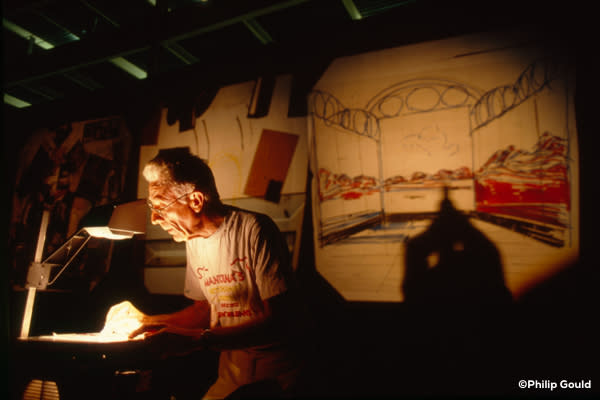 Festival International was not simply about music. It also provided opportunities for folks to see art works from here and afar. Louisiana landscape painter Elemore Morgan was a good example. At an event entitled Tatooed Walls in 1990, he joined other artists painting in real time as his efforts were projected on a large outdoor wall. The event was sponsored by Lafayette Artists Alliance.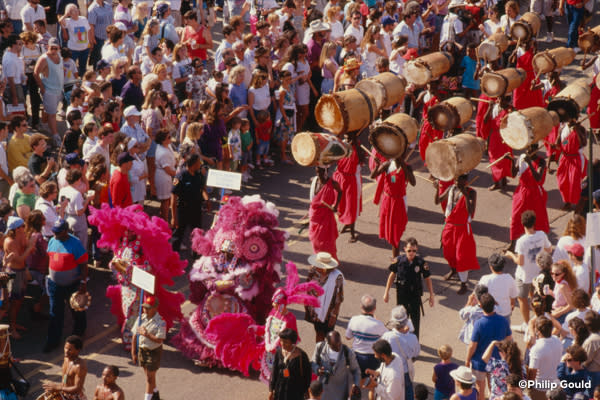 The most stirring personal festival moment occurred during the Saturday promenade in 1991. I had perched myself on the roof of the old City Hall to photograph the parade as it headed up Jefferson Street. When I saw a procession of New Orleans Mardi Gras Indians followed by Burundi Master Drummers followed by News Orleans' Plastic Systems Band, each group with boy scout holding identifying banners, it felt like the exotic world was on parade in our village.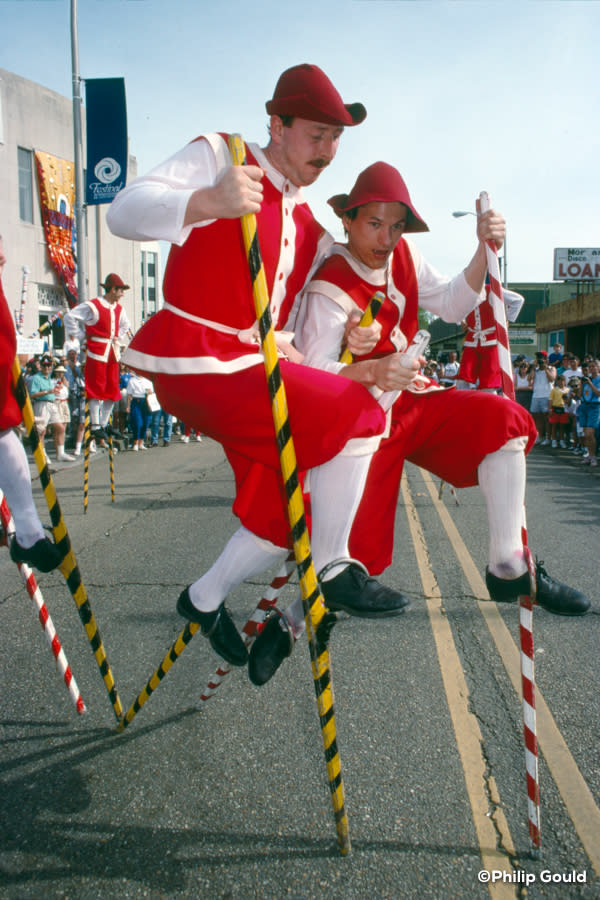 Echasseurs de Namur, Belgian stilt walkers were also a treat to witness as they conducted their battles on stilts in 1989, to be the last stilt walker standing.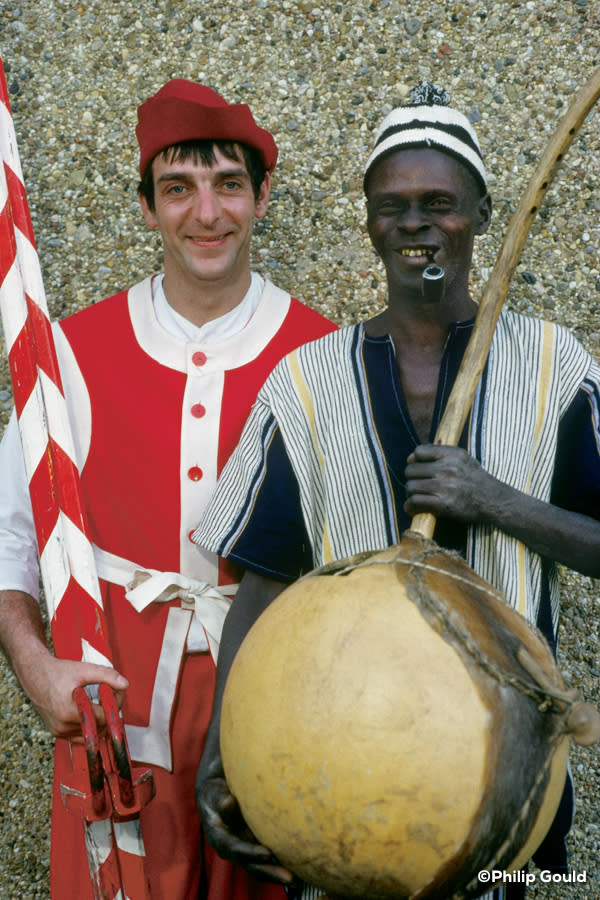 I also was able to photograph one stilt walker posing with a kora player from Mali.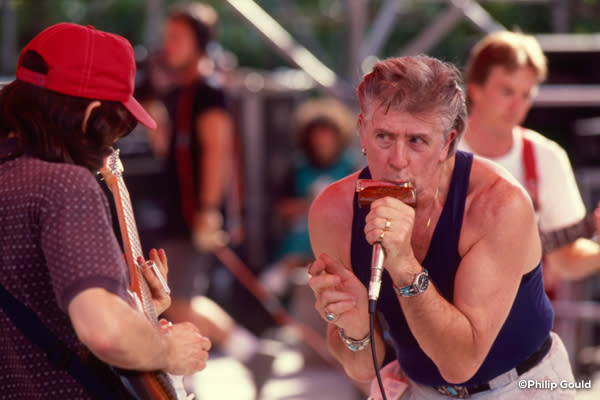 John Mayall made a festival appearance in 1990 jamming on stage with Lafayette's famed guitarist Sonny Landreth. It was a treat to see this British bluesman perform live. I remember him from long ago when I was growing up in the San Francisco Bay Area. Mayall channeled the mainline of blues from Mississippi to Chicago across to the UK and back as did many other British musicians of that time. As he played along with Sonny, Mayall seemed to be goading him to dig deeper into the soul of his slide guitar. At that moment John Mayall was both master and rascal.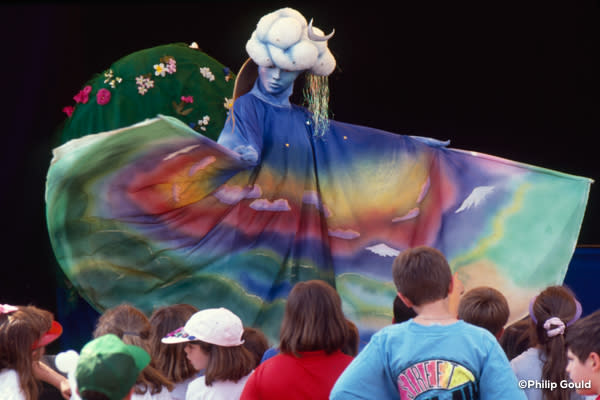 A Beasely's Puppets performed in 1990 at the Place des Enfants. I loved how this woman created another alternate universe with her cape, all there for children's imaginations.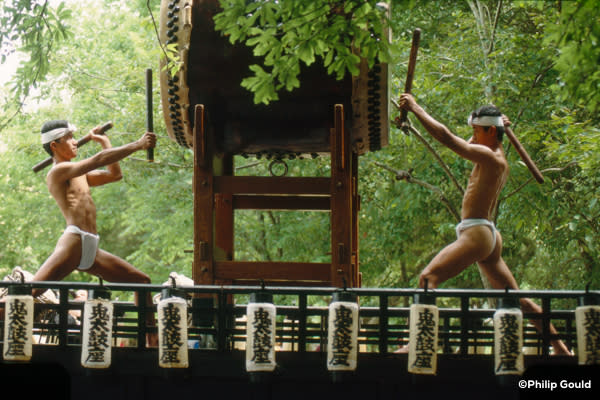 I still remember the Ondekoza Drummers from Japan. When they performed in 1992 for Bach Lunch at the old Lafayette Natural History museum, I remember feeling transported in my imagination to Japan. This scene offers no clue the group is performing in south Louisiana. The setting feels instead like the ancient gardens of a Japanese shrine.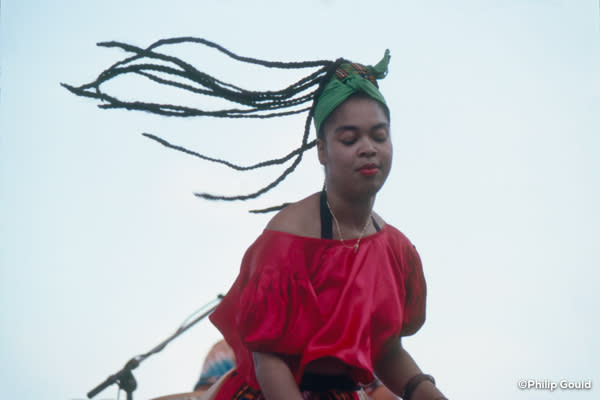 In 1992, I watched his compelling group Ra Ra Machine from Haiti transport the audience through the musical paces of their Caribbean home. Yet through it all, one could see in the keyboardist's dancing braids, the group's rhythmic energy.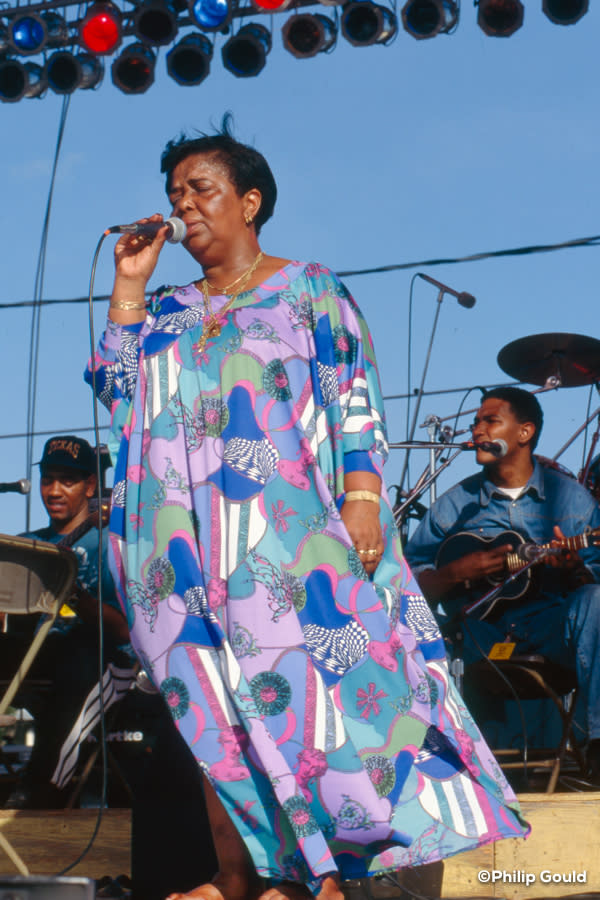 Another telling moment came in 1996 when Cape Verde superstar Cesaria Evora performed at the Festival. She stood simply on stage in bare feet and flowing dress as she sang.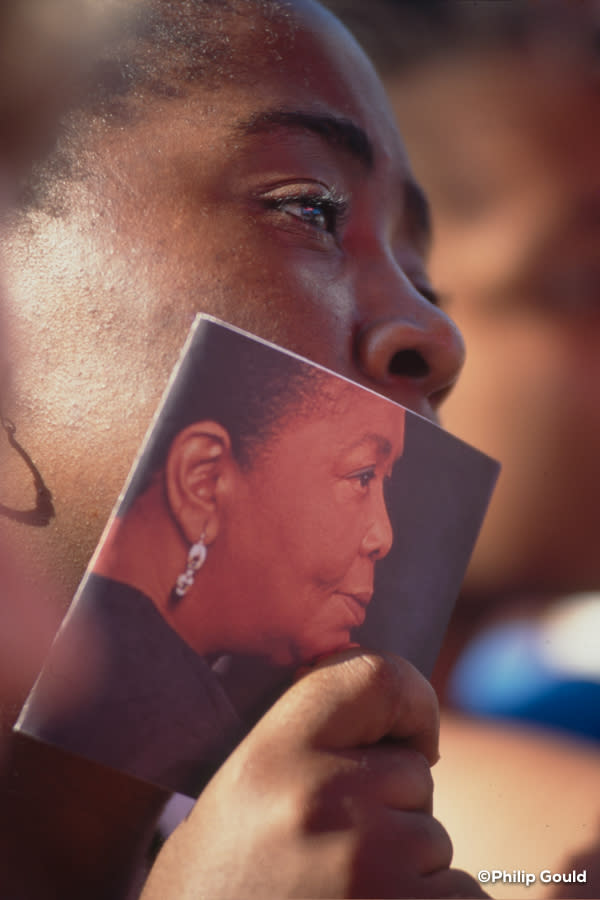 It was only after I looked to my left and saw a young lady entranced with her heroine, was the moment complete. She was bonding with Cesaria all while holding her CD booklet close.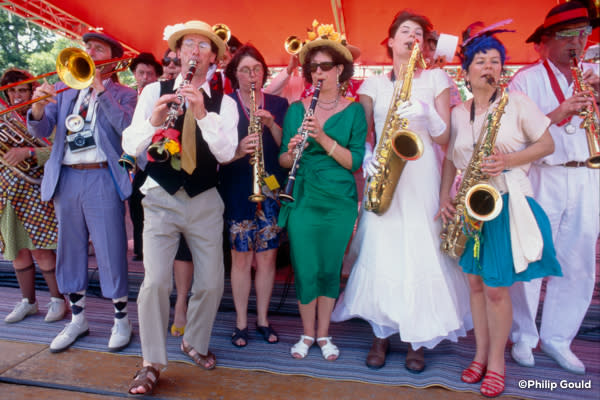 Fanfare Zebaliz from France performs at the 1996 Festival. The group combined old time jazz with a visual sense of zaniness all done with French panache. One day, the group performed for French Immersion Students at Plantation Elementary School in Lafayette. I enjoyed watching as the saxophonist infused her creative energy and joy to some of the students listening.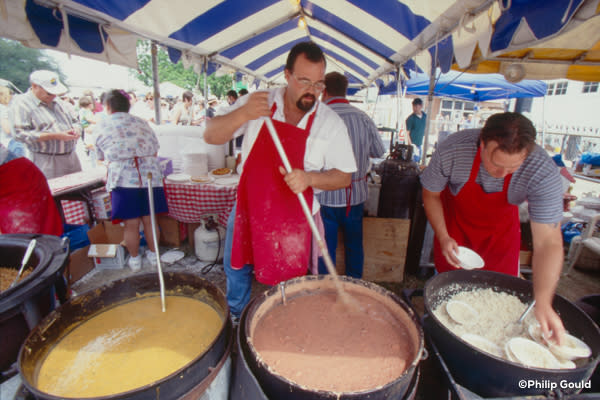 In 1996 like all years before and after, food vendors would stir vats of Crawfish, Red beans and rice all staples on sale for a good timing diet.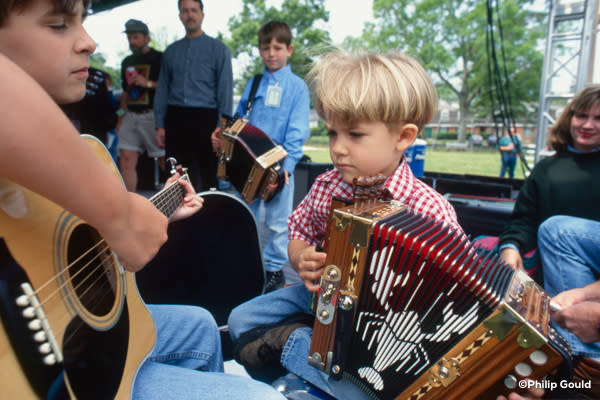 Hunter Hayes was only five years old when he made his first festival appearance in 1997. He was already exhibiting the presence and charisma of the star he was to become.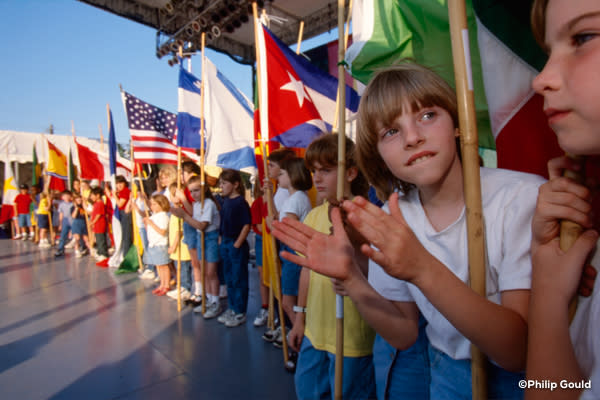 Since the Festival's beginning, French immersion school students have carried the flags of participating countries through the streets of Lafayette and onto the main stage. As a group, they formed an multinational backdrop in this photograph for the 1998 opening ceremonies.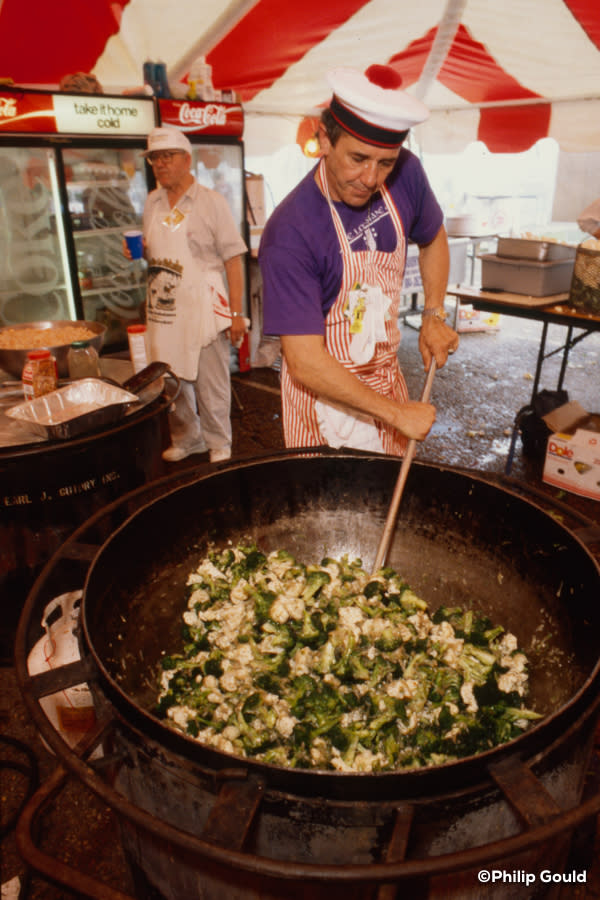 Food was a vital component both for festival goers and performers. John Smith was a leader of the Bubbas in 1999, an ad hoc group that cooked for performers backstage.
Paul Hernandez of Pouparts Bakery in Lafayette, turned french bread into alligator-sized performance art at his food booth.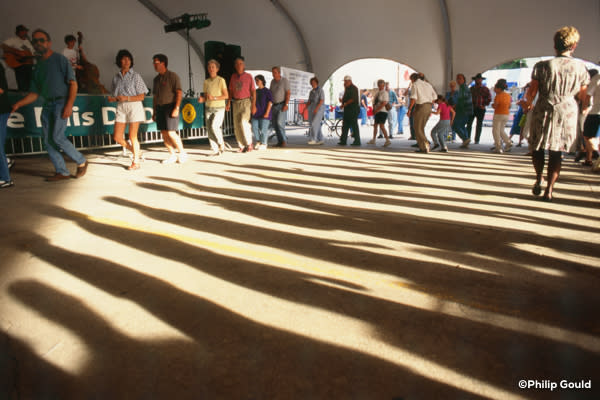 Cajun songstress Christine Balfa leads a group dance lesson in the Fais Do Do tent before live performances began in 1997.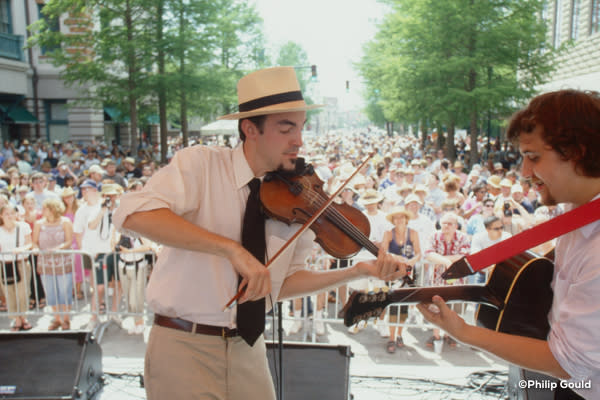 In 2002 Joel Savoy of the Red Stick Ramblers performed in period dress to an overflowing crowd gathered on Vermilion Street to see them.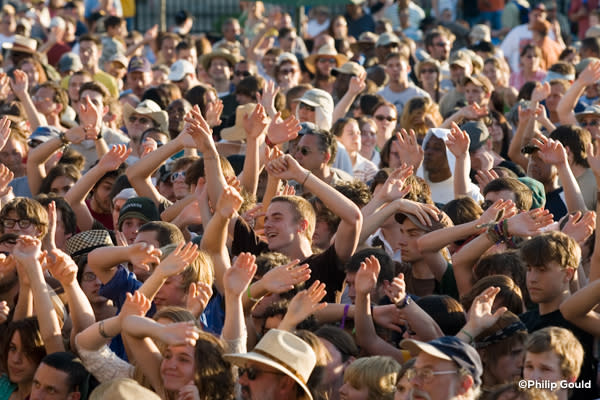 Crowds at Festival International have always been spirited.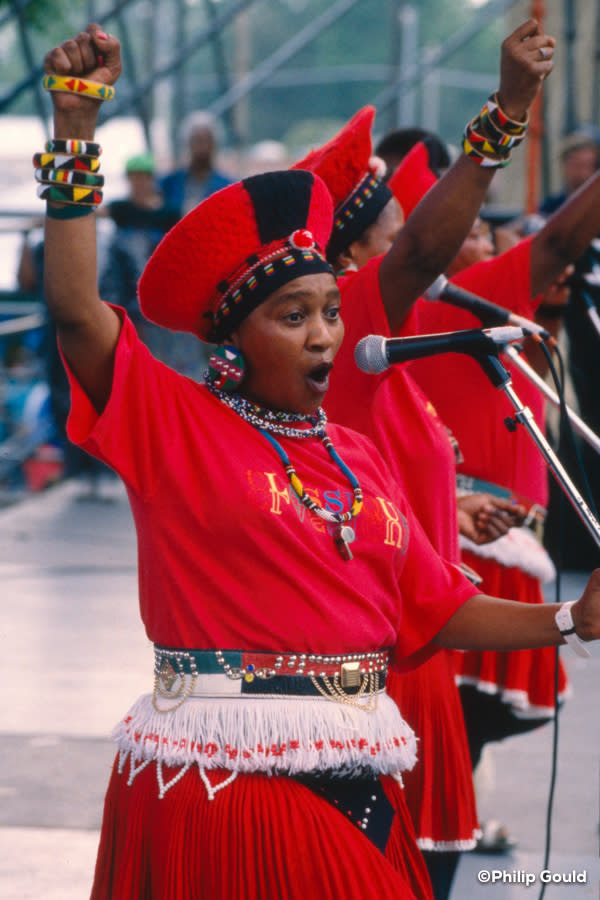 Performers inspire them and they in turn return the favor. In 1993 South Africa's Mahotella Queens led crowds through a spirited performance of their music.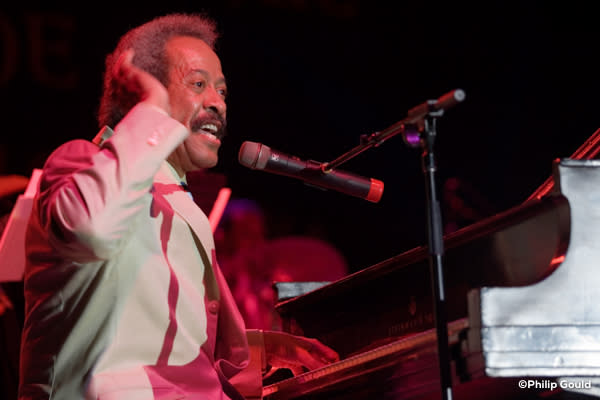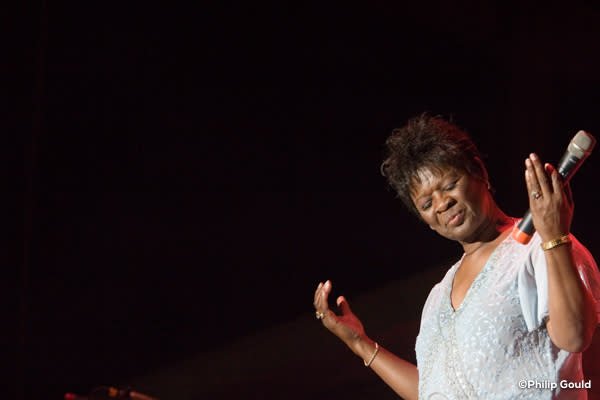 New Orleans has been well represented over the years. In 2006, both Allen Toussaint and Irma Thomas performed for packed crowds.
A member of the Dragon Knight Stilt Walkers connects with a young girl in 2006 as both walk down Jefferson Street.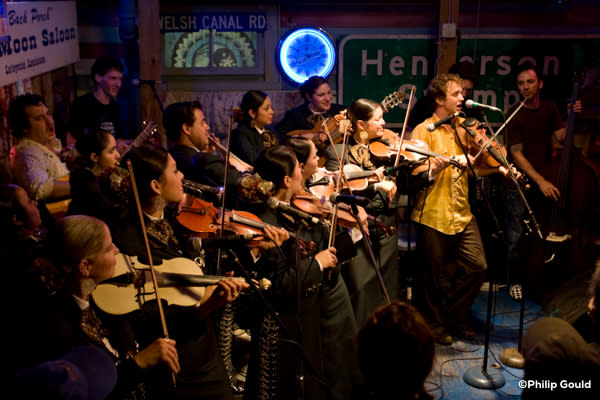 Cajun fiddler Louis Michot joins Las Erindiras a mariachi group from San Antonio, TX at an after hours multi cultural jam session at the Blue Moon in 2008.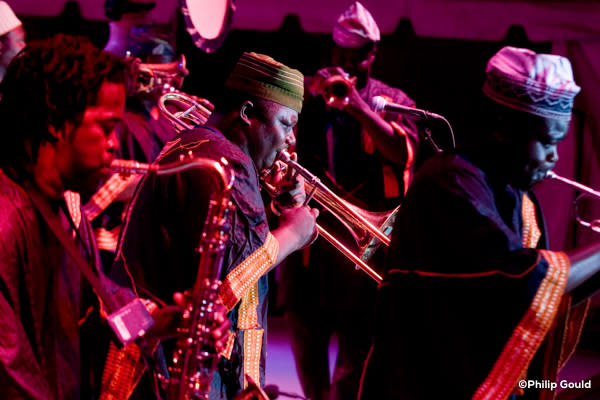 Gangbe Brass Band, from the west African country of Benin, was compelling to see and hear. In their concert, the group created a musical space where the windy sounds of the Sahara desert could blend with western jazz and big band melodies. In effect their music connected the Saraha to New Orleans.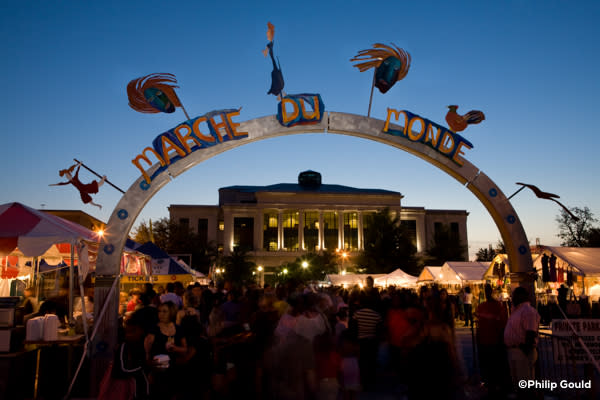 Entryway to Marche du Monde on festival grounds with the Federal Courthouse in the background. The archway, designed and painted by Pat Juneau, framed the scene where the hustle of a world market whirled under the architectural gaze of an oz-like palace.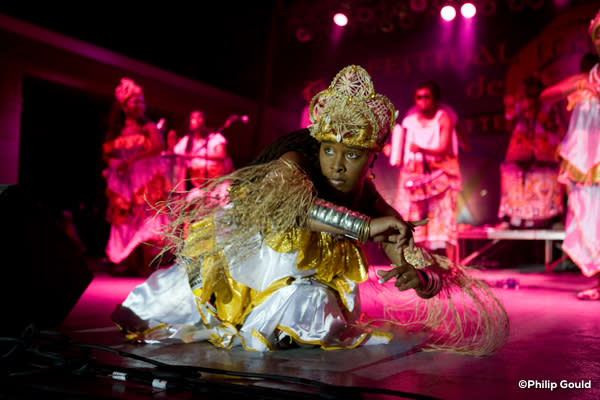 A member of Ilê Ayê, a group from Brazil performs for the 2009 Festival. I happened to be up close to the stage as she crawled across the stage. I enjoyed being that close to a singer who was connecting to a huge crowd as she sang.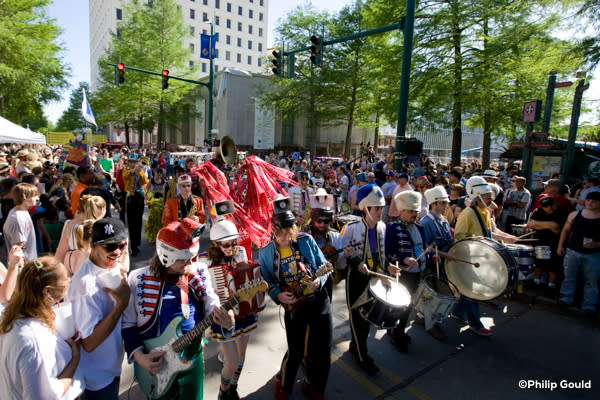 The group Mucca Pazza makes the turn in the festival promenade from Vermilion on to Jefferson Street. Over the years, this short parade has been a favorite event. It is where the serendipitous energy of numerous performers gets channeled onto a single street. The promenade passes quickly and often dissolves intro street performance and theater. I found Mucca Pazza fun to watch. They embodied an unlikely blend of High School Band, Balkan gypsy music and psychedelics.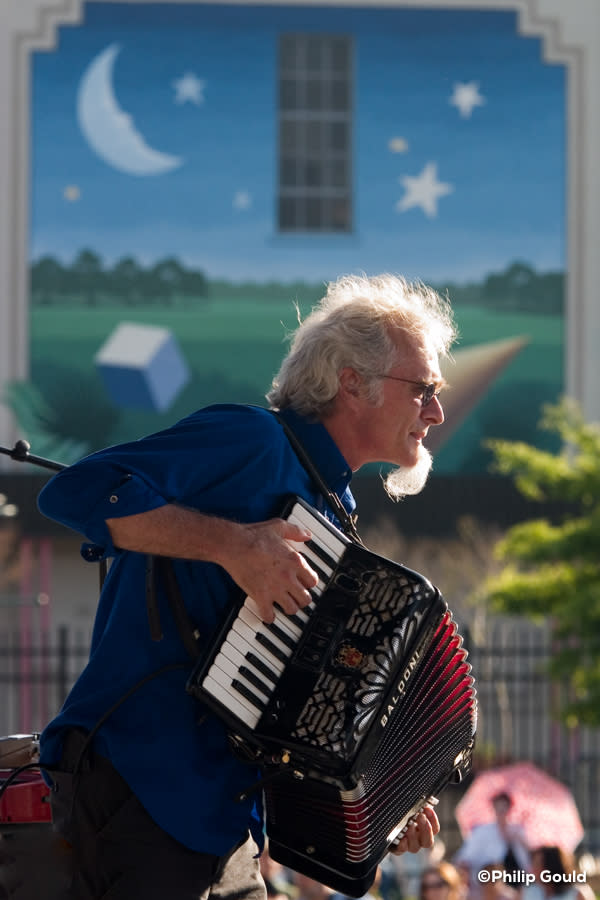 Ray Maggie of the Subdudes squeezes his accordion in 2006 in front of a vast crowd and mural by Robert Dafford on a facing wall of the Children's Museum.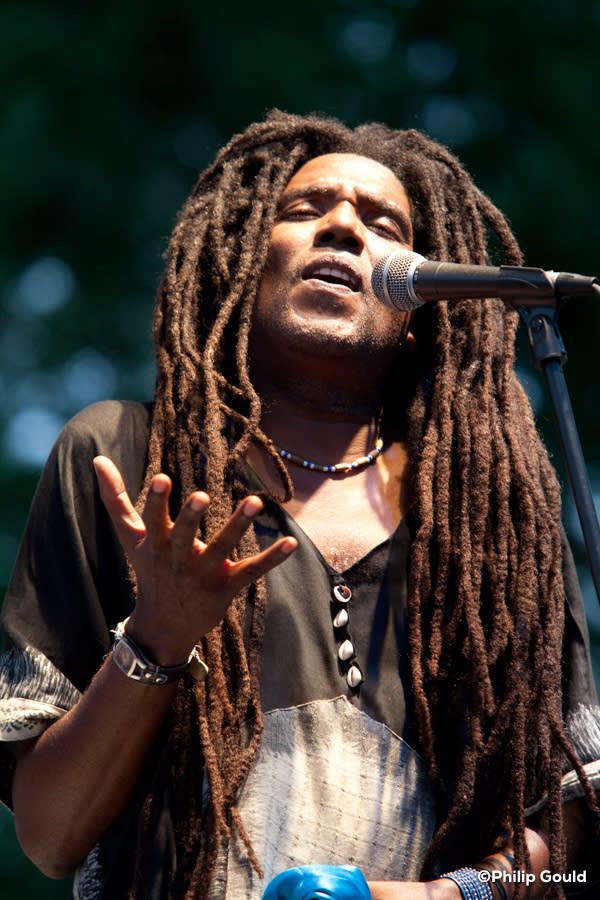 Theodore Lolo Beabrun lead singer of the Haitian group Boukman Eksperyans, kept the 2011 audience and himself under a trance as he performed from a space deep in his Haitian soul.
Festival goers in 2013 at the intersection of Jefferson and Vermillion Streets. I have always enjoyed seeing the hordes of people gathered downtown during festival. Capturing everyone in kinetic connectedness as they moved through the square was also an enjoyable challenge.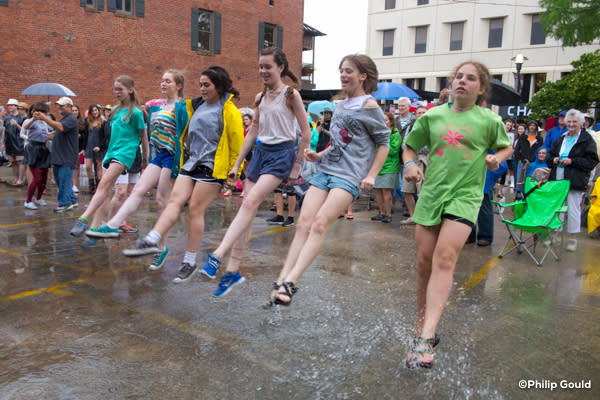 A group of young dancers momentarily take to the air doing an Irish jig over parking lot puddles in 2015. It is the sort of serendipity that festival organizers can't program per se, but which is key to the spontaneity of the four-day event.