Here in Louisiana, we are known for our joie de vivre, a French expression meaning our exuberant love of life. We love hosting lively festivals to honor our rich Cajun culture, and simply to have a good time with friends and family. Louisiana is famous for its year-round festivals celebrating everything from crawfish, rice, cotton, squirrels and sugarcane to Mardi Gras and the very best Cajun food and music. Here are a few popular festivals in Lafayette that are especially fun for the whole family—and they all happen to be free!
Kid-Friendly Mardi Gras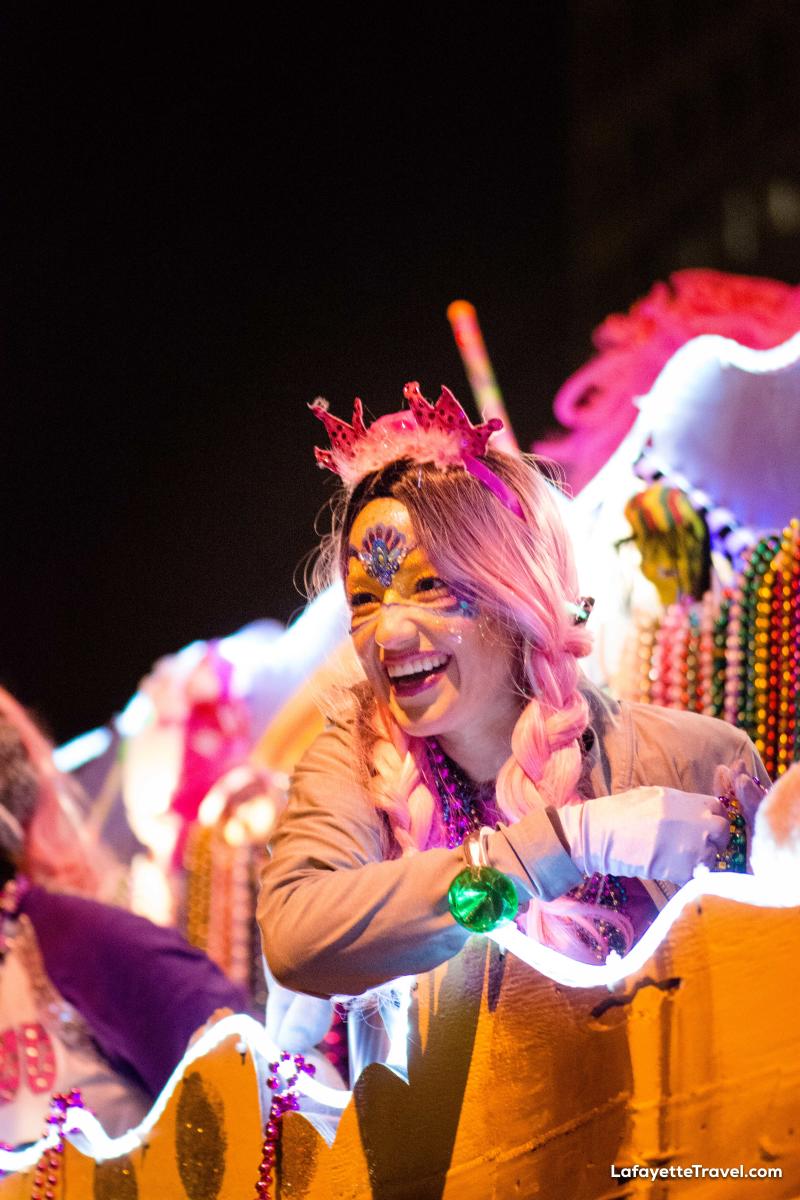 Starting off the year is our Mardi Gras season, which lasts around six weeks from the 12th day of Christmas to Fat Tuesday. Throughout this time of revelry and indulgence, before the solemn period of Christian Lent, visitors and residents take part in a variety of Lafayette Mardi Gras traditions.
You'll find king cake all around town at local bakeries like Keller's, Poupart Bakery and Meche's. To signify the three kings finding baby Jesus on 12th night, the bakeries each hide a plastic baby into the oval-shaped pastry. The person who finds the baby must bring king cake to the next Mardi Gras party. The weekends leading up to Fat Tuesday are alive with parades, hosted by a variety of krewes wearing colorful costumes and masks who throw beads, toys and candy into the streets from their decorated floats. On Mardi Gras day, schools and businesses are closed to enjoy the all-day festivities and parades that go from downtown Lafayette, up Johnston Street, to the Cajundome.
Lafayette's local living history museum, Vermilionville, hosts a traditional Courir de Mardi Gras, or Fat Tuesday Run that dates back to Medieval France when beggars asked for ingredients for their communal feast. At Vermilionville, revelers dressed in homemade costumes, a mask, and a capuchon, or cone-shaped hat, go door to door singing French songs and begging for celery, rice, onion or a green pepper for their pot of gumbo. After the last house, a chicken is let loose into a field, and the child who catches the chicken wins the golden trophy. As we say every Mardi Gras: laissez les bon temps rouler or let the good times roll!
Even if you're not in town for Mardi Gras, you can stop by Beads Galore on Cameron Street for some great loot and order a king cake from our local bakeries for the sweetest taste of Mardi Gras.
Festival International de Louisiane
In April every year, Lafayette is proud to host the biggest international music and arts festival in the United States. Because our area was founded in the late 1700s by French Canadians, we celebrate our connection here in the Cajun Country with French-speaking cultures around the world. With over 300,000 attendees, the free annual festival features musical performances by artists from more than 20 countries along with workshops, exhibits, visual art, theater and performing arts. Concerts start as early as 9 am on Saturday and noon on Friday and Sunday, giving the kids plenty of time to experience great music before nap time. The area's best restaurants will be onsite offering specialties like sweet potato beignets, alligator balls, crab cakes, crawfish nachos, bread pudding, shrimp and grits, and duck quesadillas. But even picky kids will be happy with soft-serve ice cream, pizza, and smoothies.
In addition to the main festival area downtown at Parc International, a Scène des Jeunes children's area is set up nearby next to the Cathedral Carmel School at Versailles and St. John. From 11 am to 4 pm on Saturday and Sunday, children can enjoy special music, face painting, crafts and activities especially for them. Plus, there's an onsite bathroom and concession stand for your family's convenience.
If your small children need a break from the crowd at any time, just duck into the Lafayette Public Library's children's room, the Children's Museum of Acadiana or the Lafayette Science Museum before heading back out for more amazing music. You'll also find a first-aid station, restroom and baby-changing area at Lee and Jefferson streets at the Laborde Earles tent as well as a lost and found and information center at Jefferson and Vermilion. Be sure to pack those strollers and comfortable walking shoes. Lawn chairs and blankets will come in handy too, just be sure to set up out of walking or viewing traffic of the festival.
Festivals Acadiens et Créoles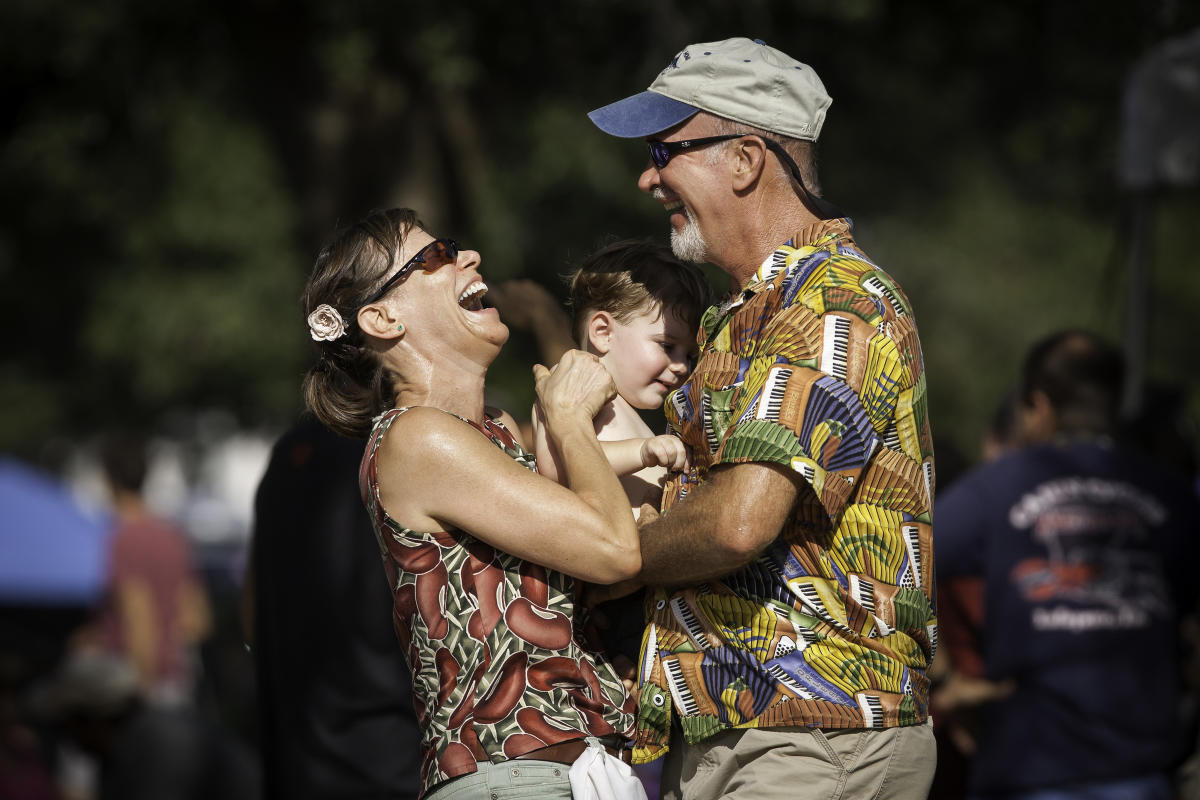 Image courtesy of Tim Mueller
The second full weekend in October Lafayette hosts the Festivals Acadiens et Créoles, which showcases traditional Cajun music like Zydeco and Swamp Pop, along with authentic food and a fine arts and crafts show. This free festival is held in Girard Park near the University of Louisiana-Lafayette, so children can enjoy the playground while parents listen to live music on the main stage and peruse the arts and crafts vendors. The festival is also the premier spot to sample food from Lafayette's most popular restaurants. There is something for everyone in the family as you go from tent to tent tasting crawfish enchiladas, boudin and cracklin to alligator on a stick and ice-cold snowballs, as you're entertained by culinary demonstrations from the area's finest chefs.
The Children's Museum of Acadiana invites all the little folks to La Place des Petits, a special area during the festival featuring children's games and crafts on Saturday and Sunday.
No matter what time of year you're visiting us in Acadiana, there is bound to be a special event or festival going on. Check out our calendar, and we hope to see you and your family at our next event!